News
How Netflix's Mute Connects to Duncan Jones' Moon
The director's first movie and his latest one are connected -- and he told us how it happened (SPOILERS).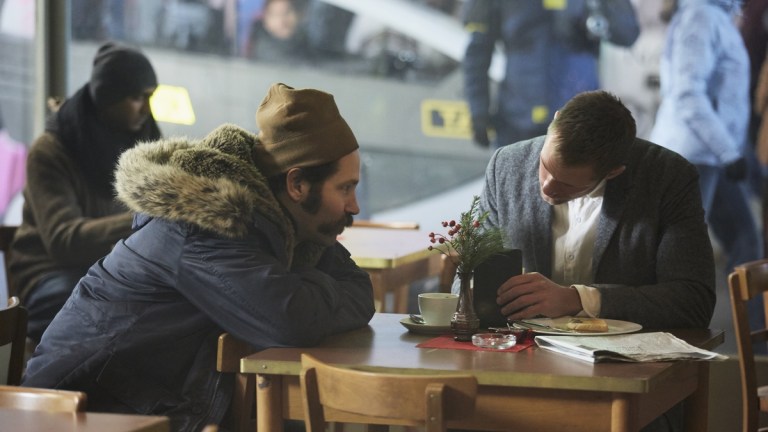 Spoilers for Mute are ahead.
Director Duncan Jones has shared that his new movie Mute, now streaming on Netflix, is connected in a tenuous way to his 2009 debut Moon, putting both films in the same future universe. But how is the link between the two movies revealed?
Stop reading here if you have yet to watch Mute and don't want to be spoiled.
Ready to go on?
There is a brief scene in Mute in which the main character, Leo (Alexander Skarsgard) is sitting in a diner and looking up at a newscast on a TV. The screen reveals a courtroom in which two versions of Sam Bell (Sam Rockwell), the cloned astronaut from Moon, are both seated at tables with their lawyers, while a third Sam stands up in the background and demands to be recognized as well.
It's both trippy and hilarious at the same time, and we asked Jones how the scene came about:
"That was always going to be the way we linked it to Moon. We had a lot of fun that day. Sam came out to Berlin just for the day to do it. Justin Theroux and myself and Paul Rudd were all kind of giggling behind the cameras. Sam was switching from one piece of wardrobe to the next, and one goofy hairstyle to the next, and performed all of his various parts. It was actually kind of nice, because it had been a pretty somber, hard shoot. Whenever we had a fun day like that, it always kind of helped to relieve the stress."
Jones says he has a third film written that links up to Moon and Mute, and we'll be curious to see what that one is — and whether any more copies of Sam Bell/Rockwell show up as well.
Mute is streaming now on Netflix.