News
How George Lucas Influenced Solo: A Star Wars Story
George Lucas was involved with at least one scene in Solo: A Star Wars Story, according to Ron Howard and Kathleen Kennedy.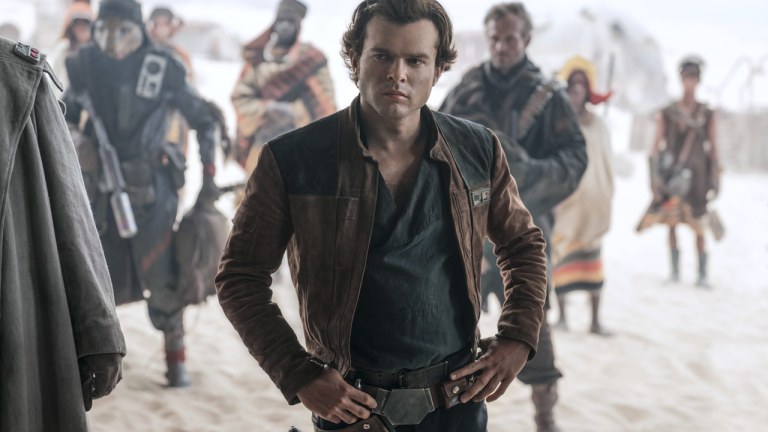 While George Lucas sold his greatest creation, Star Wars, to Disney in 2012, he's continued to be involved with the franchise in the years since. Whether it was sitting in during the early creative meetings for The Force Awakens or offering some Jedi advice to Lucasfilm head Kathleen Kennedy, Lucas still pops up here and there to help his brainchild along. 
Lucas most recently showed up on the set of Solo: A Star Wars Story last summer to pay his friend, Ron Howard, a visit. In fact, according to EW's interview with Howard and Kennedy, Lucas even lent a helping hand on the director's first day of filming. (Howard, of course, took over as the new director of the movie after Lucasfilm parted ways with Phil Lord and Chris Miller.)
Don't get too excited. Lucas didn't get behind the camera for the scene, but he did suggest a small tweak during a scene on the Millennium Falcon that's made it into the movie. 
"He had intended to just kind of stop by and say hi, and he stayed five hours," Kennedy told EW about the scene in question. "There's even one little moment in a scene that — I can't tell you what, sorry — but in the scene on the Millennium Falcon where George said, 'Why doesn't Han just do this.'
"It actually is a funny little bit that will probably get a laugh. And Ron happened to be by the monitor and not inside the Falcon and he goes, 'Oh that's a great idea,' and ran in and said, 'George wants us to do this.' So that was pretty cool. I think George felt pretty great about that. He could revisit these characters, and I think he felt so comfortable, obviously with Ron being there, that it was just fun for him."
As Ben Kenobi might say, "George wants us to do this," is a sentence not heard in a very long time on a Star Wars set. We'll probably have to wait until after the movie premieres to hear exactly what scene Lucas had a hand in, but it's nice to hear father of Star Wars got to revisit the Falcon again after all of these years.