Features
How All the Money in the World Swapped Kevin Spacey for Christopher Plummer
The director and star discuss reshooting All the Money in The World, taking out Kevin Spacey and more.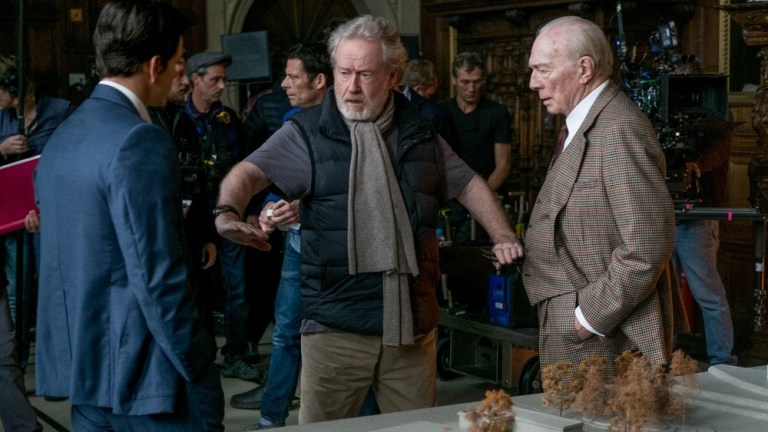 All the Money in the World is based on the true story of the kidnapping of John Paul Getty III, an heir to the Getty Oil empire and grandson of billionaire J. Paul Getty. When the kidnappers demand a $17 million ransom, the boy's mother (Michelle Williams) expects her ex-father-in-law to pay it — but the notoriously thrifty Getty (Christopher Plummer) intends to do no such thing. He sends his own investigator (Mark Wahlberg) to locate his grandson while the boy's life grows increasingly at risk and his mother becomes more and more desperate.
Directed by Ridley Scott, All the Money in the World found notoriety of a different kind earlier this fall when allegations of sexual harassment and abuse surfaced against star Kevin Spacey, who originally played the elder Getty. Rather than let the sordid accusations against Spacey derail and perhaps even sink the film, Scott took the unprecedented step of reshooting all of Spacey's scenes, this time with Plummer in the role, less than five weeks before the movie's scheduled release. The result is seamless, and Plummer himself is magnificent as the monstrous Getty.
Den of Geek recently sat down with Plummer and Scott in Los Angeles, where they discussed the reshoots and Getty himself:
Scott said that it wasn't a difficult decision to reshoot all the Spacey material with Plummer. " As soon as I knew I could get this chap (gesturing to Plummer), I knew I could turn it around real fast," Scott told us. "With my team, no problem…once we agreed to do it, I knew in about 36 hours what to do, where to do it, how to do it and how soon to do it. I knew I had to do it in about nine days, to conform, to get things put into it, to remix the parts, to readjust the musical parts and deliver for Christmas Day."
Plummer told us what his biggest challenge was during the whirlwind nine days in which he played Getty. "The biggest challenge really was remembering the lines, as simple as that, and hoping to God that my memory at my great age is still intact," he said. "And it was, thank heavens, due to my years in the theatre, which trains your memory." 
All the Money in the World is in theaters now.