News
How Alien: Covenant Helped Prepare Danny McBride for Halloween Reboot
Danny McBride reveals how watching Ridley Scott on Alien: Covenant helped him on another horror classic, Halloween.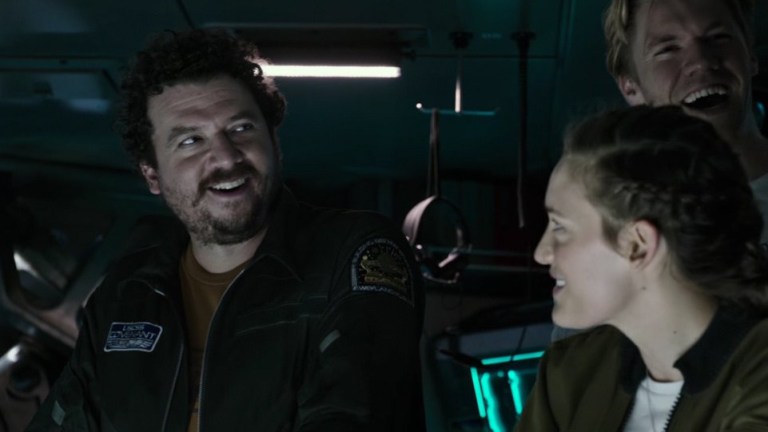 Longtime fans of Danny McBride might be pleasantly surprised when they sit down to watch Ridley Scott's Alien: Covenant. As the pilot of the eponymous spaceship, McBride's Tennessee definitely has moments of levity. And yet, he plays the grimness of this journey into a sci-fi apocalypse completely straight—kind of like he's in a 1970s horror movie. The experience proved revelatory for the actor on Alien: Covenant, and it is informing his work on Halloween too.
During a group interview that Den of Geek had with the actor, Billy Crudup, and Jussie Smollett, McBride opened up a bit about how watching Scott resurrect that understated dread of his 1979 horror masterpiece, Alien, prepared him to tackle Halloween. After all, on this other landmark of late '70s horror, McBride is working as a co-screenwriter with his frequent collaborator David Gordon Green.
"I just feel really lucky to be involved with two franchises that I think were so influential to me when I was growing up," McBride says when asked about comparing the experiences. "I've always been a humongous fan of Halloween, so when David got that call to direct it, he came to me to see if I wanted to help him write it. But yeah, I think just seeing how Ridley operates and how much fun he has doing it, I think it just showed me this world [of horror] is very similar to what we do in comedy. It's all about fine-tuning a pace and a tension to get a reaction from an audience. I think it's going to be fun."
In that same vein, McBride also spoke directly about recreating a sense of lived-in camaraderie with his co-stars in Alien: Covenant so that it echoed back to the legendary (and doomed) crew of the very first Alien movie.
"With [Alien], you do see that originally, and those people seem like there is a history between them," McBride says. "So I think he was definitely interested in portraying that. I think for everybody, everyone's just so surprised that they're in a Ridley Scott movie, in an Alien film, that it wasn't too hard to bond, because everyone's just like, 'Holy shit, here we are!' It really felt like we were on an expedition. Like, 'Oh, I hope this turns out okay for everyone involved. I hope everyone makes it to the end!'" He trails off with a laugh on the last remark.
Fans can see who makes it to the end (or not) when Alien: Covenant opens on May 19. We'll also have our full report on chatting with McBride, Crudup, and Smollett up later in the week.
DEN OF GEEK TV: THE LATEST