News
Hot Wheels Live-Action Movie Set by Mattel and Warner
Mattel teams with Warner Bros. to bring its iconic toy cars brand, Hot Wheels, to the big screen as a live-action film.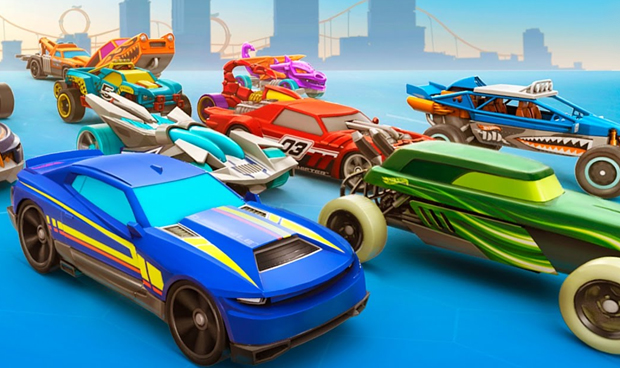 Hot Wheels is about to be set loose on the enclosed track of a movie adaptation!
Mattel is teaming with Warner Bros. to bring the universe of the dynamic die-cast cars to life on the big screen in the form of a live-action film, reports Variety. The toy company is already working with Warner on its developing Barbie live-action film, which recently cast Margot Robbie as its star. While no details about the plot of the Hot Wheels movie have been divulged, Warner Bros. chairman Toby Emmerich possibly conveyed the ethos of the project, stating:
"Hot Wheels has been inspiring the imagination of kids around the world for over 50 years. We couldn't be more excited to be bringing the adrenaline, adventure, and excitement of Hot Wheels to the big screen."
The Hot Wheels brand is practically synonymous with the idea of die-cast mini-cars. The line launched by Mattel in 1968, immediately distinguishing itself from its older competitor, Matchbox, with a focus on flashier fantastical hot rods, as opposed to the latter's modus operandi of making miniaturized versions of real-life productions one would spot on the road. It was a successful strategy for Mattel, which would consume the owner of competitor Matchbox in 1997, continuing the line under the same company umbrella. Indeed, Hot Wheels has been the go-to toy car brand through which myriad licensed properties – from comic books, movies, TV shows, video games and even Star Wars – have represented themselves.
While, thematically, this Hot Wheels movie announcement might fall into a category that stretches the (already far-stretched) limits of adaptation possibilities, it is, nevertheless, no surprise. In fact, up until recently, studio Legendary held the licensed rights and had been developing its own movie adaptation, with repertory director of the Fast & Furious franchise – and 2016's Star Trek Beyond – Justin Lin eyed to tackle the project. However, the rights would ultimately expire, leaving Mattel to make the movie (more profitably,) under its own studio purview.   
Indeed, with Mattel having recently launched its in-house film studio, Mattel Films, the toy company made immediate plans on its long-mooted Barbie movie, casting Margot Robbie as the live-action movie manifestation of the iconic doll. Additionally, the company recently injected its long-stalled (Sony-partnered) Masters of the Universe reboot film with the proverbial power of Grayskull by appointing a pair of new writers in Art Marcum and Matt Holloway to tackle the He-Man effort. Consequently, a shift of movie focus to the missing corner of Mattel's toy trifecta, Hot Wheels, was seemingly inevitable.
As Ynon Kreiz, Mattel's chairman and CEO, expresses of the greenlight in a statement.
"We are excited to bring the thrill of a Hot Wheels live-action feature film to the big screen in partnership with Mattel Films has great momentum as it continues to execute on our commitment to bring global audiences new ways to experience the brands they love as we transform Mattel into an IP-driven, high-performing toy company."
We will keep you updated on this movie adaptation of Hot Wheels as things develop!
Joseph Baxter is a contributor for Den of Geek and Syfy Wire. You can find his work here. Follow him on Twitter @josbaxter.