Reviews
Hot Fuzz: the DVD review
It was supposed to be the geek film of the year. But Hot Fuzz left Rob a little underwhelmed. Has the DVD improved matters?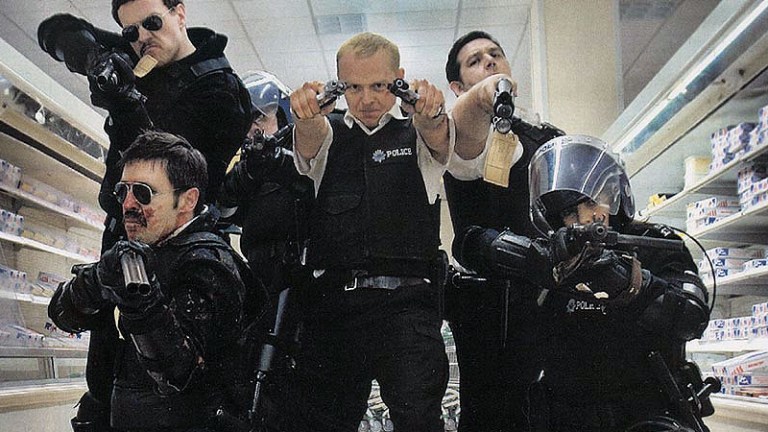 BE WARNED: MILD SPOILERS LIE WITHIN. THAT IS ALL.Hot Fuzz is a film I can sum up in one sentence: it was good…but not as good as Shaun of the Dead. There you go.
It's strange. There's nothing actually fundamentally wrong with Hot Fuzz, and in fact there are many, many reasons to like it. Examples? Timothy Dalton's character, cameos by some of the best comedians out there (Bill Bailey and Steve Coogan, for instance), some superb scripting, a 'Tales of the Unexpected' end reel: it's quite a list. Yet sitting through it, I really did think I'd seen it before.
For those who haven't seen it, the plot revolves around Simon Pegg's A-star policeman being 'shifted' to another constabulary for making his superiors look, well a bit rubbish. His new assignment is to look over a sleepy little town full of cake-eating bobbies and 'best floral display' competitions where (supposedly) there is very little crime.
Of course, there's a hidden secret to the idyllic setting of the village, and everyone and his mum are supposedly oblivious to the fact that every chav, mine artist, street performer, Big Issue seller or unsightly tramp has disappeared in order to keep the serene nature of the village. So with the help of his portly partner Nick Frost, Pegg uncovers the plot, and tries to save the day. The end.
And really that's it …not too bad really.
The film is of course dotted with jokes, gags and some rather funny bits and pieces. But this is where the problems start. It's just nothing we haven't seen before from Wright, Pegg and Frost before. Since Spaced (which is getting on to be nearly ten years old now), the team struck gold with Shaun of the Dead, which in my opinion is one of the best British comedies ever, and evolved their artform and skills onto the big screen, making the leap perfectly while keeping all the style and 'geek' references from Spaced in tact.
There is no doubt that Wright can direct and the use of cool cuts, wonky camera angles and repetitions were great once, and added a bit of style to his prior projects. But really he hasn't moved on stylistically at all, as Hot Fuzz is bloomin' filled with Wright-isms, with every few scenes dotted with the trademark quick edits/door closing/repetitions. From Pegg leaving London to the repetition of day to day life in the village, this repeat trick got very tired very quickly, and does hurt the film. Yes, we know you can do it, but just because you can, doesn't mean you should. Again and again and again.
Still, the DVD has some great stuff on it. Cracking behind the scenes documentaries, some fun blogs, a Fuzz-o-Meter (which is a rip-off from the Spaced 'geek-o-meter') funny outtakes and video logs show just how much fun they all had filming it. They also demonstrate why Pegg and Frost have such good on-screen chemistry, as they seem to be just the same off screen as on.
But really, you buy a DVD mainly for the film, and while you might go back for a repeat viewing of Hot Fuzz, it really is some distance away from the heights of Shaun Of The Dead. Many, myself included, will think twice before putting it on when their mates come around, opting instead to watch the superior Spaced Season 2 in its place.