News
Holmes and Watson Trailer, Release Date, Cast, and More Details
Here is what you need to know about the Will Ferrell and John C. Reilly reunion in Holmes and Watson, a humorous take on Sherlock Holmes.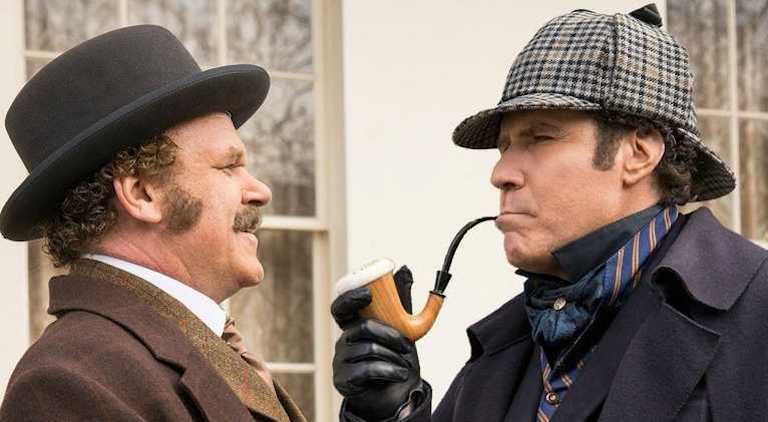 At any given moment, there is the potential for there to be two Sherlock Holmes shows on TV, and then an action movie franchise still possibly on tap at Warner Bros. So why not a comedy franchise too? Clearly, the market hasn't saturated yet, and maybe there is humor to be found in the overabundance of deerstalker caps? This must be the thinking at Sony since the studio has has cast Will Ferrell and John C. Reilly as Holmes and Watson. Indeed, a comedy variation on Sir Arthur Conan Doyle's beloved literary creations is coming down the pipeline and we have everything you need to know, our good fellows.
The movie is, for better or worse, being written and directed by Etan Cohen, whose screenplay credits include Idiocracy and Tropic Thunder (yay!), as well as Get Hard, which he also made his directorial debut on (not so yay).
Holmes and Watson Trailer
It appears an open debate which is the clever one between Holmes and Watson judging by the new trailer. Both look ready to make a right ol' arse of themselves. Watch and see if you'll enjoy.
Holmes and Watson Release Date
The game will be afoot on Dec. 21, 2018. So start gathering clues now.
Holmes and Watson Cast
Obviously one of the great appeals that this variation of Holmes and Watson will be undertaking is that it is a reunion of sorts of the madcap comedy that ensues when Will Ferrell and John C. Reilly share the screen. The duo first turned "Shake and Bake" into an un-ironic catch phrase with 2005's Talladega Nights. And they then co-starred together in 2008's demented–and still loved in some circles, including here–Step Brothers. While both of those movies also were Adam McKay productions, Holmes and Watson was not developed by McKay (who is not attached to the picture).
The film has been slowly coming together at Columbia Pictures for some time, once even with Sacha Baron Cohen attached as Sherlock Holmes before it was placed into turnaround. At the time, the conceit was for Holmes to be the bumbling idiot who took all of the credit for Watson's work, although it is unclear if that is how this one will go.
further reading: The Must See Movies of 2018
Also attached to the movie are Ralph Fiennes as Moriarty (Sherlock's nemesis), Hugh Laurie as Mycroft (Sherlock's brother), Kelly Macdonald as Mrs. Hudson (Holmes and Watson's landlady), Rebecca Hall as the original character of Dr. Grace Hart, Rob Brydon as Inspector Lestrade (Scotland Yard contact), and Lauren Lapkus as Millie.
Holmes and Watson Story
The fairly basic synopsis reads as follows:
A humorous take on Arthur Conan Doyle's classic mysteries featuring Sherlock Holmes and Doctor Watson.
Yet we know from the movie's earliest treatment as a Sasha Baron Cohen vehicle that the set-up was that Sherlock Holmes is well-meaning idiot whom Dr. Watson is constantly looking after. It is likely that at least some elements of this will be in play here, although judging by the first trailer, they're both portraying nitwits in the film.
Mike Cecchini is the Editor in Chief of Den of Geek. You can read more of his work here. Follow him on Twitter @wayoutstuff.