News
Hollywood talks CGI with Den Of Geek
Rob Cohen, John Badham, John Carpenter, Joe Dante, Dario Argento and more weigh in on the hottest topic in movies...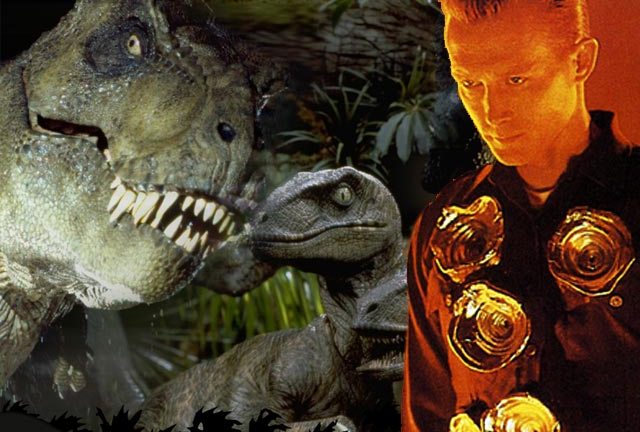 The increasing contribution of CGI to Hollywood output is a subject that comes up frequently enough in the interviews that Den Of Geek conducts with directors, actors and technicians that we thought it would be fun to revisit some of those comments and insights garnered over the last year…
It's fair to begin with the 'poster-boy' for CGI, Robert Patrick, whose portrayal of the T1000 in James Cameron's 1991 sequel to The Terminator heralded the new age of rendered special effects. George Lucas's Industrial Light and Magic, always in the forefront of digital effects, used reflection-maps and networked computers to laboriously render the mercury-like transitions of the Skynet assassin. Interviewed late last year, we asked Patrick what he felt at the way CGI has transformed movies since those pioneering days, and his feelings on the use of the technique…
"I think it's over-used and I don't think it's totally used correctly." He told us. "I think when gifted film-makers use it to help propel a story, that's what it's meant to be and what it's there for. But when just everything there is CGI, you start to feel there is no soul there, that there's no heart in the movie.
"That was always the really great thing about T2. The thing that really made that movie a classic was the fact that it has great heart. It's really what the movie's essentially about: don't let technology take over, and that's something the movies should learn themselves.
"I sat through a totally CGI movie once. Can't remember what the name of it was, but everybody in it was CGI…and I don't know, man, it just didn't feel right. I can only go from my gut. It's like music. You know how some music…somebody else is maybe more proficient at playing the guitar but they don't have the same soul and heart, and the other guy might only be able to play three chords but it's still spectacular and hits you in the gut."
T2 co-star Joe Morton added that the seminal sequel has aged well: "it was so ground-breaking in terms of the CGI that James used, and because of all of these 'authority characters', the Terminators in the movie…"
One of the hot issues of CGI's encroachment on traditional screen craft is the reduction in the use of the prosthetic creatures created by the likes of Stan Winston Alumni Tom Woodruff, who has played and created the Alien in every Alien film since James Cameron's first sequel…
"I'm certainly getting more and more reaction from audiences that they're getting played-out on CGI." Woodruff told us recently. "Whether people can verbalise what it is about the story that doesn't feel real or not, even if it's on a subconscious level, it's kicking people out of the story. We still go to the movies and we love spectacle, we love monsters and all that stuff, but if you get kicked out of the story and you suddenly realise that you're watching some effect, then it's counterproductive to what the movie experience is."
Part of the concern with the verisimilitude of CGI techniques is their predictable inability to recreate the random chances of line, curve and light. Woodruff added, "With CGI, you go in and you go through a lot of painstaking processes of duplicating the lighting, and there's still…I don't want to be misread, as if I'm the guy saying CGI doesn't work. It does. But when it does work it comes at the cost of a great amount of work and a great amount of time to put in to make it work. A lot of that time and a lot of those costs aren't available to as many movies as are trying to use it today. But I think you can tell that there' something that still doesn't look right…"
"And then the other thing that I find that is most revealing, is where there are camera moves that just defy physics… I see these totally physics-defying camera moves and I'm exhausted, tired of them."
Here Rob Cohen, the director of late-Summer hit The Mummy: Tomb Of The Dragon Emperor, disagrees…
"Sometimes, in three-dimensional space as defined by a computer, there's no limit to what you can do." Cohen told us some weeks back. "So the question is 'Why are you doing it?'. Are you doing it because you can? Or are you doing it because it really has an idea behind it? I moved that camera down Vin Diesel's arm and into the stick-shift and down into the drive-shaft, right into the internal combustion engine and came out of the exhaust manifold for a boost to the wheel! That's an impossible camera move [laughs], but it certainly made one of the moments of The Fast And The Furious, and then every other goddamned car commercial that came along for the next few years.
"It put that movie into another mind-set, and I knew what I was doing."
What then, of Woodruff's concern with the problems of obtaining authentic lighting…? Cohen believes, it seems, that the non-reality of CGI is only an offence proportionate with the intent of the film-makers; sometimes you just can't shoot it any other way…
"ninety percent of the stunt stuff that we did [on Dragon Emperor] is real. It's on the set. In XxX I did all those stunts for real. There's a feeling to reality that CGI cannot give you. So if you sort of accept that, then you have to find a vocabulary where the abstraction of CG is actually the thing you are playing for. Whereas if you try to go to total verisimilitude of the 3D universe that we experience each day like with a car stunt, you'll always feel it.
"There's a billion places that the eye is so skilled at; what are the tiny distortions, internal reflections on a piece of sheet-metal going through a certain kind of light…? And if you don't see those there or they're there too perfectly, you know that this is a CG car.
"So if the film-maker is saying to you 'This is a REAL car! We really jumped this river that is FIVE HUNDRED yards wide!' and you go 'That car is CG!', he's lied to you and you feel lied to. But if I tell you that this is an army of skeletons…[laughs]. I'm not telling you that this is real! I'm telling you that this is Ray Harryhausen done with today's techniques."
John Carpenter agrees with this much…
"It goes back to the history of movies – there was nothing there on King Kong; there was nothing there on the Ray Harryhausen films. And on a lot of my movies – there was nothing there in The Thing! They looked at nothing. We didn't have the effects, so they looked at the wall. That's just part of movies; that didn't bother me…
"I remember watching Constantine and here's what-his-name in hell…you know, it's gonna be fake, whether it's a set, or computer animation, or whatever it is. The guy's not really gonna go to hell, so I accept all that."
But Carpenter added that Hollywood is arguably over-obsessed with a phenomenon it has little understanding of…
"The codeword with Hollywood and with all producers – every time you go in, you hear this – they all say the word 'CGI'. They have no idea what it means, or the application."
Carpenter's long-time cohort, cinematographer Dean Cundey (Halloween, The Thing, Starman, Jurassic Park), is less sanguine about the migration from practical, on-set events to digital ones…
"I think that one of the things that happened in those early films was that because you had to rely on real life and physics and everything, that what the audience saw were things that were in fact plausible. And now, with the computer, you're simply unlimited as far as what you can do, as it's so easy to create things that are impossible…
"And as a result it sort of destroys the sense of reality as far as the audience watching a moment or an event. It's very easy to get so involved in the effect that I think as a film-maker, you don't stop to think that what you're really doing is taking the audience somewhere that they know is completely impossible, and therefore there goes some of the fun and credibility of watching."
One of the most contentious areas of CGI encroachment is the re-visualisation of characters or worlds that were originally rendered 'old-style', and Gremlins director Joe Dante spoke of occasionally-mooted plans to make a third instalment of his fiendish franchise eschewing the famous puppets for more mobile CGI creations…
"Any new Gremlins movie would naturally be CGI," Dante told Simon Brew earlier this year. "which would make it a far different animal than the originals. Those movies were defined by the limitations of what was possible to do with the puppets. CGI Gremlins would have no limitations, which is why I think they've never been able to get a handle on a story for another one."
But no luddite, Dante continued "There's more innovation now than ever as the old ways of doing things are rapidly replaced by new ones, then they're superseded, etcetera. It's actually hard to keep up with all the innovations if you don't work steadily. It does give me even greater admiration for the masters of the past, who got such great results from such now-primitive techniques…"
Gremlins star Zach Galligan offered us his take on the issue…
"very few people understand what Joe Dante and his producer Mike Finnell went through on those Gremlins movies, and why they're so reluctant to do a third. That is that they wanted to do it right, and to do it right you needed to do animatronics…I think they say listen, for us to go through hell again for another three years, it's got to be something spectacular.
"And the studio keeps wanting them to use CGI and they don't want to use CGI because they think it looks like animation. And it's a problem."
Rob Cohen cohort John Badham told us recently – in a yet to be published interview – that sometimes film-makers can be dazzled only by the larger possibilities of CGI…
"Isn't it interesting how in The Hulk, for example, they've made this character look so real. And then I turn around and I say 'How come they can't make Bill Hurt's hair-piece look like it's not a hair-piece? $140 million fucking dollars, and it looks like a goddam hairpiece! They're only paying attention to the Hulk, and something as simple as a lace wig is sticking out there like a pimple on his nose…or as my vulgar friend Jimmy Wood would say, like a dog-penis stapled to his head.."
But all agree that there's no turning back the ringing cry of CGI…
"It's an excellent tool." Dario Argento, told us after working with the CGI company of Mother Of Tears producer Lee Wilson. "He did some work for me on the film which I was extremely satisfied with"
"It's a great tool," agrees John Carpenter. "But still just a tool…It isn't an end in itself."
We'll leave the final word on the matter to the legendarily loquacious John Badham…
"I think it's a wonderful tool when you need it. If you're just using it to show off, it gets discounted because people go 'Oh, that's just computers. Now you know and I know how hard it is to do that stuff in the computer, and how many artists it takes – and how bloody expensive it is. And interestingly enough, like Rodney Dangerfield, it still gets no respect. When people can do something practically, and you can say 'This guy did his own stunts' or 'This is for real', people's admiration goes up. They kind of appreciate…'Oh my God, he flipped that car in the real world!'….
Check out the complete interviews – and many others from the world of movies, TV and comics – by clicking the link below…