News
Hollywood Legend Doris Day Dies at 97
Hollywood's iconic girl next door was TV's first single mom and an animal rights pioneer.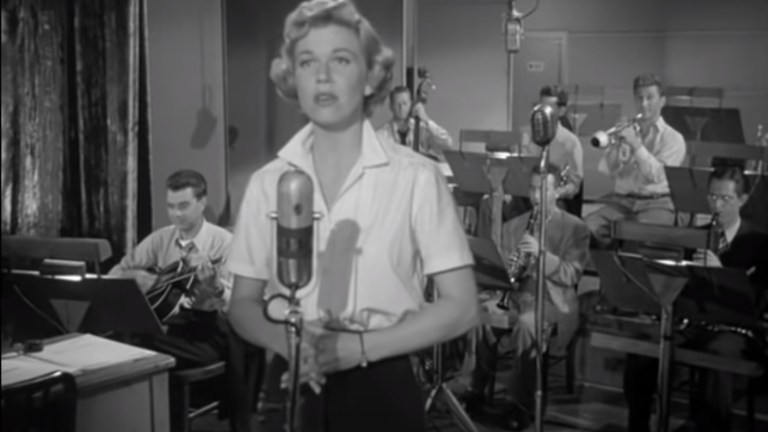 "Que será, sera," Doris Day sang her iconic, underplayed ode to fortune, "whatever will be, will be." The Hollywood icon died of pneumonia on Monday, May 14, at the age of 97, according to The Doris Day Animal Foundation, via Variety. The singer and actress who defined the girl next door died early at her home in Carmel Valley, California.
Day made over thirty films, including Tea for Two, On Moonlight Bay, By the Light of the Silvery Moon, David Butler's 1953 film Calamity Jane and The Pajama Game, and over 600 recordings. Alfred Hitchcock used Day's recognizable voice to send a distress signal to her kidnapped son in The Man Who Knew Too Much.  The song which held the message, "Que Sera Sera," won the 1956 Academy Award for Best Original Song with the alternative title "Whatever Will Be, Will Be (Que Será, Será)." It was also fetured in the films Please Don't Eat the Daisies (1960) and The Glass Bottom Boat (1966). 
Day was nominated for a Best Actress Oscar for the 1959 comedy Pillow Talk, the first of three films she made with Rock Hudson. The split-screen opening bath scene is iconic itself, but she lost to lost to Simone Signoret in Room at the Top. In Love Me or Leave Me, Day played torch singer Ruth Etting opposite Jimmy Cagney's mobster Martin "Moe the Gimp" Snyder. Day was the top box office star by the early 1960s.
Doris Day was born Doris Kappelhoff in Cincinnati in 1922. Trained as a dancer, she was working with major band leaders like Les Brown by her late teens. She was 23 when she had her first bit hit, 1945's "Sentimental Journey." Director Michael Curtiz, who made Casablanca among other classic film, cast Day his film Romance on the High Seas because she looked like the all-American girl. Her song in the film, "It's Magic," was nominated for an Oscar. Day also starred in Curtiz's Young Man With a Horn, with Kirk Douglas and Lauren Bacall. Day paired James Garner the 1963 films The Thrill of It All and Move Over, Darling. Her last film was 1968's With Six You Get Egg Roll."
Day was the first single mom on television. She was forced into TV by a contract her husband and manager, Martin Melcher signed without her knowledge before he died suddenly in 1968. CBS's The Doris Day Show ran for five seasons from 1968 to 1973 on CBS. The theme song was "Que Sera, Sera."
Day forced her son, record producer Terry Melcher to move from the home he was renting with his then-girlfriend, actress Candice Bergen, at 10050 Cielo Drive, in Benedict Canyon, California, months before the Manson Family committed the Tate murders there in 1969, according to Mike Love's 2016 memoir Good Vibrations: My Life as a Beach Boy. Day was married three times, to trombonist Al Jorden, saxophonist George William Weidler and Martin Melcher.
Day was an animal protection pioneer, founding The Doris Day Animal Foundation in 1978. The group helped draft better laws for animal shelters.
Culture Editor Tony Sokol cut his teeth on the wire services and also wrote and produced New York City's Vampyr Theatre and the rock opera AssassiNation: We Killed JFK. Read more of his work here or find him on Twitter @tsokol.