News
Hobbs And Shaw: Everything We Know
Hobbs And Shaw news, cast, plot, director and everything else you need to know about the Fast and Furious spin-off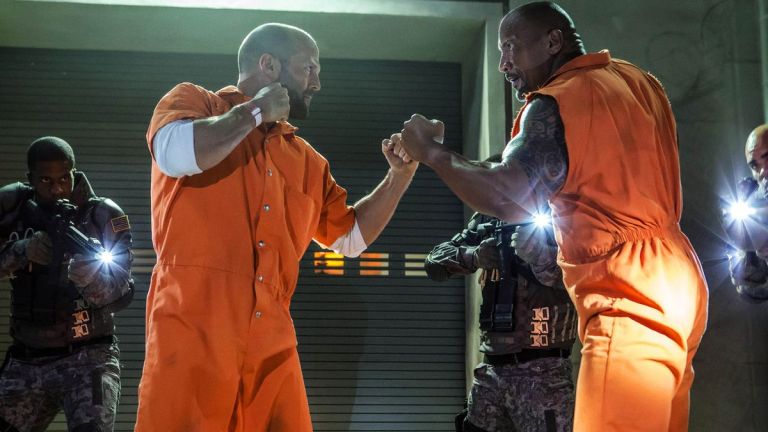 The Fast And Furious franchise is now the sixth-highest grossing film series of all time – which is pretty impressive since the first four entries were only mildly successful (and averagely good). 
With eight full features in the canon, and two more on the way, Universal has announced a spin-off film that will focus solely on Dwayne Johnson and Jason Statham's characters – related to the main storyline but separate to it. 
Hobbs And Shaw is a spin-off, F&F style, which means it's going to be absolutely massive. Different, more grounded and potentially less sprawling – but still a very big film about very big men driving very big cars. 
Find out everything you need to know about Hobbs And Shaw below, and check back for regular updates as we get them. 
Hobbs And Shaw Cast
As you might have guessed, Dwayne Johnson and Jason Statham have both signed on for the film – both reprising their two characters from the previous F&F movies.  
Johnson's good guy turned sort-of-outlaw, and Statham's bad guy turned sort-of-good guy were two of the best things in the last two films, Furious 7 and The Fate Of The Furious, with their loveable banter and occasional fisticuffs proving enough of a jumping off point for a whole movie.  
As usual with a Dwayne Johnson film, everything else we know about the whole production comes from his over-enthusiastic social media posts.
On July 3, Johnson tweeted that Vanessa Kirby will be joining the film as Shaw's MI5 agent sister. Kirby, who is still probably best known for making Princess Margaret look cool in The Crown, cut her teeth on stunt work in this year's Mission: Impossible – Fallout, and Hobbs And Shaw is likely to be a gateway to much bigger things for the British actress. 
Two days later, Johnson dropped an even bigger bombshell, this time on Instagram.  
Weird captioning about music and dancing aside, casting Idris Elba as the bad guy is big news for Hobbs And Shaw – with Elba batting off Bond rumors to play the highest profile villain in the F&F series so far.
The one person who almost definitely won't be in the film, is Vin Diesel. Still reeling from a feud with Johnson that broke out on the set of The Fate And The Furious (possibly because he's no longer the person everyone is paying to see?), Diesel isn't in any hurry to work with The Rock again. And the feeling is definitely mutual… 
"Some conduct themselves as stand up men and true professionals, while others don't," spat Johnson on Facebook in 2016, as filming was drawing to a close. "When you watch this movie next April and it seems like I'm not acting in some of these scenes and my blood is legit boiling — you're right."
Later telling Rolling Stone that he and Diesel have a "fundamental difference in philosophies on how we approach moviemaking and collaborating," he seemed to soften a bit, before making things worse. "Right now I'm concentrating on making the spinoff as good as it can be. But I wish him all the best, and I harbor no ill will there, just because of the clarity we have… Actually, you can erase that last part about 'no ill will'."
With Johnson reportedly not yet signed on for F&F9, there's a chance that Hobbs And Shaw is the last time we'll see him in the shared universe (until he makes a big unexpected comeback inF&F10 that is…)
Hobbs And Shaw Director
Things got exciting early on when Shane Black expressed an interest in directing Hobbs And Shaw, but he quickly dropped out and moved on to other things instead. Soon after, David Leitch signed-on to direct – coming off the back of John Wick, Atomic Blonde and Deadpool 2. 
Already proving himself with stylish, unique looking action, Leitch is the franchise's most interesting director by far. If nothing else, a fresh pair of eyes might drag the series away from all the gratuitous bum shots and give us a new spin on things.  
Hobbs And Shaw Plot
Very little is known about the plot specifics at the moment, but we know that family will be a recurring theme (this is F&F after all…), since Kirby has been cast as Shaw's sister. 
We can obviously expect giant stunts, car chases, a lot of buddy-cop bickering and a few girls in hotpants, but according to Leitch, the film is going to be slightly less bombastic than the others.  
"I think it's going to be a little bit more grounded because it's the beginning," Leitch told Collider. "It's an origin story, in a sense. It's not an origin story, but we're starting a franchise, so we want it to be a little bit more grounded, a little bit more character-centric. We're going to set up the stakes for these guys and their relationship, but we're also going to have some great set pieces and some action that you'd expect."
Leitch also went on to tease a few crossover cameos from the main series: 
"I think it would be a fun nod to have a couple of the characters come by and make their appearances. But I think we have a really strong point of view that we want to create our own characters for this world."
Hobbs And Shaw Filming 
Production is expected to start in September, and we know this because, like every other aspect of the production, it was annouced on social media by Dwayne Johnson… 
 Johnson hasn't revealed too much else just yet, but expect a barrage of 5am shirtless shots from the set to hit the internet every day when the filming does start. All we know for sure now is that he's read the script, and he's somehow getting even more pumped up for the role: 
Hobbs And Shaw Release Date
Hobbs And Shaw was originally slated to arrive on July 26th, 2019, but the date was bumped back a week to August 2nd. That currently puts it up against New Mutants and Dora The Explorer.