News
Ron Howard's Hillbilly Elegy Casts Freida Pinto
Hillbilly Elegy may be the last film Ron Howard shoots in Georgia following the state abortion ban.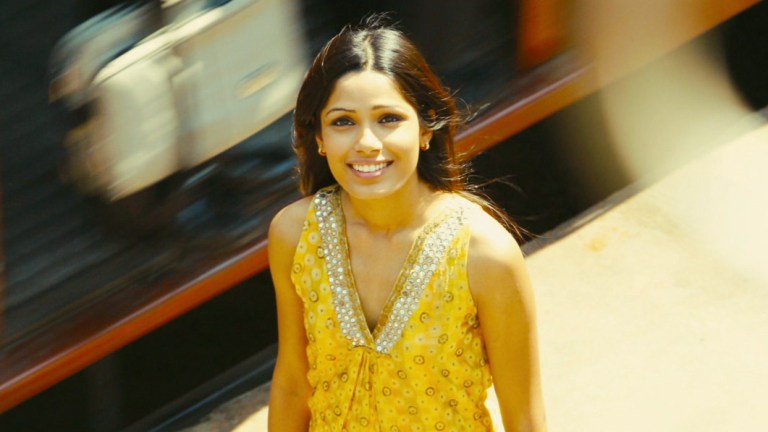 "There is a cultural movement in the white working class to blame problems on society or the government, and that movement gains adherents by the day," Trump whisperer J.D. Vance wrote in the book Hillbilly Elegy: A Memoir of a Family and Culture in Crisis. The film adaptation is being directed by Ron Howard from a script by The Shape of Water screenwriter Vanessa Taylor. Netflix announced Freida Pinto will join Amy Adams, Glenn Close, Haley Bennett, Gabriel Basso Bo Hopkins and Owen Asztalos in the ensemble film, according to Variety.
Pinto, who is best known for her role in Slumdog Millionaire, is presumed to be playing Usha Chilukuri, the Yale Law School student who Vance marries. Pinto was most recently featured in Andy Serkis' Mowgli: Legend of the Jungle, which aired on Netflix. She will next be heard as a voice in the upcoming Disney show Mira, Royal Detective.
Howard, who was born in Duncan, Oklahoma, learned a lot of southern wisdom from his TV dad, Mayberry, North Carolina, Sheriff Andy Taylor on the series The Andy Griffith Show. He went on to direct masterful films like Apollo 13, The Da Vinci Code, Rush, A Beautiful Mind, and the Beatles concert movie Eight Days a Week. Howard plans to shoot Hillbilly Elegy in Georgia in spite of calls for Hollywood to boycott the state over its new law, which will ban abortions around six weeks into pregnancy.
"After much thought and deliberation, we decided to continue with shooting Hillbilly Elegy in Georgia next month," Howard and producer Brian Grazer said in a statement to The Hollywood Reporter. "We felt we could not abandon the hundreds of women, and men, whose means of support depend on this production – including those who directly contribute on the film, and the businesses in the community that sustain the production. We see Governor Kemp's bill as a direct attack on women's rights, and we will be making a donation to the ACLU to support their battle against this oppressive legislation. Should this law go into effect in January, we will boycott the state as a production center."
Hillbilly Elegy will tap into the white rage of overlooked economics which drives the people in the area from "zero to rage in a heartbeat," according to the book. "From a former marine and Yale Law School graduate, a probing look at the struggles of America's white working class through the author's own story of growing up in a poor Rust Belt town,"  reads the back cover of the book.
"The Vance family story began with hope in postwar America. J.D.'s grandparents were 'dirt poor and in love' and moved north from Kentucky's Appalachia region to Ohio in the hopes of escaping the dreadful poverty around them. They raised a middle-class family, and eventually one of their grandchildren would graduate from Yale Law School, a conventional marker of success in achieving generational upward mobility. But as the family saga of Hillbilly Elegy plays out, we learn that J.D.'s grandparents, aunt, uncle, sister, and, most of all, his mother struggled profoundly with the demands of their new middle-class life, never fully escaping the legacy of abuse, alcoholism, poverty, and trauma so characteristic of their part of America. With piercing honesty, Vance shows how he himself still carries around the demons of his chaotic family history."
The book was published by Harper Collins and topped the New York Times bestseller list twice, in August 2016 and January 2017. Vance was born and raised in the Rust Belt by his strong and larger than life grandmother in Middletown, Ohio. He graduated from Ohio State University before getting his degree at Yale Law School. He served as a Marine in Iraq. Vance's book detailed his struggles with poverty and substance abuse and pointed out how rampant both are in America. Luckily, he had already developed an addiction to education as a kid. He became a successful venture capitalist and is now a political contributor at CNN.
Hillbilly Elegy is being produced by Howard along with Imagine Entertainment Chairman Brian Grazer and President Erica Huggins, and be overseen by Julie Oh. It will air on Netflix.
Hillbilly Elegy has no official release date yet.
Culture Editor Tony Sokol cut his teeth on the wire services and also wrote and produced New York City's Vampyr Theatre and the rock opera AssassiNation: We Killed JFK. Read more of his work here or find him on Twitter @tsokol.