News
Highlander Reboot: Director Chad Stahelski Teases Universe-Building Plans
John Wick's Chad Stahelski will team with Colony's Ryan Condal for the Highlander reboot.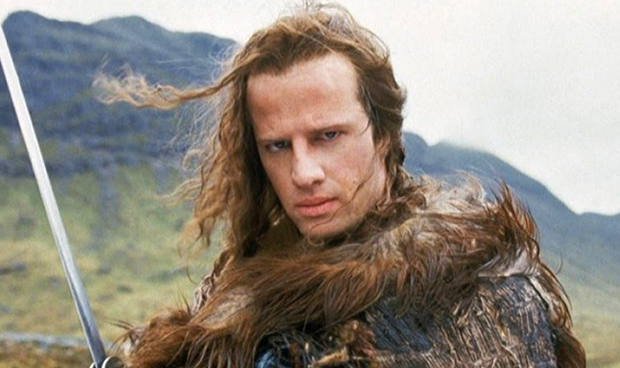 In an entertainment industry age in which the 1980s are habitually mined for reboot fodder, one of that prolific decade's most expansive multimedia properties, Highlander, has somehow remained untapped for the better part of two decades. That, however, is about to change.
The centuries-spanning intrigue of battling immortals whose tagline famously states, "There can be only one" will soon manifest as a new big-screen effort. Chad Stahelski will direct Lionsgate's reboot of Highlander. After a decades-long resume in the arena of stunts and second unit stewarding, Stahelski received his first credit as a director alongside David Leitch for the 2014 Keanu Reeves-starring action sleeper hit John Wick, subsequently solo-directing its sequels, the latest of which, John Wick: Chapter 3 – Parabellum, hits this weekend. 
In the latest news on the Highlander reboot effort, Stahelski has provided an update on its status in an interview with EW. As the director promisingly reveals to the outlet:
"Still working on the development of that. Highlander is such a massive property. Luckily, the studio [Lionsgate] is really behind me in this. I truly believe this is one of those properties that could actually sustain a good universe, meaning a TV show or something."
Regarding the seemingly-stalled status of his cinematic effort – in the first significant update in over a year – Stahelski reveals that the project's apparent inertia is not due to disinterest, but, rather, carefulness and respect for the franchise, further explaining:
"We're trying to really lay out this universe and not f— it up to the point where you cannot continue this story. We love it so much, we're trying to treat it with a lot of care." He goes on: "And to go out there, and just haphazardly throw together what we think would be a quick sword fighting-immortal movie, I think would be a mistake. And honestly, the people behind this, the studio behind this, they're dying for this to go. If anything, I'm the one holding it back, and trying to creatively lay out everything. We just don't want to paint ourselves into a corner creatively, like happened with the original."
Indeed, Stahelski will certainly have a deep property sandbox in which to play when conceiving this Highlander reboot effort. The mythos famously revolves around the sparse group of immortals who, over the course of centuries (often showcased in non-linear fashion), duel each other to the death – only achievable by decapitation – leading to a lightning transfer of power known as "The Quickening." They must continue the duels until only one remains, to whom the "prize" of ultimate power and knowledge will prospectively be bestowed.
The franchise spawned five feature films, with the first three starring Christopher Lambert as Connor MacLeod. It grew with the 1992-1998 syndicated live-action television show, Highlander: The Series, in which Adrian Paul starred as Duncan MacLeod, Connor's clansman – ultimately leading to a showdown between the franchise's two main protagonists in the 2000 film, Highlander: Endgame (that's right, Avengers didn't have first claim to that title). Plus, there was Highlander: The Animated Series, which ran on USA Network, later syndication from 1994-1996, and 2007 anime feature Highlander: The Search for Vengeance.
Ryan Condal, formerly of USA series Colony, apparently completed a script and turned it into Lionsgate, as was reported via Deadline back in March 2018. Apparently, the studio was so happy with his work that it could end up being the kickoff to a film trilogy. At the time, Condal was developing a Conan the Barbarian series for Amazon, but is now attached to the script of a reboot of Logan's Run. He previously worked on the scripts of Dwayne Johnson movie vehicles in 2018's Rampage and 2014's Hercules.
Going back to 2008, previous pre-production efforts to revive Highlander over the years saw talents such as Juan Carlos Fresnadillo, Justin Lin and Cedric Nicolas Troyan circle the project, only to end up departing. The acquisition of Stahelski seems to be Lionsgate's strongest attempt to get Highlander going again. It will be interesting to see how this classic franchise – generally underappreciated by the mainstream – will manifest under the direction of Stahelski, who mixed slick, progressive action sequences with surprisingly powerful pathos to make John Wick a standout affair.
There's no release date yet, but we will certainly keep you updated on the Highlander reboot as the news arrives.
Joseph Baxter is a contributor for Den of Geek and Syfy Wire. You can find his work here. Follow him on Twitter @josbaxter.