News
Hereditary Director Ari Aster's Next Movie Casts Florence Pugh
The mysterious new film by Hereditary director Ari Aster has cast Florence Pugh as its female lead.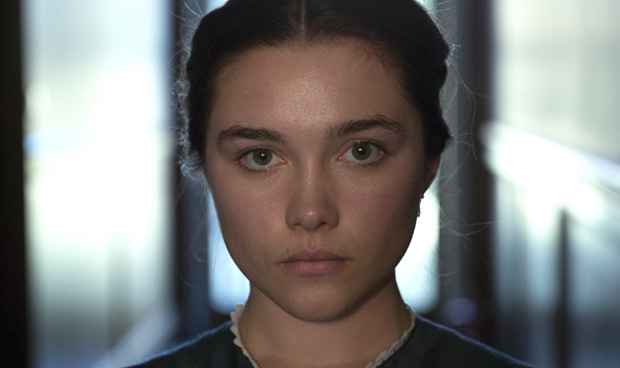 Hereditary rode a wave of word-of-mouth horror movie hype, building to a June release that proved profitable for indie producers A24, thus far earning $79 million worldwide off a purported $10 million budget. The film was the feature directorial debut of Ari Aster, who also wrote the script to the dark horse hit. Consequently, A24 is wasting little time in getting Aster's next effort off the ground, evidenced by a report that the film has already cast its lead.
Florence Pugh will star in the untitled next feature film by director Ari Aster, reports Variety. Just as with Hereditary, Aster will direct the film and write the script, joined by Lars Knudsen, who is producing. The film is currently shooting in Budapest.
However, a subsequent report from Collider reveals that Jack Reynor and Will Poulter are in talks to co-star in the film, completing a starring trio with Pugh.
According to their description, the plot of the yet-to-be-titled film will see Pugh and Reynor playing a couple on a trip to their friend's rural hometown in Sweden for a fabled mid-summer festival. However, things will apparently go the way of The Wicker Man, with the revealed presence of a pagan cult that is holding a violently bizarre competition. – So, basically worst Airbnb ever.
Jack Reynor is currently starring in the CBS All Access television series, Strange Angel. His career took off playing the young hero in 2014's Transformers: Age of Extinction, which led to roles in films such as Glassland, Macbeth, Sing Street, The Man with the Iron Heart, and Detroit.
Will Poulter broke out big with roles in We're the Millers and The Maze Runner, which landed him in the star-studded cast of the Oscar-winning historical drama, The Revenant. While Poulter had to drop his hard-won role as evil clown Pennywise after director Cary Fukunaga dropped out of the It movie, he has since been seen in Kids in Love, War Machine and Detroit (joined by Jack Reynor), as well as a role reprisal in Maze Runner: The Death Cure. He'll next be seen in the August-scheduled dark drama, The Little Stranger, in which he reunites with his The Revenant co-star Domhnall Gleeson.
The Collider report also indicates that the cast will include names such as Vilhem Blomgren, William Jackson Harper, Ellora Torchia and Archie Madekwe.
With the selection of Florence Pugh as the lead actress, Aster's movie procures a rising star. Pugh, an Oxford-born actress, is a relative newcomer who put in a head-turning lead performance in the 2016 dark romantic drama (not connected to Shakespeare), called Lady Macbeth, playing an oppressed young bride in 19th century England who engages in an affair with an estate worker; a relationship that unleashes her sinister side, escalating the ordeal to a murderous plot.
Pugh was also seen in the 2017 Liam Neeson thriller, The Commuter, as well as a 2016 TV run on Netflix's Marcella, coming off a film debut in 2014's The Falling, in which she co-starred opposite Game of Thrones' Maisie Williams. However, auspicious prospects reside on her backlog, with an upcoming television run on this year's BBC/AMC miniseries, Little Drummer Girl, a starring role in the 2019 Dwayne Johnson-co-starring comedy film, Fighting with My Family (a biopic about retired WWE wrestler Paige,) and she will join names like Meryl Streep, Emma Stone, Saoirse Ronan and Timothée Chalamet in director Greta Gerwig's December 2019-scheduled Little Women remake.
We'll clearly have to wait for further details about Pugh's starring role in Ari Aster's upcoming movie. However, we will keep you updated on those developments as they arrive!
Read the latest Den of Geek Special Edition Magazine Here!