Reviews
Henri-Georges Clouzot's Inferno DVD Review
A notoriously insensitive director, a hugely ambitious project and an unlimited budget. What could possibly go wrong? Joe reviews Henri-Georges Clouzot's Inferno…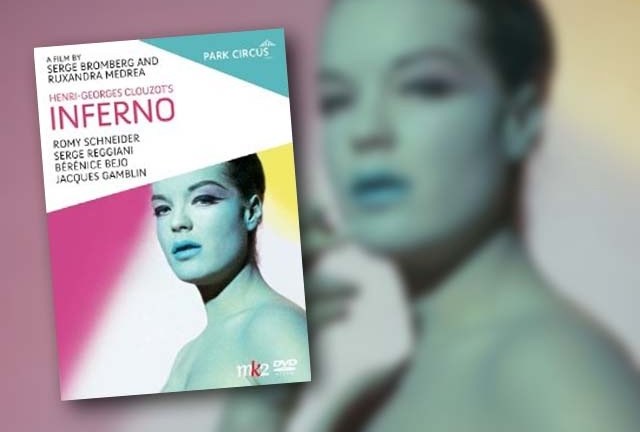 In 1964, acclaimed French director Henri-Georges Clouzot began shooting the crowning glory of his career. The pipe-smoking auteur had already established himself as an expert in the thriller genre and was regarded as one of France's finest directors.
Throughout the 1950s, he completed The Wages Of Fear along with Les Diaboliques, and demonstrated a flair for documentary with The Mystery Of Picasso – later declared a national treasure by the French government.
Despite this pedigree, he was roundly criticised by the emerging New Wave filmmakers, who disliked his meticulous attention to detail. L'Enfer (Inferno) was Clouzot's most complete brainchild, the ultimate vindication of his style and ability.
The film would never be completed. Countless problems on set culminated in a heart attack for Clouzot that halted production. 13 hours of footage were thought lost, until enterprising documentary maker Serge Bromberg unearthed them in a secret portion of the French National Archives. Henri-Georges Clouzot's Inferno is the result of hours of painstakingly reconstructed footage, combined with new cast and crew interviews.
The lead actors are not featured in the contemporary interviews, but ancillary footage – such as cast costume tests – do a good job of introducing us to the key players. Romy Schnieder plays Odette, a young wife whose husband Marcel (Serge Reggiani) is drifting towards insanity as he becomes increasingly convinced of her infidelity. Dany Carrel and Jean-Claude Bercq also feature prominently as two of Odette's flighty free-loving companions.
The early portions of the doc effectively establish the context in which Clouzot crafted his abortive masterpiece, as well as explaining the lengths to which he laboured over the perfect composition of every scene. The documentary contains endless test shots of beguiling kinetic art tricks, using weird lighting rigs and artfully deployed mirrors. The end results of these tests are the psychedelic passages that Marcel experiences when he enters his most acute periods of jealousy.
The best of them are entrancing and erotic, featuring a diamond encrusted Schnieder gazing enticingly at the camera or inhaling cigarette smoke as recorded images are played in reverse. Unfortunately, Bromberg relies a little too heavily on these tests, many of which are just banal experiments with swirling light. There's a distinct sense of repetition creeping in by the time we approach the end of the doc.
Aside from the copious experimental footage, the real meat of Henri-Georges Clouzot's Inferno is in the recollections of the various cast and crew. Everyone from script girls to cinematographers seems to have some interesting insight to add, whether it be about Clouzot's demanding personality or the incredibly bloated production.
The early test footage impressed Columbia Pictures so much that it awarded L'Enfer an unlimited budget. Clouzot invested huge piles of cash in yet more tests and employed three separate crews to shoot the film. The stories of the assembled filmmakers provide a neat counterpoint to the short arty extracts, which, without the context of a completed film, are often only visually engaging.
In the latter stages, we finally get to see some meaningful chunks of the unfinished film. The 10 minute section suggests that the completed project could have been a truly great work of art. The original recorded dialogue is still lost, so contemporary actors Bérénice Bejo and Jacques Gamblin provide the voices. They also fill in the unfilmed gaps by acting out missing scenes in front of a blank set. It's an effective way of translating some sense of Clouzot's vision, with Bejo presenting a particularly compelling version of Odette.
Henri-Georges Clouzot's Inferno is a well-made documentary that stitches together the broken shards of Clouzot's film and combines it with a rich sense of the production's turmoil. What holds the doc back from being truly compelling is, ironically, its subject. It is only so interesting to see an in-depth examination of a film that you can never watch.
Extras
A 15-minute TV interview with director Serge Bromberg, explains how he came to make the documentary. The revelation that the French National Archive were holding the footage, but were legally bound not to tell anyone, is particularly interesting. There's plenty of overlap with the doc, but Bromberg is an engaging and enthusiastic speaker.
More weighty is the hour-long extra documentary, comprised entirely of crew interviews and test footage that did not make the main feature. It deals with the technical challenges that L'Enfer presented, along with a little more insight into the fractious relationship between Clouzot and his actors. Again there's a fair amount of overlap, but if you really want to learn more about the film, it's worth a watch.
Film:
Disc: