News
Hearts Beat Loud Trailer: Nick Offerman Makes Some Music
The first trailer for indie music dramedy Hearts Beat Loud looks like a father/daughter High Fidelity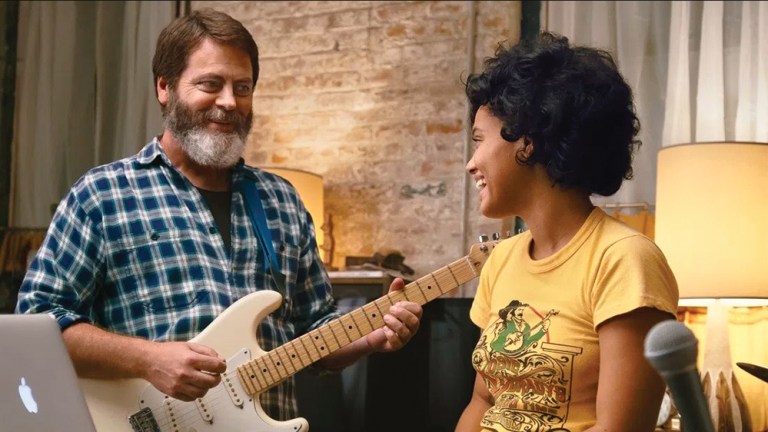 Old woodworker Nick Offerman can't come to the phone right now…because he's dead. Long-live scruffy rock 'n' roll dad Nick Offerman.
The first trailer for the Offerman-starring indie music film Hearts Beat Loud has arrived and it looks as preposterously charming as the premise sounds.
There's a lot to love here. First of all: Nick Offerman. What a genuinely likeable presence. After jumpstarting his career as kind-hearted libertarian Ron Swanson on Parks and Recreation, Offerman has made his hay portraying stern, yet secretly goofy authority figures. Hearts Beat Loud seems to be a bit of a divergent path where he is all goofy, no stern.
Hearts Beat Loud is directed by Brett Haley (The Hero) and stars Offerman as former musician single dad Frank. Frank is dealing with his daughter, Sam's (Kiersey Clemeons) impending departure to UCLA and his record store business's slow failure.
After much desperate pleading, Frank gets Sam to engage in a "jam sesh" instead of doing homework and the two make surprisingly beautiful music. As Frank and Sam start to play more and gain a following, Frank must confront whether he wants to treat his daughter to be his daughter or his band mate.
It's always been hard to make movies about the music business and particularly moreso now that there is barely a thing called "the music business." Hearts Beat Loud seems to have a good handle on how things work though as evidenced by Frank first hearing his band's music via a Spotfiy indie playlist at a coffee shop rather than the radio.
Hearts Beat Loud also boats a strong supporting cast that includes Toni Collette, Blythe Danner, and Ted Danson (back behind the bar where he belongs). 
Hearts Beat Loud was a big hit at Sundance this year and will receive its theatrical release on June 8.