News
HBO Landing Hugh Jackman's Bad Education in Major Deal
HBO picking up Hugh Jackman's Bad Education for a record-setting price tag suggests big things for WarnerMedia's HBO Max.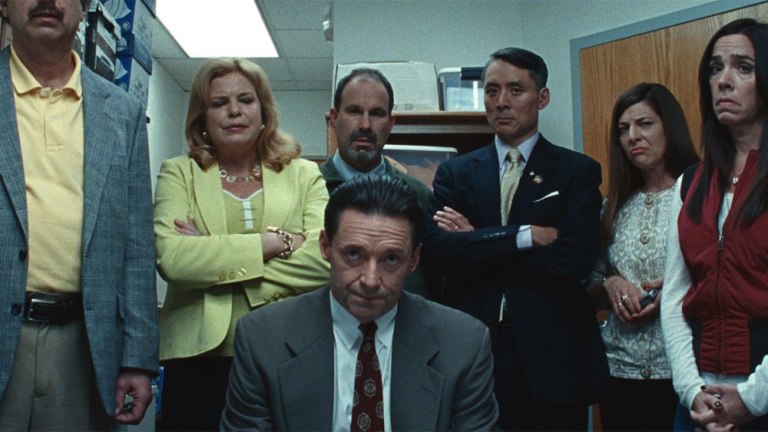 What constitutes the difference between "cinema" and television continues to be an open debate, and the lines might blur even further with the newest fall festival season in full swing. Fresh off getting some very buzzy, positive notices out of the Toronto International Film Festival, Cory Finley's Bad Education is being picked up by HBO in what might be the festival record.
News is swirling that the premium cable network—which is also about to be spearheading the brand name of WarnerMedia's streaming service—is closing a deal for Bad Education, which stars Hugh Jackman and Allison Janney. More intriguingly though is that depending on which trade you read, the figure for the purchase is anywhere between $11.2 million (Deadline) and $20 million (The Hollywood Reporter). The current festival record is when Fox Searchlight bought the rights to The Birth of a Nation at Sundance 2016 for $17.5 million.
The film is Finley's follow-up effort to the superb cult indie darling, Thoroughbreds. While that movie was a pitch black comedy (that we also believe had subtle noir undertones) about two bored, blue blood teens deciding to murder one of their fathers, Bad Education apparently dials back the satirical bleakness slightly. The film is based on a true story about a Long Island superintendent named Frank Tassone (Jackman) and his assistant Pam Gluckin (Janney) who, despite running a prestigious academic community that produces Ivy League-bound students, comes into scandal when it's revealed they have been supplementing their income via extracurricular means. A film about fraud and corruption, even as it is set a decade ago, Bad Education obviously has appeal in a modern world where graft and corruption at the highest levels of American society is not only becoming common… it's been scarily normalized.
That theme earned a lot of attention from reviewers at TIFF and has also clearly gained the interest of HBO. Just five years ago, this type of movie would've certainly been bound for an at least respectable run in the speciality market and perhaps even a dark horse award contender. (It almost certainly would've been noticed by the Spirit Awards.) Yet as audiences increasingly seem to abandon seeing films devoid of intellectual property at the movie theater in favor of streaming, HBO is now making at least one of the largest offers that a film festival breakout has ever seen. Notably this is a further sign about how much WarnerMedia's HBO is aiming to compete in a new media landscape that hasn't even been truly explored yet.