News
Gerard Butler's Has Fallen Series Could Get Three More Sequels
The bombastic action franchise could be expanding and going global, with more films and international TV spin-offs planned.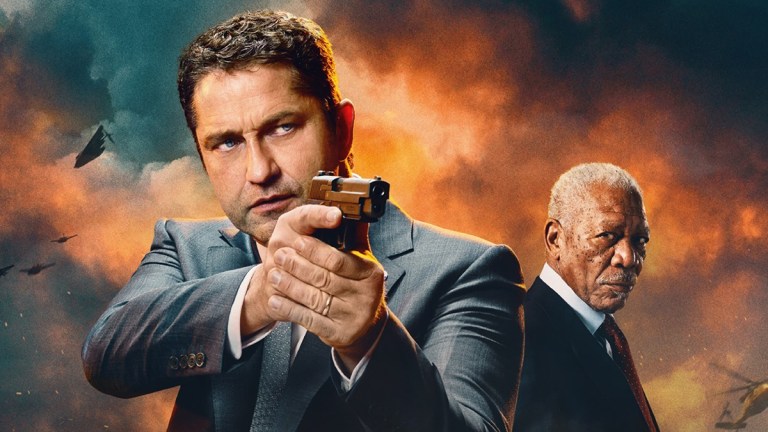 The Has Fallen Cinematic Universe is expanding. Yep, the producers of the Gerard Butler-starring franchise have revealed some grand plans for the future, including up to three (!) more feature films and a host of international TV spin-offs…
Against all odds, the film series – which kicked off with Antoine Fuqua's White House-set thriller Olympus Has Fallen back in 2013 – has amassed something of a cult following, with action lovers responding to the unashamedly overblown adventures of Butler's beleaguered secret service agent Mike Banning.
As Deadline reports, series producer Alan Siegel told the American Film Market's finance conference that the filmmakers are looking at developing a fourth, fifth, and sixth instalment in the series. He also said that they are considering loaning out the franchise rights to international production companies, resulting in a bunch of global TV spin-offs that could feed into the main movie timeline.
"If we do it in India, the star of that could come into…Has Fallen 4," Siegel said. "It could be a symbiotic relationship."
Jeffrey Greenstein, president of Has Fallen production company Millennium Media, also discussed the franchise's move towards a more character-driven story with the franchise's third entry. "We looked at each other on the third one and we thought we couldn't just blow up another city," he said, with Siegel reportedly adding: "This time. Maybe next one we will."
The most recent film in the series, the Ric Roman Waugh-directed Angel Has Fallen, was deemed a modest success, taking in $133 million worldwide off a reported $40 million budget and opening at the top of the US box office on its release this summer. The franchise as a whole – including 2016's landmark-destroying London Has Fallen – has amassed over $500 million worldwide. Granted, we're not exactly talking modern blockbuster numbers, but it's still a decent achievement for a franchise of this size.
We'll keep you updated on the Has Fallen-verse as we hear more.