Reviews
Harold & Kumar: Escape From Guantanamo Bay Unrated region 1 DVD review
Harold & Kumar quickly hop across to DVD, and Craig checks out the unrrated edition of their latest epic...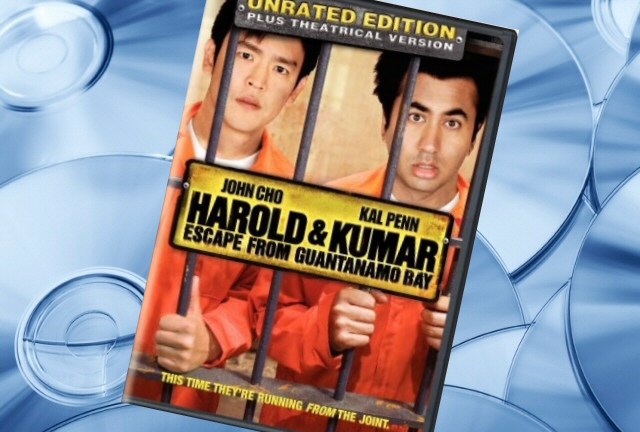 Four years ago, a comedy was released from the director of 'Dude, Where's My Car?' it starred two supporting actors from possibly two of the best 'R rated' comedies of recent years, Kal Penn from Van Wilder and John Cho (The MILF guy) from American Pie. They created two of cinema's most endearing stoners in Harold and Kumar Go to White Castle (AKA Harold & Kumar Get the Munchies). The story was totally over the top and stupid, but that was the point. Harold & Kumar wanted food, so they travelled to famous American fast food joint (pun intended) White Castle, along the way having many crazy and very crude adventures. Anyone remember 'Battles**s' with the student girls in the restroom?
The sequel starts immediately after the end of the first film with Harold managing to impress his hot neighbour (Paula Garces) who is off to Amsterdam. So both of them decide to go to 'the weed capital of the world' whilst taking a shower before leaving for the airport he is disturbed by Kumar having a very loud and unpleasant toilet experience. This sets the tone of the film immediately and for the next 107 minutes (the theatrical version is 6 minutes shorter) we are hit from every angle with jokes and scenes guaranteed to offend almost everyone.
As our dopey duo go the airport and travel through security, we are surprisingly presented with some fairly deep comedy, with Harold (Korean) flying through security and Kumar (Indian) being asked to step to the side and be searched. Kumar kicks off in his own unique way and manages to get through, good job considering he has a serious amount of weed hidden in his trousers. Whilst waiting to take off, the two of them sit quite innocently in their seats and an old lady a couple of rows back spots Kumar and immediately she becomes nervous. She then imagines Kumar as one of America's most wanted men. As I mentioned above, the film covers some real issues such as bigotry and in its own way makes a real statement. However the 'serious' areas are soon forgotten as the film gets crazier as its goes on.
As the title suggests, Harold and Kumar get imprisoned in Guantanamo Bay but soon escape and make their way back to America. The directors of the film, Schlossberg and Hurwitz (writers of part one) have wisely got back several characters from the original film, and these include Eddie Kaye Thomas and Neil Patrick Harris returning as the twisted version of himself. Harris is madder than ever, eating copious amounts of magic mushrooms and drinking at the wheel of his car.
The supporting cast are rounded out by Beverly D'Angelo playing a brothel madam, Paula Garces returning as Harold's dream girl, Maria, Danneel Harris as Kumar's one true love and Rob Corddry playing Fox, the head of Homeland Security. Fox is so bigoted, he automatically assumes Harold being Korean is retarded due to 'his eyes'. You can see Corddry is having the time of his time playing a man so narrow minded it's unbelievable.
A few stand out scenes include a couple of locals from Alabama (they have a unique relationship) and a totally hilarious scene involving the Klu Klux Klan – watch out for the Klan's dog. Cho and Penn again have fantastic chemistry and really come across as real friends. If someone, somewhere can come up with an equally stupid and worthy sequel, let's get them back for more.Harold & Kumar Escape from Guantanamo Bay is heartily recommended to fans of the first and 'crude' comedies in general. Maybe not one for a 'quiet romantic night in', but it is damn funny, and covers some areas you wouldn't think anyone would have the guts to touch on. Oh yes, I did forget to mention that a certain American President is portrayed as a weed smoking idiot. Good job he won't be up for re-election, then…
Extras
Disappointing is the word for the extras on this disc. All you get is a bonus digital copy to load onto your PC and some trailers. However there is a two disc edition available which features extra scenes, commentaries, a 'making of' featurette and a facility to apparently change the scenes and the course of the film.
Film:
Extras
:
Disc supplied by www.cd-wow.co.uk 
Starring John Cho,Kal Penn, Neil Patrick HarrisDirected by Jon Hurwitz and Hayden SchlossbergRegion 1Distributor New Line Home Entertainment (US)