News
Harley Quinn's Birds of Prey Costumes Revealed
We got a closer look at the Birds of Prey costumes at New York Comic Con.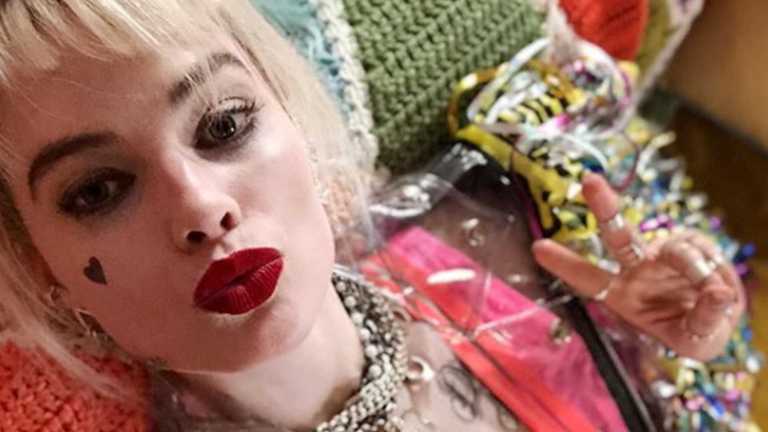 Birds Of Prey might not be out until February, but try telling that to excited fans. Hot on the heels of the celebrated new trailer, DC showed off the full costumes of the girl gang this week at New York Comic Con. Audiences were able to catch a glimpse of some of these looks in the trailer, but Den of Geek's Bevin took a deeper dive into costumer Erin Benach's designs.
The look for Mary Elizabeth Winstead's Huntress is by far the most tactical, which makes sense for Helena Bertinelli, the mafioso heiress-turned-vigilante. Her fingerless sap gloves and chain aren't just for decoration – they're weapons. As someone who's been scrapping since she was born, Helena doesn't come to play. It's unclear which threads of rape, murder, and mafia war this movie is picking up, but the shot of her praying alone in a gorgeous chapel certainly speaks to her family background, while the nondescript clothing suggests she hasn't quite nailed down her look, and she certainly isn't going by Batgirl. 
As a Gotham City beat cop, later detective, and occasionally the masked hero The Question, Rennee Montoya's look has always been practical, whether on screen during her origins as a character in Batman: The Animated Series or in the pages of Detective Comics and Batwoman. Rosie Perez's iteration continues that here, with a style that's on-trend but low-key. You know, something you could wear to chase a perp or to go on a date with a millionaire heiress. Considering the clip in the trailer of her walking out of a police station carrying a box and Harley's voiceover, the Question color scheme of the muted blue blouse and black pants might not be a coincidence. The black and red harlequin-themed boustier is a nice addition, tying Renee to Harley and the gang. 
Ella Jay Basco's Cassandra Cain appears to be the youngest of the bunch, with oversized street wear throughout the trailer similar to what's on display in more detail here. It feels a bit facile to compare oversized streetwear on a teen girl to Billie Eilish, but considering how many people are begging for her music to be on the Birds of Prey soundtrack, it's worth a mention. This doesn't look like anything we've ever seen her in, although it's not surprising that none of the various characters who have held the mantle Batgirl are being introduced that way – at least for now. What is intriguing is what looks like a cast on the mannequin's hand, and the logos on the shirt and jacket. Any ideas, readers? Cassandra has a history of not having human language given her strange upbringing, but we're less certain about a broken hand or wrist. 
Jurnee Smollet-Bell's Black Canary might be the most exciting. For one thing, she got the most airtime during the trailer other than Harley, and their chemistry was incredible. For another, she has the most daring attire – again, other than our girl Harley. The gold details look great with her skin tone, and the body chain makes the whole effect feel current. Be sure to check out when she slings that gold belt purposefully over her shoulder in the trailer – what's the story there?
Canary has great high waisted bell bottoms. The high waisted look appears on several of the women, which is both trendy and a sign of design for and by women. It's a comfortable and flattering look that often confuses men, especially in the world of comics, where the boobs and butt pose dominates. That's not to say Canary isn't sexy; after all, her chemistry has twitter shipping her with Harley. Dinah's great gold crop top shows off a black bra, another look from the last few years. 
Finally there's Harley, who has a littany of looks including an homage to Marilyn Monroe in Gentlemen Prefer Blondes, multiple jackets with silver sparkles and fringe, a blue velvet blazer to die for, iridescent gold overalls in a textured diamond harlequin print, and even self-branded R-rated streetwear, natch. But none have come to symbolize Birds of Prey more than her delightful rainbow confetti sleeves, which look like they're made out of crime scene caution tape, shredded pom poms, and other ephemera.
Her shoes bring more irridescence to the party, then there's her trademark suspenders. She favors high waister cutoff jorts throughout the images and footage we've seen so far, including the striped distressed pair we see here. Her transparent PVC jacket is one of several 90s throwbacks, along with Dinah's choker tattoo necklace. Together, Harley's technicolor swirl makes up the first image we saw of this movie, the clear sign that this one is different. 
Designer Benach previously worked on the costumes for A Star is Born, Drive, and Blue Valentine. She's in good company behind the scenes – Birds of Prey has women in all major roles like Director Cathy Yan (Dead Pigs) and writer Christina Hodson, who brought us the excellent screenplay to Bumblebee, the only Transformers movie that can boast it's "critically acclaimed."
All of this means it shouldn't be such a surprise to see the women of Birds of Prey wearing clothing that's fun, interesting, functional, reflects their personalities, and actually covers their bodies rather than catering to the male gaze. Most importantly, these costumes excite the audience about the characters and the story, rather than being the same old tight, impractical leather in a dark color palette. Hopefully this sense of playfulness and investment in the characters is indicative of the care the team is bringing to Birds of Prey as a whole. 
Birds of Prey comes to theaters Feb. 7, 2020. The complete schedule of upcoming DC movies can be found here.
Keep up with the latest news, exclusive trailers, and other highlights from NYCC 2019 here.