News
Han Solo: The Coolest Merchandise Our Galaxy Has to Offer
In honor of Solo: A Star Wars Story, here is the very best swag related to that scruffy-looking nerf-herder...
Star Wars has been synonymous with merchandise since the start: back when the first film launched, there was such a demand for toys that Lucasfilm sold empty boxes, on the promise that they'd fill them with toys as soon as the factories could produce them. Nowadays, with Disney owning the franchise and producing a new Star Wars flick every year, the toy-makers of our galaxy are a little more prepared.
Soaring into cinemas this week is Solo: A Star Wars Story, the first solo movie for the roguish smuggler Han Solo. Long before he became a hero of the Rebellion, Han was a young man trying to make his way in the universe. Before Han looked like Harrison Ford, he was Alden Ehrenreich. To tie in with the film's release, there is a lot of awesome merchandise just waiting to tempt your online purchase trigger finger…
Disclosure: if you click any of the links in this article, our site might get a bit of support to keep the lights on. It's up to you, though!
Kessel Run Millennium Falcon
Price the last time we looked: $169.95 from Amazon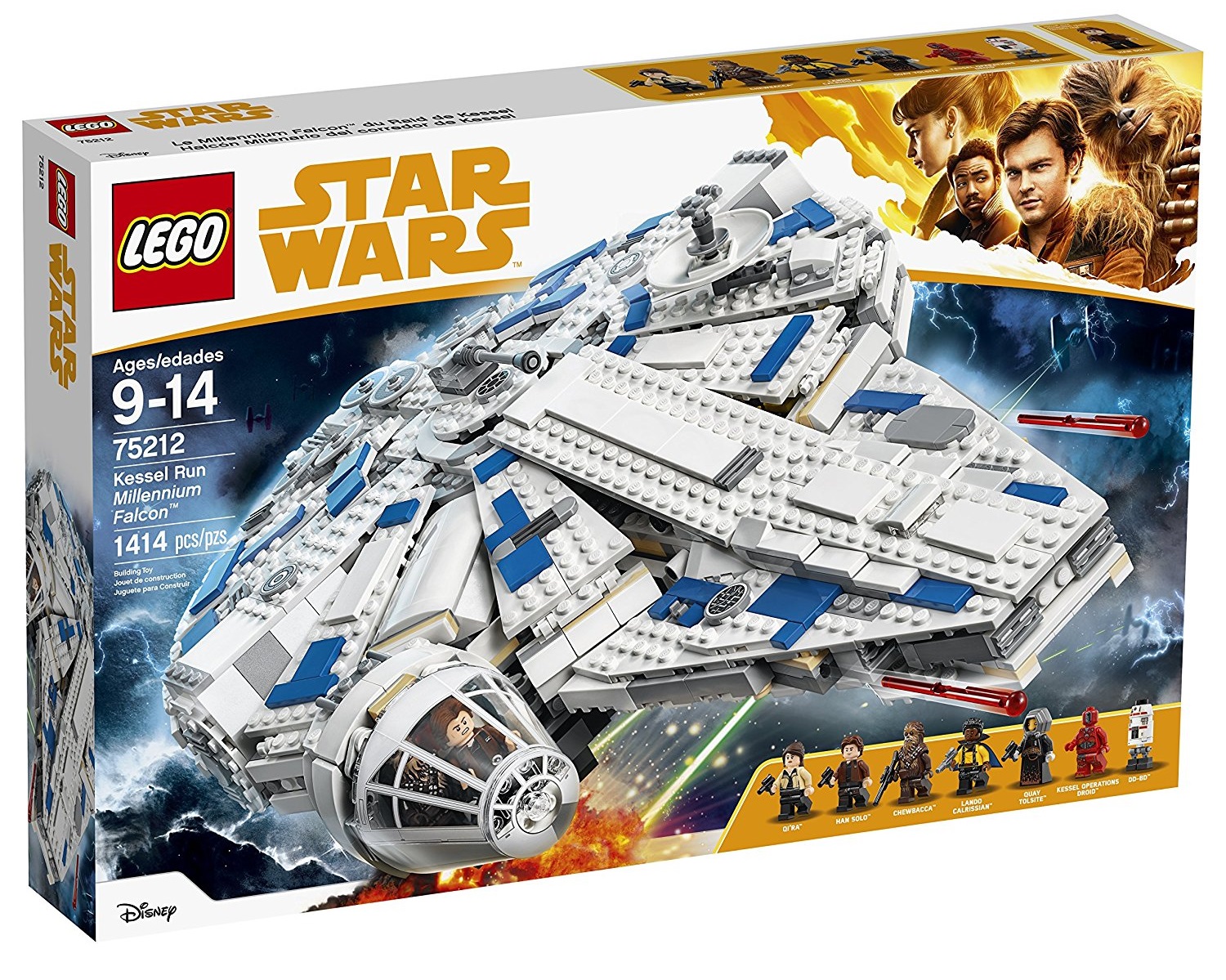 In Solo, we'll get to see a younger version of the Millennium Falcon: a pristine early iteration of the ship, which Lando will eventually lose to Han in a card game (allowing Han to make his 'special modifications' before swooping into the original Star Wars trilogy in style). LEGO has made a white and blue Millennium Falcon kit to match, allowing fans to build Lando's Falcon at home. It weighs in at 1,414 pieces and it comes with six minifigures. Isn't it gorgeous?
See also: The Ultimate Collector's Edition Millennium Falcon
Black Series action figures
Price the last time we looked: #17.99 apiece from Amazon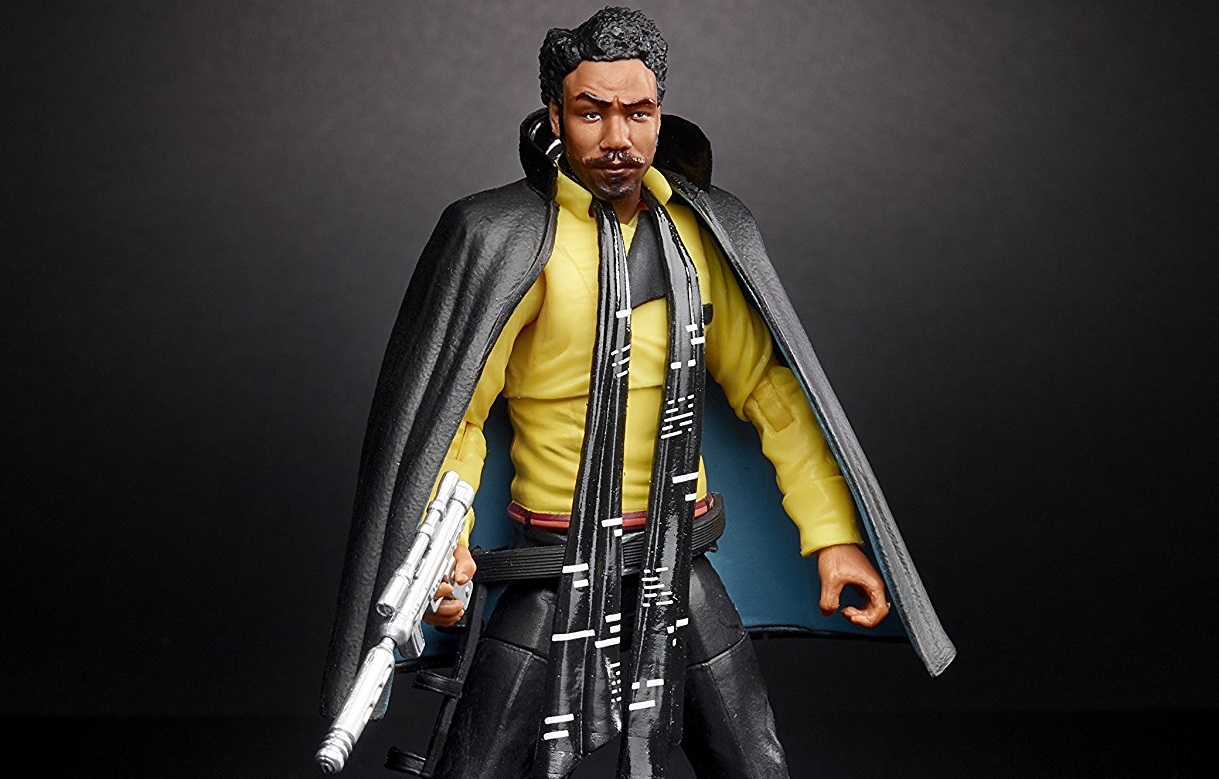 Hasbro's Black Series figures are always pretty stunning, and these Solo characters' special figures are no exception. We particularly love this Lando figure, which effortlessly captures the coolness of Donald Glover's young Lando Calrissian. Glover lobbied hard for the role, and fans have already taken a major liking to his Lando. The figure stands at six inches tall, and it boasts an impressive level of detail. Han and Qi'ra also have Black Series figures, and there is an 'Imperial Range Trooper' figure linked to Solo as well.Want more than Lando? Check out the full set of figures here.
Chewie, We're Home welcome mat
Price the last time we looked: $24.99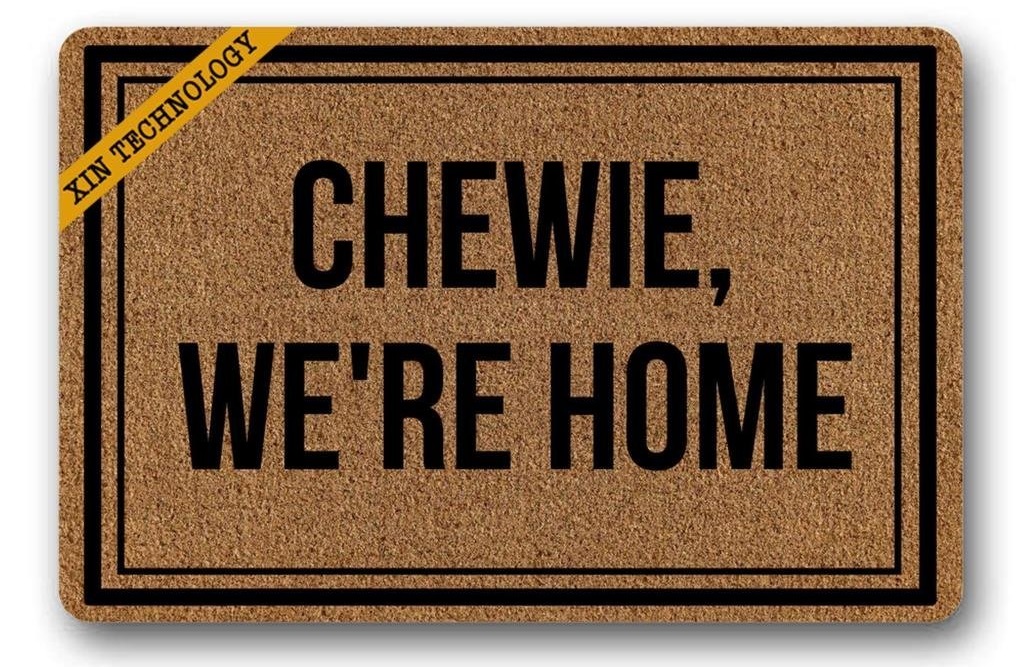 When Harrison Ford's Han stepped into the Millennium Falcon with Peter Mayhew's Chewbacca, in The Force Awakens and its trailers, fans went wild every time they saw it. When Han said, "We're home", he seemed to be talking not just to his trusty companion/walking carpet, but also to the fans themselves: after a lengthy period with no new Star Wars films, we finally got to return to the Millennium Falcon and spend some time with our old friends. And now, with those words emblazoned on a doormat, you can relive that magic movie moment in your mind every time you return home.
Han Solo Nerf Blaster Game
Price the last time we looked: $29.87 from Amazon
If you've been watching the trailers closely, you'll know that Han Solo's iconic blaster will make an appearance in Solo: A Star Wars Story. And thanks to Nerf's latest range of products, you can enact all your favorite moments from Solo with foam darts in the comfort of your own home. The darts even have a flourescent glow, to add an extra level of sci-fi fun. If you do get one of these, and get caught in any sort of stand-off, always remember to shoot first.
See also: The Force Awakens' edition of Han's Nerf blaster
Han Solo jacket replica
Price the last time we looked: $99.99 from ThinkGeek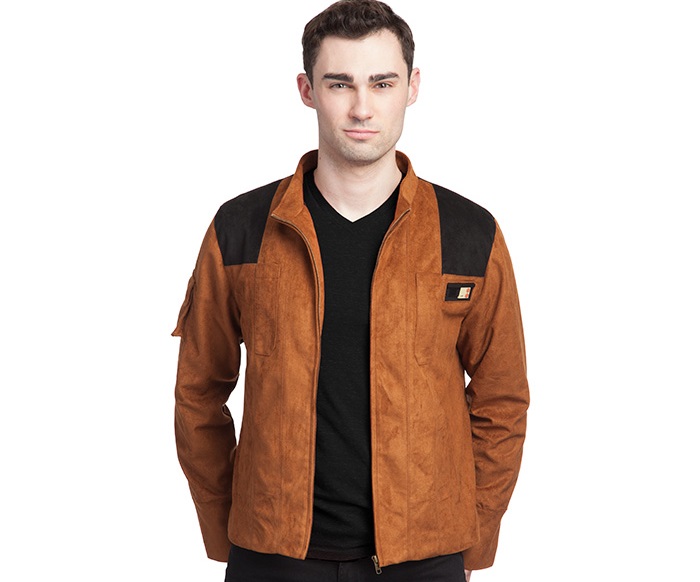 If you want to look good – a little rough around the edges, but good – this is the jacket you're looking for. It's a zip-up jacket inspired by Alden Ehrenreich's one from Solo, and it's officially licensed product, created and sold by ThinkGeek. It has two waist pockets and one cargo pocket, which should be perfect all of your minor smuggling needs. It's made from 100% polyester, and there is even a geeky little detail on the chest: those red dots are a rubber version of the Rebel Alliance Captain insignia!
Chewbacca Dog Costume
Price the last time we looked: $16.71 from Amazon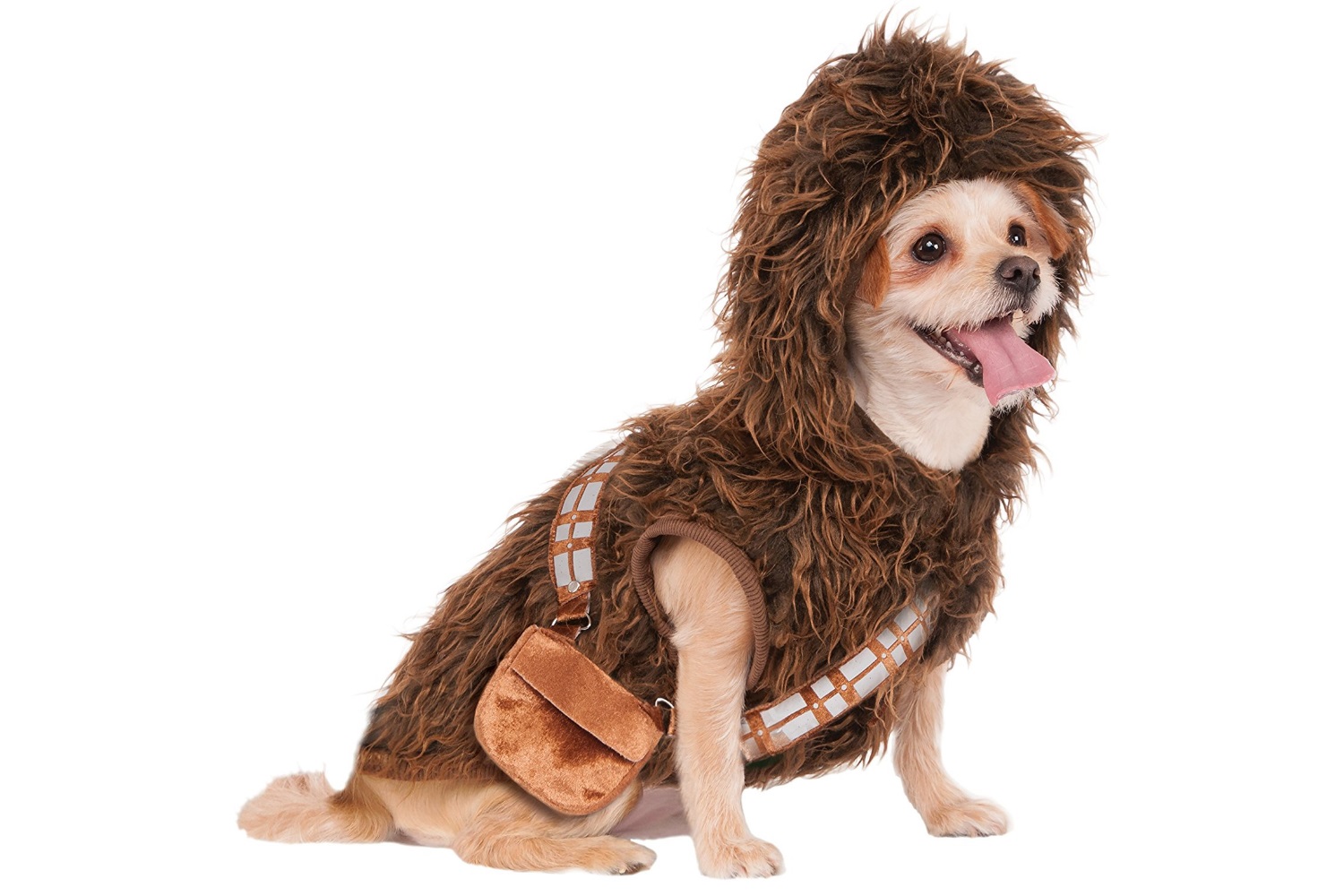 Canines can cosplay too. While you're dressing up in a snazzy Solo jacket (see above), your faithful hound can don the iconic fur of Chewbacca. Channelling their inner Peter Mayhew or Joonas Suotamo (depending on which films are their favourites), your pet dog will look absolutely adorable in this tiny Chewie hoody from the popular costume company Rubie's. You'd also be honoring George Lucas' original vision by purchasing this product and putting it on your pooch, because the character of Chewbacca was initially inspired by the sight of Lucas' own dog sitting in the passenger seat of a car.
Millennium Falcon drone
Price the last time we looked: $101.00 on Amazon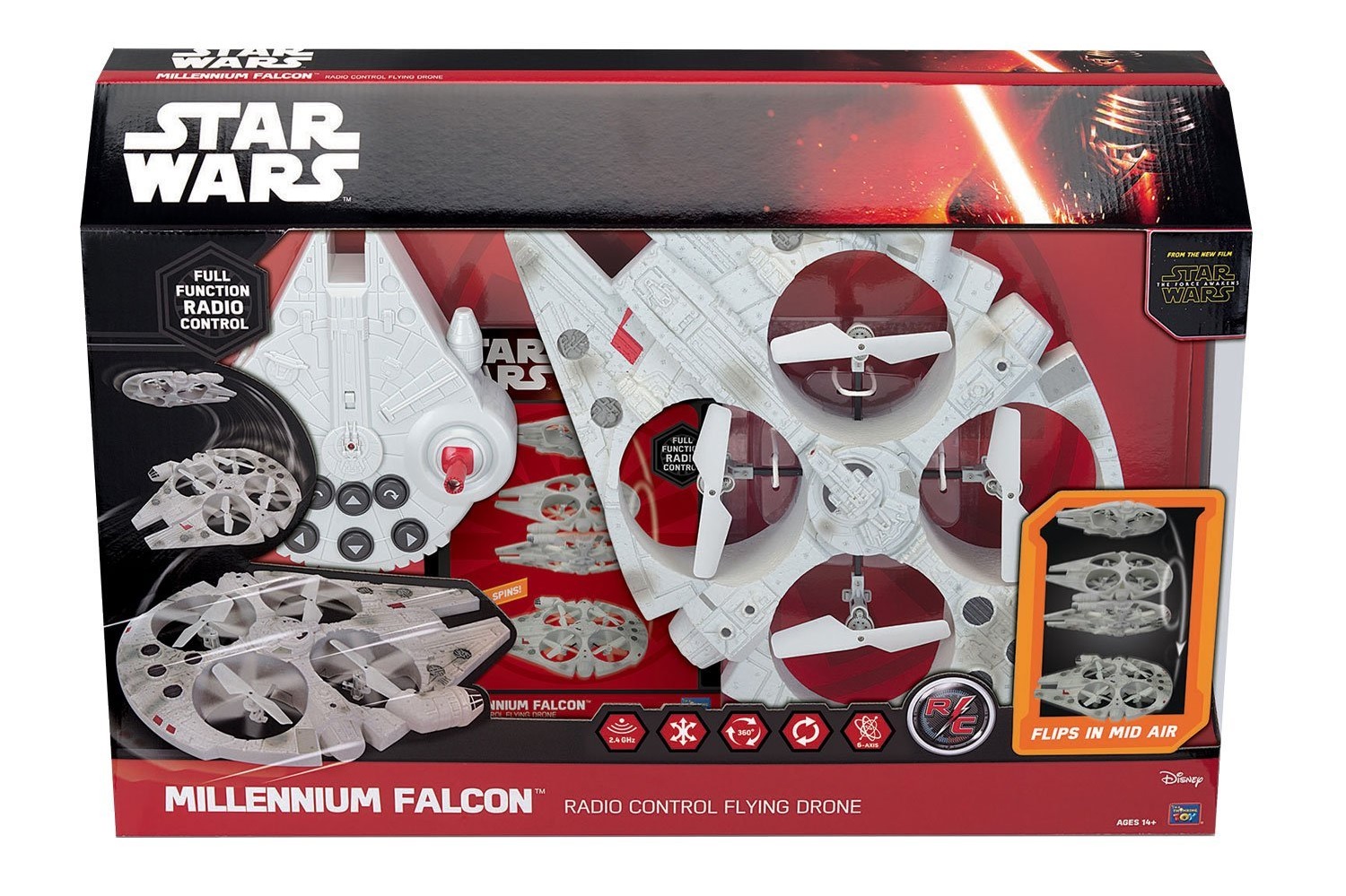 Building and piloting your own Millennium Falcon probably isn't possible, but thanks to this officially licensed drone, you can try out a few maneuvers by flying a decent-sized replica around your neighborhood/backyard/large room of choice. This product is 9.5 x 7 x 1.9 inches, and it is suitable for ages 14 and up. Remember to have a co-pilot nearby when you're flying the Falcon, and even if you manage to do some cool aerial loops, don't get cocky. And don't forget to fly casual when Imperials are nearby.
Han Solo Card Game
Price the last time we looked: $29.16 from Amazon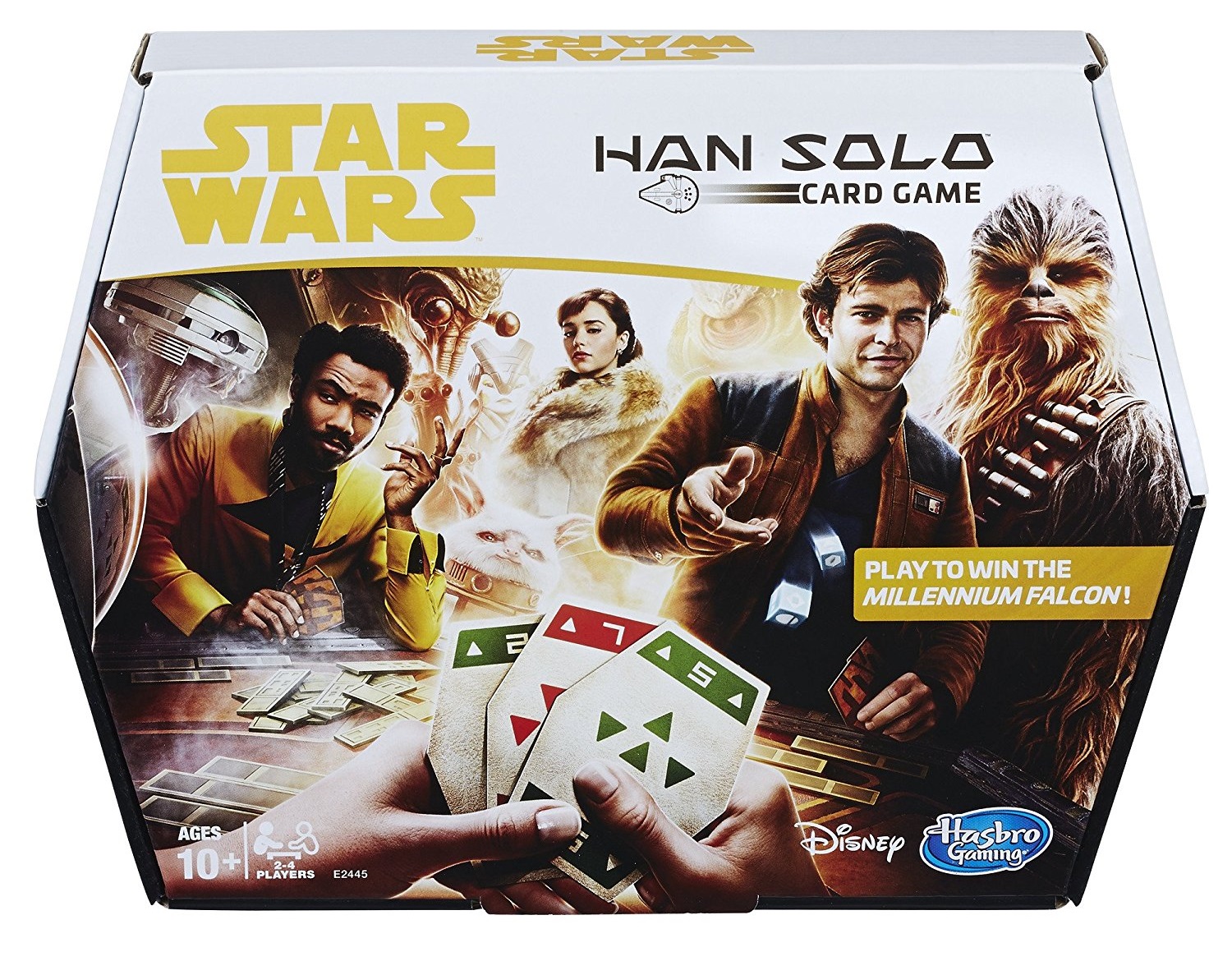 Star Wars fans have known for ages that Han Solo won the Millennium Falcon from Lando Calrissian in a card game, and it looks very likely that we will finally see that scene play out between Ehrenreich and Glover in Solo: A Star Wars Story. Allowing you to take the game home, Hasbro and Disney have teamed up to produce a card game inspired by the film. Hardcore fans will recognize elements of the game from Sabacc and Pazaak, and anyone aged 10 or more can enjoy playing in groups of 2 to 4.  
Funko Pops
Price the last time we looked: from $9.13 on Amazon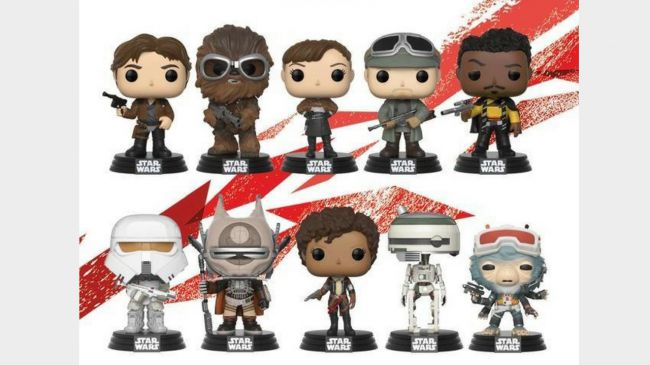 Funko Pop! Vinyl figures have become par for the course with big movies, so it should come as no surprise that a new range is coming out to mark the release of Solo. Characters from the movie available in Funko form include Han, Chewie (with goggles), Lando, Emilia Clarke's Qi'ra, Woody Harrelson's Tobias Beckett, Phoebe Waller-Bridge's L3-37, Thandie Newton's Val, Paul Bettany's Dryden Voss, Jon Favreau's Rio Durant, a Range Trooper, a Mudtrooper, Enfys Nest, a Dryden Gagster, and some fighting droids. There are also ranges of Dorbz, Mystery Minis, and plush keyrings from Funko.
Solo: A Star Wars Story – The Official Guide
Price the last time we looked: $12.59 from Amazon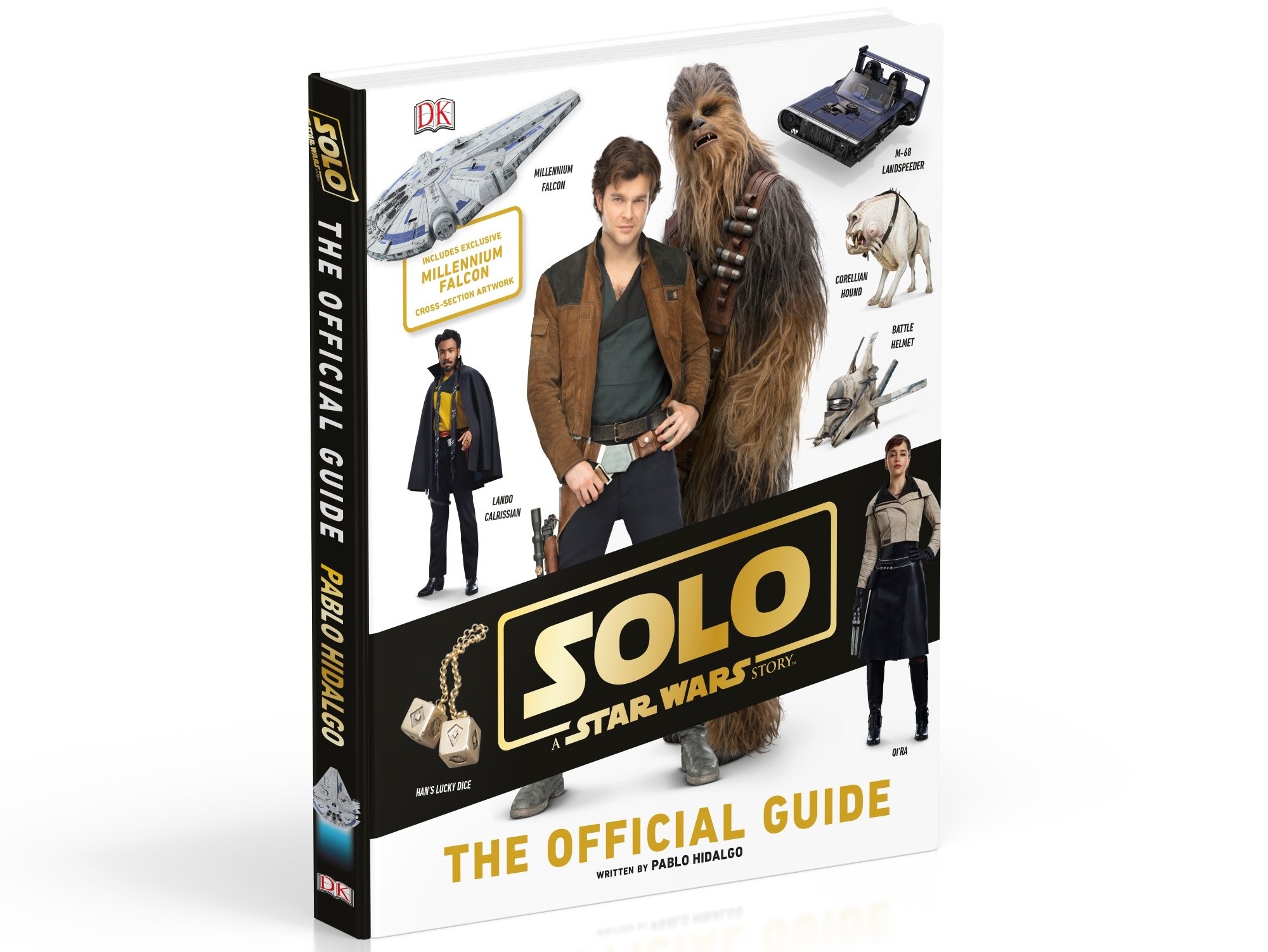 Pablo Hidalgo is the font of all knowledge within Lucasfilm, and he's written an official guide to Solo: Star Wars Story. A treasure trove that any space pirate would be happy to find, this Solo tome contains all the golden nuggets of nerdy info that your brain could handle. It details the planets, vehicles, aliens, characters, locations and props from the film, and it even contains a section about those golden dice that Han picks up in this film and keeps in the Falcon until his demise in The Force Awakens.
See also: The Art Of Solo: A Star Wars Story
Carbonite Ice Tray
Price the last time we looked: $8.14 on Amazon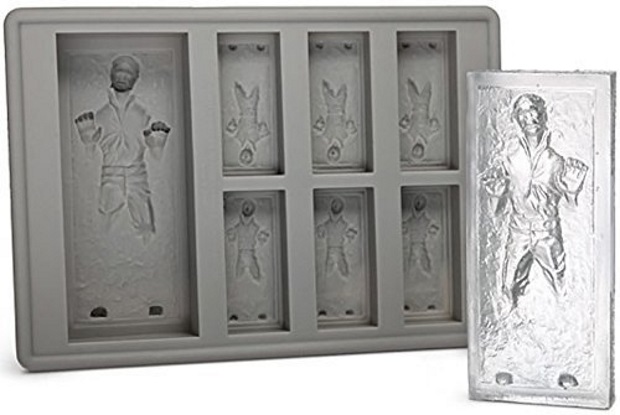 Remember one of the most horrifying moments in Star Wars history with this novelty kitchen item. Han Solo's entrapment in Carbonite was one of the scariest bits in Star Wars' darkest chapter to date, the fan favorite flick The Empire Strikes Back. And now, you can spruce up any party by creating ice cube replicas of Han's frozen-in-Carbonite pose. Better yet, it's an officially licensed piece of merch, and it won't break the bank. You know what they say, 'Hokey religions and ancient weapons are no match for a good ice cube in your drink.'