News
Hammer Movies – Beyond the 20th Century
We're delighted to welcome Holger Haase to Den Of Geek, and he's delighted to welcome Hammer Film Productions back into the world too...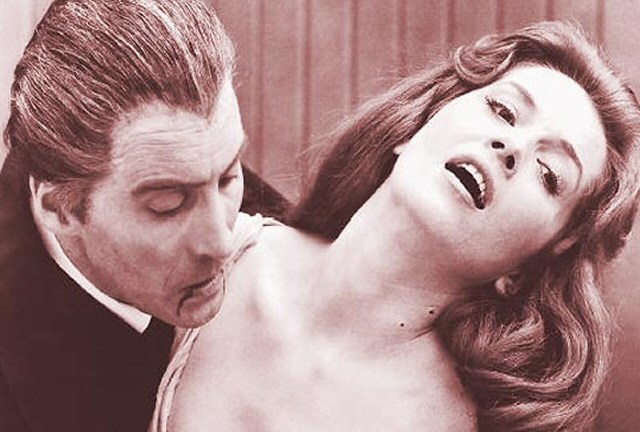 It's official now. The syndicate that recently acquired Hammer Film Productions has at last started producing the first Hammer feature film since The Lady Vanishes (1979): Beyond the Rave is going to be a modern day vampire movie set in England's underground rave scene and featuring Ingrid Pitt and Sadie Frost in supporting roles.
For years the Hammer fan community had speculated as to whether we will ever be able to see a new Hammer horror movie. Every time the company changed owners over the last few years expectations were high about a possible new production, yet ultimately all those expectations ended up being shattered and speculation about new Hammer movies became a bit of a running joke with only a few people still seriously considering a return of the House of Horrors.
It is probably safe to say that having a studio getting back into the business of movie making after such a long time out of the public eye is unique in the annals of film history. True, we recently saw moribund franchises like Doctor Who or James Bond being raised from the dead, however, none of those have been dormant for as long as Hammer Films had been and, besides, these were fictional characters that were revived. The actual parent studios had never necessarily ceased functioning.
So one would have thought that the confirmation of this new movie should have everyone salivating with excitement. However, just a short while after the original press announcement had come out and before even a single scene of the film had even been shot, criticism raised its ugly head and started with the title of the production. For some any reference to a rave was far too modern for a company that was known for their Gothic pictures that were mostly placed in historic settings; for others raves weren't modern enough and just so 1990s. Worst of all, how could the first new Hammer production in decades reference a movie from rival Amicus, i.e. From Beyond the Grave (1973), as opposed to their own back catalogue?
When details of the plot were revealed it was apparently too reminiscent of the current wave of teen horror flicks and had little to do with the films that made them famous and when news came out that the movie was not going to get a proper cinematic release, but instead be available for serialised downloading on the Internet, you could hear a collective sigh of exasperation go through the ranks of Hammer heads.
So is all the pre-release criticism justified?
Nobody could have seriously expected that the company would seamlessly take off where the old owners had previously left it. The movie industry has radically changed in the 30 years of Hammer's absence and in order to make sure that this unique studio revival will not just be a one-off flash in the pan, but the start of a new series of modern horror flicks Hammer will need to conduct a tightrope act with several factors.
On the one hand they do have a distinct and relatively well known brand. The Hammer Fan community may not be as numerous as the Star Trek or Star Wars fraternity, but Hammer Fans are a very loyal, outspoken and dedicated small group of people that have managed to keep the flames burning during Hammer's own long absence from the screens. It is only because they are still around that the new company has been able to successfully relaunch their business through a number of promotional merchandise such as reproduction posters, scratch cards or the support of various DVD releases. So as small as the Hammer Fan Group is in the big scheme of things, the new owners would be wise to ensure that projects do get their support.
As such it is positive to note that there are definite links remaining with past productions that should satisfy the die hard old school Hammer aficionados: one of Hammer films' most noted actresses, Ingrid Pitt, has appeared in a part and some of the filming has taken place in Black Park, a location that has become nearly as synonymous with Hammer as Death Valley has been for John Ford.
It is doubtful, however, whether any film project could return its investment by just relying on the Old Guard of Hammer fans. More importantly Hammer needs to also be able to entice new viewers to approach their movies. The movie industry and with it its audience has changed tremendously over the last couple of years. The Internet together with the availability of digital movie media has radically reshaped the way movies are viewed these days. Gone is the time when you were only able to watch a movie in a cinema or every couple of years (if you were lucky) on television. You can now buy even the most obscure film online and, legal or not, obtain copies of pretty much anything you want to see 24/7 and on a variety of different media including Ipods, mobile phones or your computer.
As such releasing their film online in a serial format is a very daring and innovative move that just might prove successful and act as a blueprint for future productions. In the end, however, the final success of the movie will depend on how well the film will work as a horror feature in its own right and that is something that can only be judged upon its release.
I for one will reserve judgment of the movie until I had a chance to actually watch it. I am positive to get goose bumps just seeing the name Hammer back on a feature film again and I sincerely hope that it will spell a reawakening of interest in Hammer movies old and new in whatever format is going to be the most appropriate for the new digital age we are living in.
Holger Haase is probably Hammer's strongest fan presence on the web; his Hammer blog can be found at hammerandbeyond.blogspot.com, and a collection of far-from-horrible Hammer actresses is available (including filmographies, bios and clippings) at his site Hammerglam (hammerglam.topcities.com).