News
Halloween: Horrifying New Footage is Matched by Jamie Lee Curtis Comforting Fan
A terrifying clip of the new Halloween is only topped when Jamie Lee Curtis comforts a fan who credits her performance with saving his life.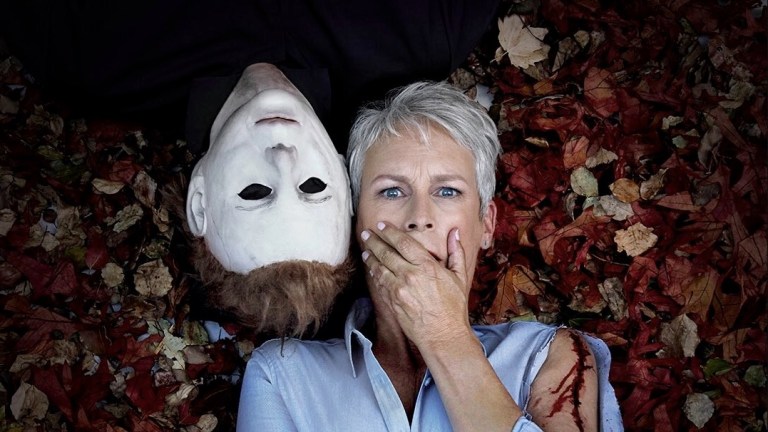 While there are still two days left in the 2018 vintage of San Diego Comic-Con, it's unlikely there will be a panel that can top what was achieved in the Halloween half of Universal Pictures' Hall H takeover. The first segment of the presentation was also highly impressive, with M. Night Shyamalan and much of his cast presenting a wicked new trailer for Glass. However, things got dark and then genuinely touching during Halloween's time in the spotlight. And moderator Yvette Nicole Brown was not entirely kidding when she suggested after it was over, "I told y'all we were having church up in here."
The gorehound highlight of the panel was the showing of a definitely R-rated scene from the movie. The previous trailer for David Gordon Green's reimagining of Halloween suggested this would be a new reimagining of the John Carpenter classic—complete with the retconning of all previous Halloween sequels and remakes out of continuity—but the extended preview for the Hall H faithful is what's finally given this new interpretation a visceral bite.
Read the Den of Geek SDCC 2018 Special Edition Magazine Here!
Shot in what appears to be a single take, a nearly four-minute sequence from the film does more to conjure dread from Michael Myers' Shape than any film has done in decades. It is obviously evocative of how John Carpenter filmed the original Halloween's prologue in 1978, in which an extended POV shot behind a clown mask tracks Michael Myers' first murder of his sister as a young boy. However, the level of craft that auteur-director David Gordon Green (Stronger, Snow Angels) brings to his version of the "long take" is also just as reminiscent of Alejandro González Iñárritu's Birdman in terms of its ambition.
It begins with a callback to the first film where a child runs into an aged Michael Myers on Halloween night. But instead of seeing the Shape walk into the distance, Green's camera follows Michael's calm, belabored gait with clocklike efficiency. The camera keeps behind the masked killer as he walks into a nearby garage and discovers a hammer, and then as he passively heads into the house where the tool's owner lives. So much is achieved by simple suggestion. A baby is crying in a distant room; his mother is preparing dinner; she leaves our line of sight while passing the kitchen's doorway; Michael follows. We don't see anything, but we hear it all. The scream, the struggle, and the sickening thud of hammer meeting skull. When the camera respectfully starts following Michael again, there is a lifeless body with a crushed-in head bleeding on the kitchen table. Michael takes her knife.
The sequence continues as Michael travels from one house to the next, collecting his weapon of choice, his preferred vantage point, and another gruesome kill along the way. There are no jump scares here. It is all deliberate anticipation of something dreadful about to happen, and then it occurring (often off-screen) in a gruesome release.
Be that as it may, that extended tease, complete with a sizzle reel that is sure to figure into the second Halloween trailer, is not the highlight of the afternoon. Rather an incredibly emotional Q&A is what stole the show.
Opening up with the first question of the Halloween portion of the panel, a gentleman by the name of Joseph revealed that he believes Jamie Lee Curtis and the original Halloween film saved his life. Prior to the Q&A, Den of Geek personally spoke with Curtis, and she marveled how happy she is that she is still doing Halloween films. As per the actress, she gladly embraces that "this is my legacy" and it is one that will go down in film history as something incredibly important to millions of people.
That was crystallized in this moment when Joseph said, "I'm just really grateful for the movie Halloween, because 24 years ago, it saved my life. I was in a situation where someone had cut the phone wires, and a guy was running around with a knife. I was scared out of my mind, and out of nowhere this thought inside of me went, 'Well what would Jamie Lee Curtis do?'" Revealing that he ran from the house to a neighbor's, screaming like Curtis' onscreen alter-ego during Halloween's climax, he continued, "I'm here today because of the way you portrayed Laurie Strode. I'm a victor today instead of a victim."
With tears in his eyes, he admitted Ms. Curtis is the only reason he came to Comic-Con, and in turn rather than responding over the mic, the Halloween star got up and walked off the stage to embrace the fan. In a sincerely human moment, Jamie Lee Curtis went and comforted a person who credits her acting with saving her life, kissing him on the cheek and hugging him for a good long moment. She didn't even come back to the stage until after another fan's question had been answered.
A few minutes later, Curtis addressed the rest of the Hall H congregation to say, "That kind of emotion is real. You see these are movies, and we love to come to a movie and get scared, and it's all exciting. But it all has to be based, as an actor, as a director, a writer, a producer, it has to be based in a reality and something you can believe in. And his state of being, that amount of emotion Laurie Strode has been carrying for all these years—I am 40 years older. I have raised two children; I have survived my husband and I for 34 years; and I have lost all of my adult family, parents, friends; and the reality of life is what makes stepping into a role 40 years later so easy. Because it's just emotions and human feelings, and that connection just now is the evidence of all that."
Audiences can make an emotional connection with the new Halloween—including what appears to be cold, hard terror based on the extended clip—when it opens on Oct. 19.