News
Grudge Match poster: Robert De Niro's head, not his body
Barely concealed Photoshop work is the unwitting star of the new Grudge Match poster...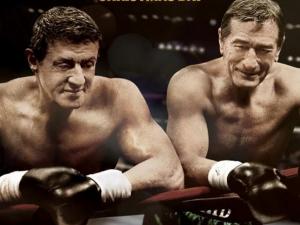 We really didn't mind the trailer for upcoming boxing comedy Grudge Match at all. This is the one that unites Sylvester Stallone and Robert De Niro in the ring, in a sort of Raging Bull meets Rocky, without the Oscars, acclaim and other such inconveniences.
Still, there are no shortage of decent comedy ingredients, although sadly, this poster isn't quite the comedy they may have been looking for. Friends, we direct you to the uncomfortably pasted head of Robert De Niro on someone else's shoulders. We know that bad Photoshop work is nothing new on a movie poster, but sheesh: his face is a different colorto the rest of him. There's something a bit wrong with Stallone's head too.
That said, the movie has the real potential to be a lot better than said poster. But let's call this the low point of the project so far…