News
Gringo Trailer: David Oyelowo and Charlize Theron Star in Dark Comedy
Gringo has David Oyelowo as an unlucky businessman for a pharmaceutical company who's sent on a disastrous trip to Mexico.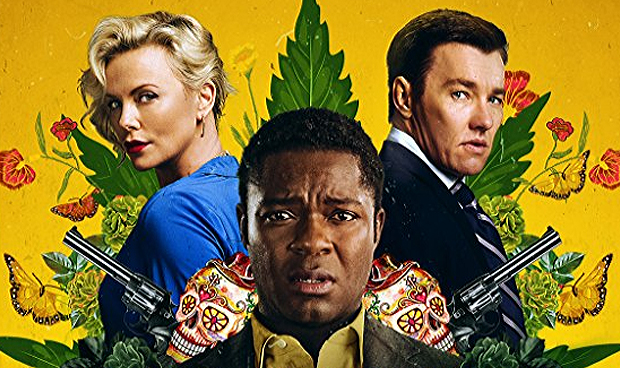 While English actor David Oyelowo made a major impact playing American civil rights leader Dr. Martin Luther King Jr. in 2014's Selma, his role in the upcoming dark comedy, Gringo, has him playing a hapless, luck-deprived corporate pawn in the burgeoning medical marijuana market.
Now, armed with an enviable ensemble, Gringo, a theatrical release produced by Amazon Studios, has released its first trailer (along with a Redband version).
Gringo Trailer
It's quite apparent from the beginning of the Gringo trailer that protagonist Harold Soyinka (Oyelowo) is a cannabis leaf that's floating at the mercy of an unrelenting tempest. Working as middle management in a marijuana-venturing pharmaceutical company, Harold is tasked by a ruthless by his ruthless boss (Charlize Theron) to deliver a potential game-changing experimental "weed pill" to the company's lab in Mexico. However, unbeknownst to Harold, he heads into a hornet's nest, since the company he represents just cut off a dangerous cartel boss. Thus, to keep Harold – and, more importantly, the weed pill – intact, the company hires protection in the form of a bounty hunter (Sharlto Copley), who, as evidenced by the trailer, will have a rough time, himself.
And here's the NSFW Redband version of the trailer. It's essentially the same clip, except with a few emphatically colorful words added.
Gringo Story
Per the official synopsis:
Mild-mannered pharmaceutical company executive Harold Soyinka (David Oyelowo) takes a business trip from Chicago to Mexico with his cutthroat bosses Richard (Joel Edgerton) and Elaine (Charlize Theron). At the company's Mexican lab, Richard orders manager Sanchez (Hernán Mendoza) to stop selling the bioengineered marijuana product Cannabax to a brutal, Beatles-loving cartel kingpin known as The Black Panther. Meanwhile, straight-arrow Harold learns he'll be out of a job as soon as Richard and Elaine sell their newly cleaned-up company to a conglomerate. And when he turns to his wife Bonnie (Thandie Newton) back home for comfort, she confesses via Skype that she's having an affair.

Targeted by the ruthless Black Panther, who hopes to gain access to the Cannabax formula, Harold disappears before his bosses return to Chicago. A few hours later they receive a call informing them he's been kidnapped, and his captors are demanding a $5 million ransom. Rather than pay, Richard dispatches his mercenary-turned-humanitarian brother Mitch (Sharlto Copley) to extract Harold. But even with some temporary assistance from warmhearted American tourist Sunny (Amanda Seyfried) and her drug-mule boyfriend Miles (Harry Treadaway), Harold's prospects for survival grow dimmer by the minute.

Pursued by an army of attackers, Harold crosses the line from mild-mannered citizen to wanted criminal. But is he out of his depth? Or two steps ahead? An action-comedy roller-coaster ride brimming with black humor, white-knuckle car chases and double-dealing, Gringo takes the concept of adventure travel to a whole new level.
Gringo Details
David Oyelowo (Selma, A United Kingdom, Star Wars Rebels) stars as Harold Soyinka. The film also co-stars Charlize Theron, Sharlto Copley, Amanda Seyfried, Joel Edgerton, Thandie Newton, Harry Treadaway, Alan Ruck, Kenneth Choi and Melonie Diaz.
Nash Edgerton directed the film, working off a screenplay by Matthew Stone (Intolerable Cruelty, Big Trouble) and Anthony Tambakis (Warrior, Jane Got a Gun). Edgerton – the brother of Joel – previously directed the 2008 Australian crime drama, The Square, with upcoming television work soon to debut with crime series Mr. Inbetween.
Gringo Release Date
Gringo gets ready to make a perilous delivery south of the border when it hits theaters on March 9, 2018.