News
Green Lantern Corps Movie Still a DCEU Priority for WB
Geoff Johns will write and produce the Green Lantern Corps movie. Here's everything we know so far...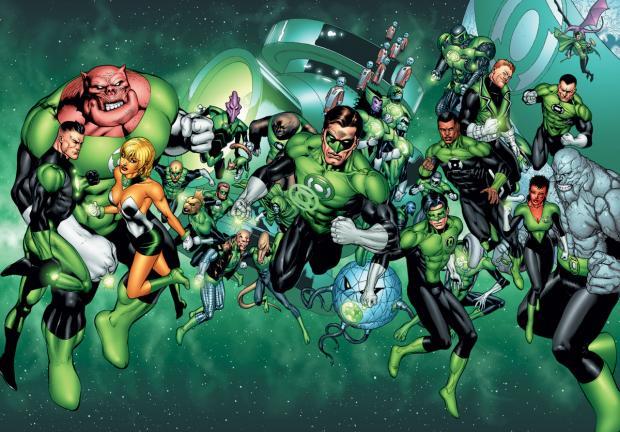 Green Lantern will return to the DCEU, but he won't be alone. The reboot (and it is most certainly a reboot, and not a sequel to the generally loathed movie from 2011) will be called Green Lantern Corps. And it will focus on, at the very least, John Stewart, Hal Jordan, and a bunch of alien members of the most famous alien police force in all of comics (there was a blink and you'll miss it cameo from an alien member of the Green Lantern Corps in the background of the Justice League movie, too). David Goyer and Justin Justin Rhodes had been writing a script with Geoff Johns and Jon Berg executive producing, but now Johns, in his role as head of Mad Ghost Productions, is writing and producing the Green Lantern Corps movie. 
No other details are currently available, but Johns redefined the Green Lantern Corps for the modern era, kicking off a long run as writer on the comics in 2005, which became some of the most successful and acclaimed stories in the characters' history. Expect characters and concepts from his time on the character to make their way to the screen. Things have been pretty quiet for this movie for quite some time, but Variety reports that Johns is expected to deliver his script to the studio before the end of the year, and that it's possible J.J. Abrams and Bad Robot could get involved in producing the film. This is almost surprising news, as after the announcement of a Green Lantern TV series coming to HBO Max from Johns and Greg Berlanti, many thought the movie had stalled. That seems to not be the case, and Variety says the film "remains a priority" for the studio.
Green Lantern Corps Director
And then there's the director problem. Back in 2017, That Hashtag Show claimed that Rupert Wyatt (Rise of the Planet of the Apes) was "attached" to the project. Wyatt, who recently walked away from the Gambit movie (which is never happening anyway) at 20th Century Fox, would seem like the kind of director Warner Bros. would court for this, and he'd be the second Apes-alum to join the DCEU (Matt Reeves is set to direct The Batman solo movie). Word had even earlier surfaced via Meet the Movie Press that David Goyer was being considered as a director, as well, but there was never any additional confirmation on that. Considering that Warner Bros. is mostly pursuing high profile directors with distinct styles these days, Wyatt would seem to be more in line with their thinking. But now with J.J. Abrams in the fold, a director with two proven space opera franchises under his belt, who knows what the future could hold?
Green Lantern Corps Cast
At one point, the focus of the movie was apparently on John Stewart's origin, in what has been described as "Lethal Weapon in space." Expect Stewart to be the neophyte Green Lantern alongside an older, battle-hardened Hal Jordan. That Hashtag Show revealed some casting breakdowns at the time that seemed to back that up…
Hal Jordan: Caucasian, 39 – 50. A former military test pilot, he is now a veteran of the Green Lantern Corps.

John Stewart: African- American male, 21 – 30. Prior to joining the Green Lantern Corp, he was a sniper in the military.
It's unclear, even unlikely, that any of this still holds in the current version, but we'll keep looking for new info.
Going the team/buddy cop route instead of another solo film isn't all that surprising when you consider that Warner Bros. wants to put as much distance as possible between this and the disappointing 2011 movie that starred Ryan Reynolds. Turning this into a team movie not only takes the origin story out of the equation, it probably means this one will spend most of its time in space. More sci-fi, less earthbound superheroics should help everyone involved.
In 2018, a rumored casting shortlist for Hal Jordan surfaced via The Wrap, and amid sensible studio favorites like Tom Cruise, Bradley Cooper, Armie Hammer, Joel McHale, and Jake Gyllenhaal, there was one surprise: Ryan Reynolds. Really, having Reynolds' name on there throws that whole thing under suspicion. The 2011 Reynolds movie is radioactive, and the whole point of going the team movie route is to put as much distance between that and the new project as possible, and GL is notable by his absence in the Justice League movie. Furthermore, Reynolds himself doesn't sound terribly interested in returning.
Armie Hammer also cast doubt on the report by saying he's never heard a word about the project to, of all outlets, The Wrap itself. While promoting Call Me by Your Name, Hammer said, "I saw the reporting too, and that's the first I've heard of it." .
Tyrese Gibson has been campaigning heavily for the role of John Stewart over the last couple of years, but that hasn't come to anything, either. Other rumors indicate that another Green Lantern, Kyle Rayner, could also make an appearance. 
In any case it's unlikely we'll hear any official casting news any time soon, especially until the script is turned in and director issues are worked out. All of the above info should be considered old and outdated until we have word otherwise.
Green Lantern Corps Release Date
Green Lantern Corps was once scheduled for July 24, 2020, but that obviously isn't happening. The complete DC superhero movie release calendar is here.