News
Green Book Trailer, Release Date for Viggo Mortensen and Mahershala Ali Drama
Road trip drama Green Book will see Viggo Mortensen chauffer Mahershala Ali through a pre-Civil Rights South.
Historical drama Green Book put together quite the creative collaboration. Besides serving as a major genre departure for comedy director Peter Farrelly (yes, of the Farrelly Brothers), the film will also provide an intriguing onscreen dynamic between Oscar nominees Viggo Mortensen and Mahershala Ali.
Participant Media are producing and financing Green Book, and Steven Spielberg's Amblin Partners will handle distribution. The title references Victor Hugo Green's "Negro Motorist Green Book" (published from 1936-1966), which helped African-Americans safely navigate the lower half of the Mason-Dixon Line, identifying essential accommodations such as motels, gas stations, restaurants that serve blacks.
Green Book Trailer
The first Green Book trailer has arrived, showcasing the instant onscreen chemistry between stars Mahershala Ali and Viggo Mortensen. The fact-based film depicts Dr. Don Shirley (Ali), a world-class pianist, braving a concert tour that reaches into the Deep South; a dangerous leg for an African-American, especially in the early-1960s. Consequently, Shirley hires a driver/bodyguard in the crass white Bronx bouncer, Tony Lip (Mortensen). Amidst the dangers, the duo become an intriguing Odd Couple, with clashes ranging from topics of racial tensions to Lip's generally repulsive eating habits (driving while eating fried chicken is GROSS). However, the bond that they eventually form is quite evident in the trailer.
Green Book Release Date
Green Book is set to arrive on November 21.
Here's the official poster…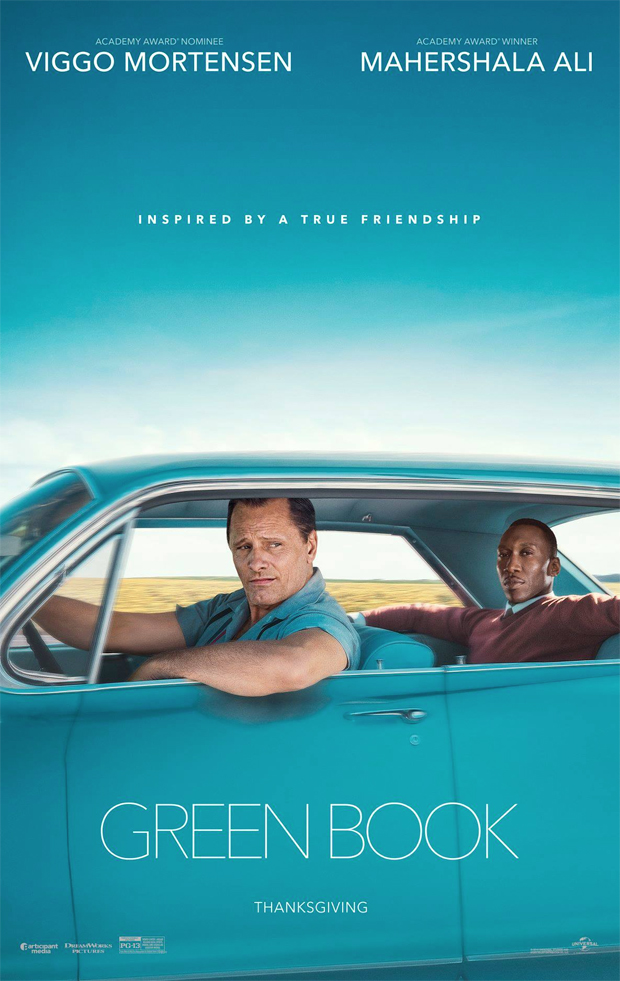 Green Book Details
A fact-based drama set in 1962, Green Book will center on Tony Lip (Mortensen), described as "an Italian-American bouncer with a seventh-grade education." Tony's current job tasks him with chauffeuring Don Shirley (Ali), a Ph.D of psychology and, more famously, a virtuoso jazz pianist, on a concert tour that stretches from New York City down to the Deep South, specifically a pre-Civil Rights Deep South, where Don's safety requires physical assurance, which is what Tony is there to provide. While working off the titular guidebook, Tony and Don will bond on a road trip filled with dangers, racism and mutual edification about their respective situations in life.
Green Book seems to be an interesting role for Viggo Mortensen, the actor famously known as the heroic would-be King of Gondor, Aragorn, in The Lord of the Rings Trilogy, who's earned a Best Actor Oscar nomination in 2008 for Eastern Promises and recently in 2017 for Captain Fantastic. He joins Mahershala Ali, who's riding substantial career momentum, coming off a Best Supporting Actor Oscar nomination for 2017 Best-Picture-winner Moonlight, along with recent roles in Hidden Figures and Netflix Marvel television series Luke Cage. Ali will next be seen co-starring in Season 3 of HBO's True Detective. Additionally, Linda Cardellini, of Netflix's Bloodline, AMC's Mad Men, will also co-star in the film, playing a character named Delores.
As mentioned, Peter Farrelly will step in to direct this potentially poignant drama, working off a script that he co-wrote with Brian Hayes Currie and Nick Vallelonga. Farrelly, who has made a lot of money co-directing coarse comedy hits with his brother, Bobby Farrelly, such as Dumb and Dumber (and its 2014 sequel), There's Something About Mary, Hall Pass, Me, Myself & Irene, Kingpin and the notorious Stuck on You, moves into the world of prestige drama with Green Book.