News
Gotham's Chris Chalk Joins Chris Evans on Spy Movie Red Sea Diving Resort
Gotham actor Chris Chalk has been cast in a 1980s-set spy thriller called Red Sea Diving Resort, opposite star Chris Evans.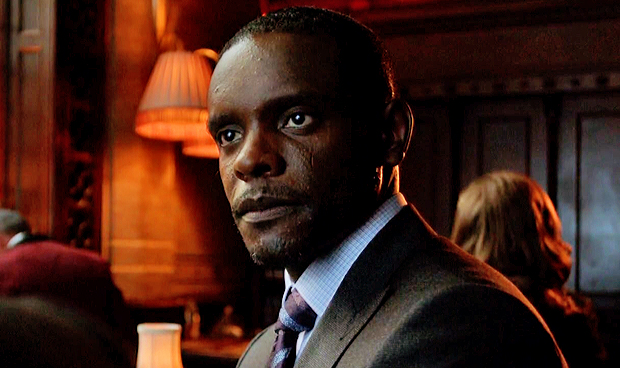 Chris Chalk is set to join the already-impressive cast of a fact-based spy thriller called Red Sea Diving Resort. The project will see Chalk, who fields a recurring role on Fox's Batman-inspired series Gotham as Lucius Fox, join a notable cinematic costumed comic book hero in Captain America and Avengers star Chris Evans, along with other notables.
According to Deadline, Red Sea Diving Resort will see Chris Chalk joining a biographical project set in early 1980s in which Chris Evans temporarily stows Captain America's stars and stripes to play a Mossad (Israeli intelligence) agent named Ari Kidron, who oversees a benevolent – almost Biblical – exodus. Set up in a makeshift base in a deserted holiday resort, Kidron leads a small team of operatives whose mission is to evacuate Ethiopian Jews safely into Israel. Consequently, Chalk will play an antagonist in a militant named Commander Abdel Ahmed, leader of the Mukhabarat, an organization that is terrorizing the Sudanese.  
The role will contrast with the noble gravitas Chalk carries on Gotham as Lucius Fox, the heroic ally and engineering genius memorably played by Morgan Freeman in Christopher Nolan's The Dark Knight Trilogy. Besides an array of one-off TV appearances, Chalk fielded notable recurring small screen roles in the recently-cancelled WGN series Underground, USA dramedy series Confidential, HBO's politically-charged drama The Newsroom and Showtime's long-running terrorism drama Homeland. He was also seen on the big screen in the top-prize-Oscar-winning 2013 historical drama 12 Years a Slave and will next be seen in director Kathryn Bigelow's August-scheduled drama Detroit.
Besides Chalk and Evans, Red Sea Diving Resort features names such as Haley Bennett (The Girl on the Train, The Equalizer), Michiel Huisman (Game of Thrones, Orphan Black), Michael Kenneth Williams (12 Years a Slave, The Wire), Alessandro Nivola (The Wizard of Lies, Selma), Greg Kinnear (Rake, Little Miss Sunshine), Alex Hassell (Anonymous, Cold Mountain), Mark Ivanir (Homeland, Schindler's List) and the knighted, chameleonic Gandhi Best Actor Oscar winner Ben Kingsley (Sexy Beast, Schindler's List).
Gideon Raff serves as writer and director for Red Sea Diving Resort, tapping a talent for Middle-East-set intrigue that was previously showcased on peak television offerings such as Showtime's Homeland, FX's Tyrant, USA's Dig and the Israeli series Prisoners of War.
Red Sea Diving Resort has yet to announce any significant dates.