News
Good Boys: Jacob Tremblay Leads Crude Comedic Kids in Red Band Trailer
The trailer for comedy Good Boys takes the wonder of childhood and adds copious cursing and an array of explicit stuff.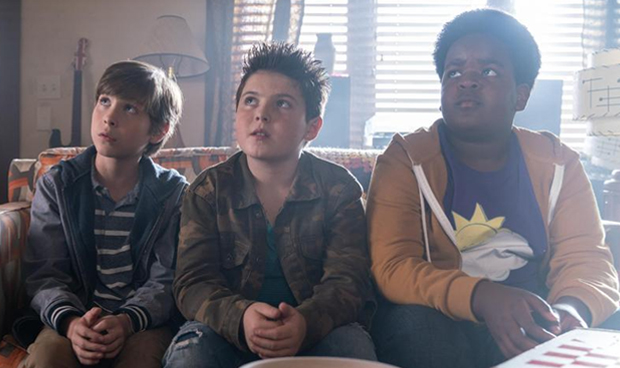 Good Boys appears to be knocking on the genre door of the coarse comedies of the 2000s, notably the bellwether romp, Superbad; a notion that is especially emphatic with Seth Rogen – a producer on the film with repertory partner Evan Goldberg – appearing in an introduction to the comedy's Red Band trailer.
While the main cast of this comedy – led by Room's Jacob Tremblay – aren't even teenagers, there's a certain innate irony to the film, since, as Rogen points out in his preface, the young stars are not even close to being old enough to watch the trailer for their own movie – due to the things that they do in the film.
Gene Stupnitsky stepped into the Good Boys director's chair, making his feature film debut. He worked off a script that he co-wrote with Lee Eisenberg, continuing a creative partnership that spans back to their time as producers on NBC's The Office, later with shows like Bad Teacher and Hello Ladies.
Good Boys Trailer
The first trailer for Good Boys is here, coming out the gate with the shock-and-awe strategy of a Red Band clip rife with cursing, drugs and kids unwittingly making ninja weapons out of sex toys. While this may sound like an episode of South Park, there's a plot here… somewhere. Moreover, the film seems to carry a level of self-awareness of its own exploitation of the genre of (for lack of a better term,) "precocious kids on an adventure," which – hugely popular in the 1980s – has made a comeback of sorts off the popularity of Netflix series Stranger Things, evidenced by one particular burn directed toward the kids in the trailer.
Good Boys Release Date
Good Boys is set to arrive at theaters on August 16.
As the official logline for Good Boys reads:
After being invited to his first kissing party, 12-year-old Max (Room's Jacob Tremblay) is panicking because he doesn't know how to kiss. Eager for some pointers, Max and his best friends Thor (Brady Noon, HBO's Boardwalk Empire) and Lucas (Keith L. Williams, Fox's The Last Man On Earth) decide to use Max's dad's drone – which Max is forbidden to touch – to spy (they think) on a teenage couple making out next door. But when things go ridiculously wrong, the drone is destroyed. Desperate to replace it before Max's dad (Will Forte, The Last Man on Earth) gets home, the boys skip school and set off on an odyssey of epically bad decisions involving some accidentally stolen drugs, frat-house paintball, and running from both the cops and terrifying teenage girls (Life of the Party's Molly Gordon and Ocean's Eight's Midori Francis).
Good Boys Cast
Jacob Tremblay is the lead kid of our primary trio. The child actor burst onto the scene in 2015's Room opposite Captain Marvel star Brie Larson (who earned a Best Lead Actress Oscar for the film). He subsequently banked appearances in films like The Predator, The Book of Henry and Before I Wake, and appeared on an episode of The Last Man on Earth, a show that starred Will Forte, who plays the father of Tremblay's character in this film.
The group is rounded out by Keith L. Williams, who fielded TV runs on The Last Man on Earth and Teachers, and Brady Noon, who returns to acting after a six-year hiatus. While Noon only has one previous role on his CV, it was a sizable one, playing Tommy Darmody on HBO's Boardwalk Empire.
The kids are joined in the cast by Molly Gordon, Midori Francis, Lil Rel Howery and Will Forte.
Joseph Baxter is a contributor for Den of Geek and Syfy Wire. You can find his work here. Follow him on Twitter @josbaxter.