News
Good Boys Cast on Getting Up to No R-Rated Good in Middle School
We sit down with Jacob Tremblay and other stars and filmmakers behind raunchy Good Boys to discuss R-rated comedies and middle school.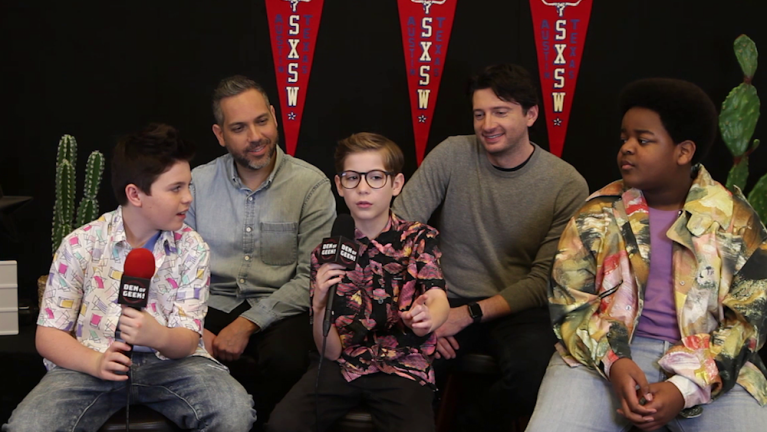 Middle school was a rough time. Everyone who experienced it knows that, so it's easy to see how it became a treasure trove of comedy in Good Boys, the new raunchy laugher that's been hailed by its producers Seth Rogen and Evan Goldberg as the Superbad of an even younger generation. Yet it is amusing to see the disconnect even among those who made the movie, like writer-director Gene Stupnitsky and co-screenwriter Lee Eisenberg, and those still experiencing these alleged wonder years, such as stars Jacob Tremblay, Brady Noon, and Keith L. Williams. We sat down with all five at SXSW to talk about this time in their lives, past and present.
"Yeah, middle school was not sentimental, it was horrible. I think it's everyone's toughest years," Stupnitsky says while chatting about his memories of the film's sixth grade setting. But before getting too far in his recollection, young star Noon, who plays a child named Thor in the film, shakes off such older cynicism.
"I like it so far," he muses. Perhaps it's better when you're a movie star, as Eisenberg deadpans, or perhaps it's only in hindsight that you realize it's an era that might be romanticized a little too often in media.
"We just talked a lot about our experiences from back then, and just the awkwardness and confusion, and it felt like that's just a good place for comedy to exist," Stupnitsky says. "Or at least I think a lot of our comedy comes from awkwardness, and the kids having a little bit of information and are sharing it with one another. [They're] just kind of that cusp; things are just about to change. And we thought that's a fun place to live in."
Living in that role, Tremblay, Williams, and Noon make an excellent triumvirate as the self-described "Beanbag Boys," three lads who are so frightened to attend their first kissing party that they've attempted to spy on the college girls next door… and then go on an adventure to replace a father's drone after the girls steal the kids' surveilling one as punishment. Yet playing them proved daunting for several of the young actors. For example, Williams believes that the foul language all three kids use in Good Boys is reflective of his experience on playgrounds and with friends who are now attending middle school (Williams is himself home schooled). However, seeing it and playing are two different things.
Says Williams. "I didn't want to do it at first because of all the cursing and stuff, but my mom just told me it was just acting, and to pray about it."
Tremblay, meanwhile, takes a fairly sophisticated and method approach to the line between himself and his character, who at one point picks up a paintball gun to terrorize a fraternity if they won't sell him drugs (it's a long story).
"I read it with my parents, because I've actually sworn a lot in movies before," Tremblay says, "but me and my parents have this rule…  I like to separate my character from me. So when I'm on set, I'm my character and my character swears, but when I'm off set, I'm not my character and I don't swear. That's the line." And even with the four letter-words all of the characters are notably more well-adjusted and Woke than typical R-rated comedy protagonists.
During the course of our interview, we discussed other R-rated comedies we'd all watched, including the first R-rated movie Noon ever saw, the Bill Murray and Harold Ramis classic, Caddyshack, and then Stripes (also Murray and Ramis). Both movies feature questionable sexual politics with the female characters primarily being treated as objects to be ogled and then conquered by the male heroes. Whereas in Good Boys, lads at the beginning of their pubescent odyssey are constantly telling each other that you need consent before kissing a girl.
read more: Olivia Wilde on Making a Generational Anthem in Booksmart
"I think it's a reflection that kids are just better people these days," Stupnitsky says. "They're much more aware, and I think that's a reflection of how kids are. They're much more sensitive; there's more empathy than when we were in sixth grade; they're nicer; they're sweeter. I think they're just reflecting the reality."