Reviews
Gonzo: The Life And Work Of Dr. Hunter S. Thompson DVD review
Gonzo but not forgotten…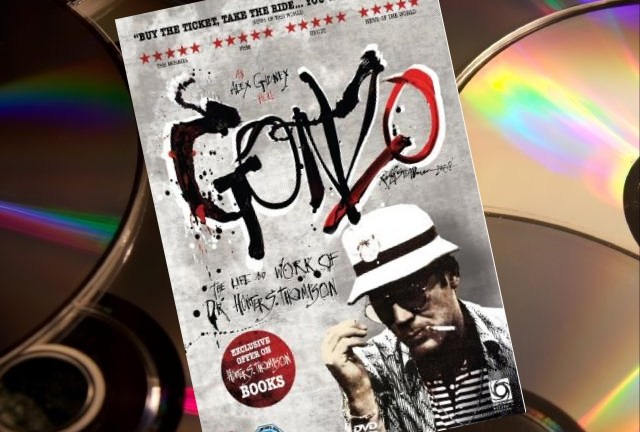 In 2005 Hunter S. Thompson shot himself and his ashes were sent up to the heavens in a rocket in a spectacular display he had arranged before his death. To his friends and family, Thompson's death came as no surprise. He'd talked about suicide for years and as a gun enthusiast, his method of choice was obvious. Hunter's son Juan, who was in the next room at the time, rather bizarrely describes his father's death as a "warm family moment". His death may have been a personal thing, but his final send-off – his ashes rocketing into the air – was certainly not. It was Gonzo through and through.
Director Alex Gibney attempts to capture just who, or what, Gonzo was. With interviews from ex-Presidents, ex-wives, Hunter's friends and foe, as well as unparalleled access to Thompson's archives of letters, recordings and unpublished works, Gibney had an overwhelming amount of material to work with. The finished product is a chronological account of Hunter's rise during the '60s and '70s, followed by his decline, as his ability as a writer slipped away. There would easily have been enough material for a film three times the length and Gibney clearly had some difficult decisions to make in deciding what to leave out. Johnny Depp lends a hand by reading extracts of Hunter's work – an appropriate tribute as the two were great friends and Depp played Thompson in the film adaptation of Fear And Loathing In Las Vegas. Gonzo occasionally feels a little fragmented with so many contributors eager to share their memories of Thompson. We don't exactly get into the head of Hunter himself, but we get the measure of the man by seeing the impact he had on those around him.
The documentary charts Hunter's progress as a writer, starting with the book about his time spent with the Hell's Angels. One of the most fascinating chapters in Thompson's chaotic life was his campaign to be elected Sheriff of Aspen in 1970. What started as a prank quickly gathered momentum and he was only narrowly defeated, managing to significantly ruffle the feathers of the establishment in the process. It was around this time that he developed his own unique writing style which became known as 'Gonzo journalism'. It puts the writer at the centre, creating a frantic stream of consciousness. Facts are not the basis for this type of journalism. It allows the imagination to take over to mould fictional non-fiction and in doing so creates a new kind of 'truth', often more insightful and more powerful than traditional objective journalism.
Thompson was, above all, a patriot, albeit an unconventional one. Hunter's personal utopia existed in the free-spirited San Francisco of the 1960s, nothing ever lived up to this again. Thompson's fascination with the elusive American Dream and its decline led him on a drug-fuelled trip to Las Vegas immortalised in his great workFear And Loathing In Las Vegas. Thompson was at the peak of his writing career at this time and it was quickly followed by Fear And Loathing On The Campaign Trail '72, a series of articles written for Rolling Stone magazine covering the election campaigns of Richard Nixon and George McGovern. This was Thompson at the height of his success, spurred on by his hatred of Nixon and belief in McGovern.
The film depicts the turning point in Thompson's career as his assignment to cover the 1974 fight between Muhammad Ali and George Foreman. Ali was one of Thompson's heroes, but instead of attending the fight, Thompson stayed in the pool at his hotel, showing no sign of interest. In an interview in the extras, Gibney speculates that Thompson simply could not bear another disappointment if Ali lost (which, as it turned out, he did not). Over the years, Thompson's faith in America suffered a series of crushing blows – the brutality of the 1968 Chicago riots, the assassination of the Kennedys and Martin Luther King, the defeat of McGovern and the corruption of Nixon – the American Dream became increasingly remote. The 'rock star writer' lifestyle meant that Thompson also lost his anonymity and the freedom to observe his subject matter. Thompson fell into decline and almost became a caricature; Gonzo took over. This film may not be the definitive account of the life and works of Hunter S. Thompson; it focuses instead on 'Gonzo'. It is little wonder the film loses sense of Hunter – Hunter lost sense of himself. He came to think that if he died, the Gonzo myth would be free to thrive. And perhaps the existence of this movie is evidence that Thompson was right.
Extras The extras include the usual garb of deleted scenes and extended interviews. The interview with director Alex Gibney is certainly worth a look, as is the collection of illustrations by Thompson's Fear And Loathing comrade, Ralph Steadman.
Film:
Disc:
Gonzo: The Life And Work Of Dr. Hunter S. Thompson is released on April 13th.