News
Glass: Unbreakable Sequel Teases Team-Up, More
New details have emerged about Samuel L. Jackson's return as his Unbreakable character in the villainous sequel, Glass.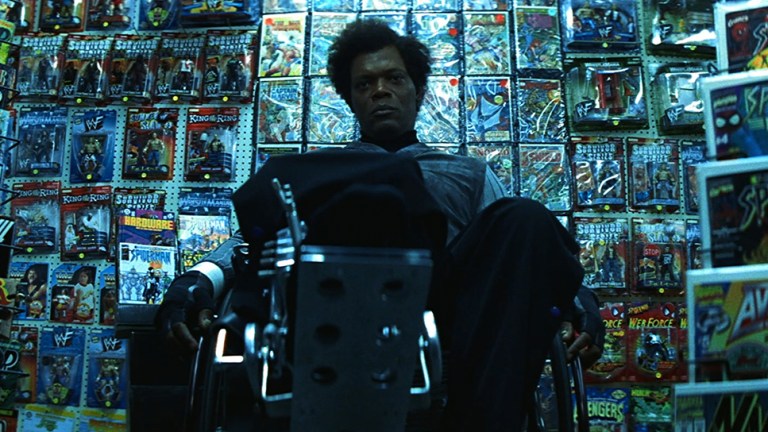 Glass seems to be shaping up to become the Avengers: Infinity War of writer/director M. Night Shyamalan's own cinematic universe. – Okay, that might be a tad hyperbolic, but it will serve as an exciting collision course of Shyamalan characters, notably headlined by Samuel L. Jackson, who returns as his character from 2000's Unbreakable, the physically-fragile machinations-maker, Elijah Price, a.k.a. Mr. Glass, for whom the new film is named. However, the latest details about Glass prove that the film will be a lot more than a sequel!
M. Night Shyamalan and star Samuel L. Jackson were on hand at CinemaCon in Las Vegas, where the very first Glass footage was unveiled. After Jackson declared (in vintage fashion,) "It's about time I got the title role in my own motherf**king movie," the footage – which is not yet released for public consumption – would then be screened for the industry-exclusive audience.
The Glass footage (reported via i09,) takes place in a mental institution, centering on the character, Dr. Ellie Staple (Sarah Paulson), who is relaying platitudes such as, "It's amazing to meet you," and "It's simply extraordinary," before divulging her specialization for patients with "delusions of grandeur," specifically those who believe themselves to be powered superheroes. At that point, the camera cuts to a shot that reveals Staple's audience as a very familiar trio consisting of Unbreakable frenemies Mr. Glass (Jackson) and David Dunn (Bruce Willis) and Split character Kevin Wendell Crumb, a.k.a. Horde (James McAvoy).  
Additionally, the footage shows the returning Split character, Casey (Anya Taylor-Joy), who, besides a brief hallway walking scene, is depicted in her own reunion with former would-be-assailant, Kevin, asking him, "May I meet [one of his personalities] the Beast?," at which point, the personality emerges in Kevin, who subsequently gets in the face of Mr. Glass before saying, "I believe that counts as the bad guys teaming up."
That last line is definitely potent for Unbreakable fans, since it essentially confirms that Glass will tap into the comic book tropes that heavily influenced the first film to manifest as a kind of comic book movie. However, unlike the aforementioned Marvel Cinematic Universe mega-movie event Avengers: Infinity War (which hits theaters this week,) Glass will be a comic book movie that's put through the more nuanced creative lens of M. Night Shyamalan. Indeed, Shyamalan himself comments on the smaller scope of his comic book-influenced ambitions, describing Glass as, "the first truly grounded comic book movie."
Glass is scheduled to arrive at theaters on January 18, 2019.