News
Glass: Split Sequel Cast, Trailer, Release Date, and News
Glass brings together characters from Unbreakable and Split for a major showdown, and the trailers hint how it'll happen.
As the Glass is so close the wait has become cutting, it's now apparent that the M. Night Shyamalan resurgence is moving along nicely. After delivering the low-budget and properly creepy The Visit in 2016, he returned with another low-key horror thriller in 2017 with Split, starring James McAvoy and Anya Taylor-Joy. Split is a lot of fun, both leads are tremendous in it, and the movie topped the U.S. box office its opening weekend with a surprising $40 million take and did a more than respectable $276 million worldwide, off a $9 million budget.
So, what's a writer/director who has found his stride again to do? Well, in this case, it might be to finally deliver on the promise of a proper follow-up to one of his most popular films. It seems that he's finally ready to get down to business on Unbreakable 2. For years, fans were teased with the possibility that he had envisioned Unbreakable as the first piece of a trilogy, but it seemed like it just wasn't something he was going to get around to. Not anymore! And the latest featurette takes us deep inside that vision.
Glass Cast
The cast of Glass features all of your (surviving!) favorites from Unbreakable and Split in one movie! There is of course Samuel L. Jackson, rightfully reprising his role as Elijah Price, the man they call Mr. Glass. His bones are brittle but his mind is cold steel, and he foresaw the dominance of comic book stories in our culture since before they saturated the movie marketplace! The film also returns Bruce Willis to his role of David Dunn, the unbreakable vigilante, for the first time since 2000 (not counting his cameo in Split). The film also features James McAvoy back in his tour de force role as Kevin Wendell Crumb. Well, actually, we see very little of Kevin in these movies. But we see a whole hell of a lot of his other personalities, including Patricia, Dennis, Barry, the lovably sinister child Hedwig… and the Beast.
The film also features the return of Anya Taylor-Joy in the role of Casey after being the lone survivor of the terror in Split, plus adult Spencer Treat Clark, who played Willis' son 18 years ago, and Charlayne Woodard as Elijah's mother, back and maybe a wee bit complicit now! However, the other real big name is Sarah Paulson as a new character: Dr. Ellie Staple. Staple is the psychiatrist who is studying a very new phenomenon: people who think they're superheroes (or presumably villains). She is the one who brings David, Kevin, and Elijah into one room for group therapy… and it is she who may learn more than she suspects when Glass begins to crack. (Pardon the pun.)
Glass Trailer
The new international Glass trailer focuses on the psychological treatment administered to the film's primary trio by Sarah Paulson's Dr. Ellie Staple, attempting to dissuade them of their belief of possessing superpowers. It does serve as a stark reminder that Glass is, after all, an M. Night Shyamalan film, making moviegoers question the veracity of every supernatural scene showcased in Unbreakable and Split. 
Here's a teaser clip, showing a moment filled with confused feelings after Split survivor Casey Cooke learns that her personalities-manifesting abductor/tormentor, Kevin Wendell Crumb, has been taken into custody.
In the second Glass trailer, seen directly below, we get a better idea as to how they've kept Elijah Price, aka Mr. Glass, in captivity for so long. Heavily medicated, he lives without purpose until he gets new therapy buddies via Bruce Willis' returning David Dunn and the entrance of James McAvoy's Kevin Wendell Crumb. Apparently their psychiatrist, Dr. Staple (Sarah Paulson), has discovered a way to trigger identity changes in Kevin, which in theory is great… until, you know, someone diabolical could use that trick to unleash the Beast! So it occurs in the below trailer, which promises a much more stylized film than either Unbreakable or Split before it.
Also here is the first trailer for Glass, in case you missed it.
Glass Release Date
Glass will open on Jan. 18, 2019.
read more: How Sarah Paulson Lived Inside Shyamalan's Mind
Glass Story
Here's the official synopsis:
Following the conclusion of Split, Glass finds David Dunn pursuing Crumb's superhuman figure of The Beast in a series of escalating encounters, while the shadowy presence of Elijah Price emerges as an orchestrator who holds secrets critical to both men. This riveting culmination of his worldwide blockbusters will be produced by Shyamalan and Jason Blum.
A more descriptive study of the film is that it follows the aftermath of Bruce Willis' David Dunn capturing Kevin William Crumb (James McAvoy) as he is about to go "Beast" on a group of cheerleaders. Saving the day has its disadvantages, however, as Dunn's unbreakable vigilante is also captured by the police and both are committed in the same mental institute as Dunn's one-time friend and now lifelong archnemesis, Elijah Price (aka Mr. Glass). All three are part of a new study spearheaded by Dr. Ellie Staple (Sarah Paulson), who wishes to study the delusions of men who think they're superheroes. Of course… only Dunn thinks he's a superhero while Glass knows he's a supervillain, and he wishes to seduce Crumb's many split personalities, most especially "the Beast," to his side in order to engineer an escape. It's the Arkham Asylum scenario you always wanted and never got in a movie.
Still, there are wildcards like Elijah's elderly mother who seems more supportive than she should of her mass murdering son, Anya Taylor-Joy's returning Casey, who is maybe a wee too sympathetic to the man who almost literally ate her alive, and then does Dr. Staple know more than meets the eye?
Glass Review
Here is an excerpt from our full review, which you can read here.
If there's one thing you can't accuse M. Night Shyamalan of, it is a lack of ambition. With his new film Glass, the writer/director attempts to bring to a close the trilogy of films he began some 19 years ago with Unbreakable and continued, unexpectedly, in 2016 with the funny and frightening Split. Along the way, he addresses the themes and concerns of both of those earlier pictures: how ordinary people can find themselves doing extraordinary things, what constitutes a hero and a villain, whether belief in ourselves is all we need to transcend our limitations, and if devotion to a fictional mythology like those found in comic books can warp our own sense of reality. 
Glass Photos
The first proper images from Glass have arrived. Check out the full set in our gallery!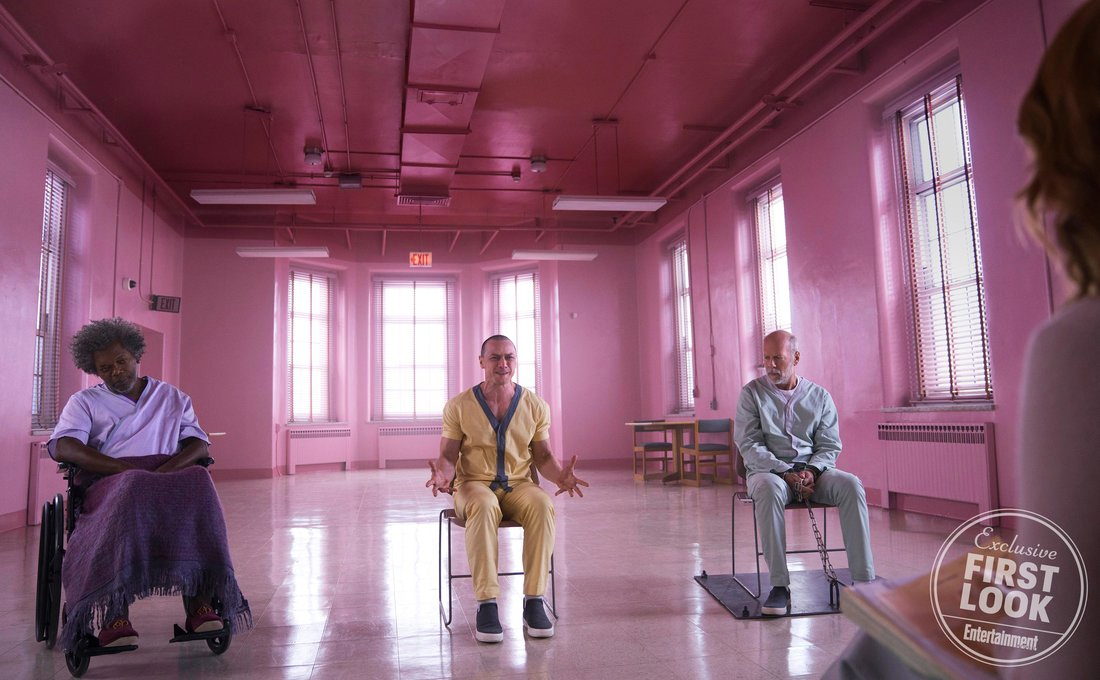 While director M. Night Shyamalan released the first poster for his dual Unbreakable and Split sequel, teasing the film's upcoming Comic-Con panel, a group of photos from EW now provide more insight into what's happening. – Well, insight for anyone who wasn't present at CinemaCon back in April, where teaser footage was shown to an exclusive audience.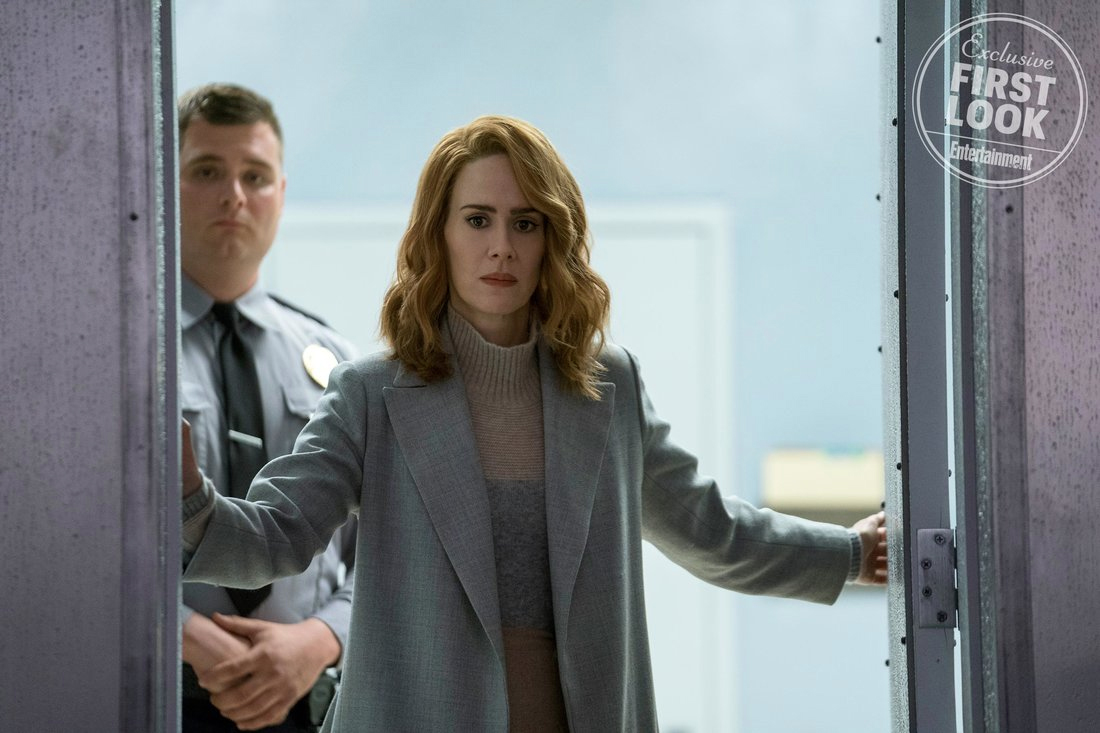 The photos provide interesting glimpses of returning characters in Samuel L. Jackson's Elijah Price/Mr. Glass, Bruce Willis's David Dunn and James McAvoy's Kevin Wendell Crumb/The Horde and a figure close to home for the latter in Anya Taylor Joy's Split character, Casey Cooke. We also get a first look at Sarah Paulson's character, Dr. Ellie Staple, who Shyamalan describes to EW as someone who "deals with people that think they're comic-book characters," adding, "It's kind of the modern-day equivalent of 'I think I'm Jesus' or 'I'm an emperor.' "
Glass Poster
Director M. Night Shyamalan recently revealed that he will hold a Hall H Comic-Con panel for Glass on July 20. He will be joined by the cast of the film and teases "a surprise." Moreover, Shyamalan used the occasion of that news to unveil the first poster for Glass.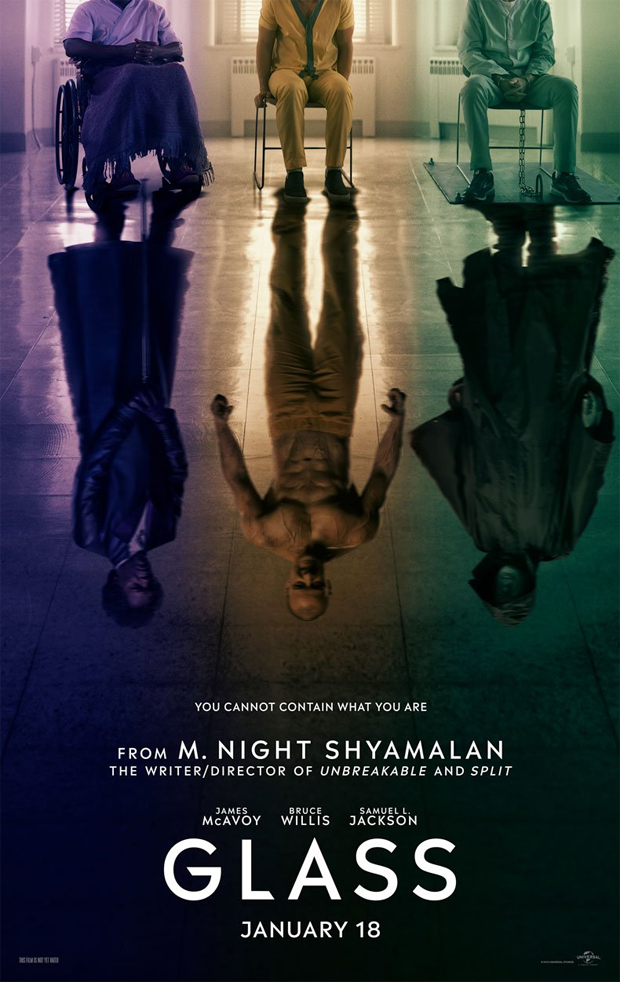 Brandishing the tagline, "You cannot contain what you are," the poster depicts a scenario that lines up with footage that was shown exclusively to an audience at CinemaCon back in April. The scene showed the film's Shyamalan Universe crossover trio in Unbreakable characters Mr. Glass (Jackson) and David Dunn (Bruce Willis) and Split character Kevin Wendell Crumb, a.k.a. Horde (James McAvoy), all stuck in an institutional setting, teasing a team-up. Indeed, the reflections of the characters on the floor – including an absurdly swole Crumb – convey kick-ass intentions.