News
Giveaway: Mary Queen Of Scots Prize Pack!
Two lucky winners will each win a prize pack inspired by the Saoirse Ronan and Margot Robbie-led period drama, Mary Queen of Scots.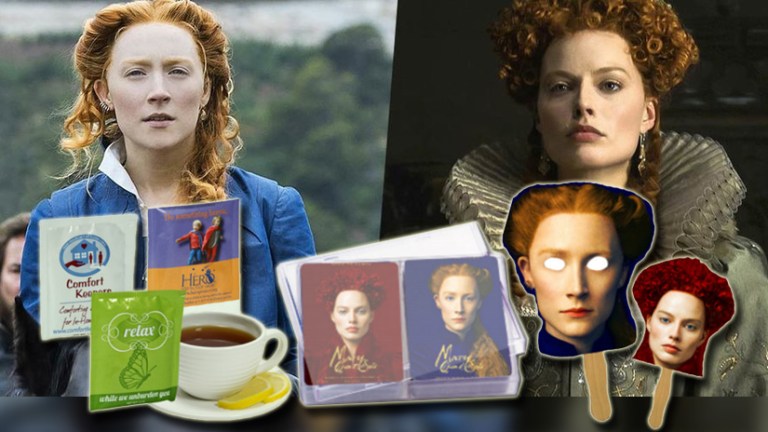 Starring Academy Award nominated actors Saoirse Ronan (Lady Bird) and Margot Robbie (I, Tonya), Mary Queen of Scots is one of the most buzzed-about films this winter. The film follows the conflict between Queen Mary (Ronan) and Queen Elizabeth (Robbie), and the potential rising of the north in 1569. It also stars Jack Lowden (Dunkirk), Joe Alwyn (The Favourite), David Tennant (Doctor Who), and Guy Pearce (Memento). The film is directed by newcomer Josie Rourke, and had its world premiere on the closing night of AFI Fest.
Click here to enter via our official giveaway page.
In order to celebrate the film's upcoming wide release on Dec. 21, we're giving away a prize package inspired by the movie. This prize package is a must have for fans of period dramas or the history of the royal family. Two winners of the prize package will each receive:
– One set of Mary Queen Of Scots playing cards in a plastic case- One set of Queen Elizabeth I playing cards in plastic case- One set of English Breakfast and Scottish Breakfast teas- One folding paper hand fan depicting Mary Queen of Scots- One folding paper hand fan depicting Queen Elizabeth I
Ever wanted to throw an English tea party that would make the monarchy proud? This prize package will make you feel like you're spending a day at Buckingham Palace or even a member of the Royal Family. Let the politicking continue with a riveting game of Chase the Lady (aka hearts) using your new cards–just don't split up any political alliances!
Click here to enter via our official giveaway page.
Entries will be accepted until Dec. 21. Two (2) lucky winners will be drawn randomly and then notified immediately via email. Winners will have 48 hours to respond, otherwise other winners will be chosen. Please also note the winner must be a resident in the United States and have an address that does not rely on a P.O. box. Good luck!