Features
G.I. Joe: Retaliation press conference report
Ahead of this week's release of G.I. Joe: Retaliation, here's Duncan's report from the press conference...
Last week saw the rather expansive and impressive cast for G.I. Joe: Retaliation hit London to promote the film. The press conference followed on from an early morning screening of an unfinished print of the film (though I'm unsure what was missing, as everything seemed in place, including some sharp 3D and what appeared to be extra Channing Tatum scenes).
And while I can't say much at this point, it's safe to say that as someone who had no time for the first G.I. Joe movie, The Rise Of Cobra, for ruining the comic book mythology in every conceivable way, I'm pleased to say that Retaliation goes some way to mending the depictions and motivations of the characters. Plus, if the onscreen presence of Dwayne 'The Rock' Johnson wasn't enough of a boost for the franchise, the sequel also features a truckload of ninjas – and ninjas, as we all know, make everything better.
There will be a full review soon, but in the meantime, you can take consolation in knowing that if you're a fan of the comics, you'll appreciate every effort that director Jon M Chu has made to restore credibility to such beloved fan favourites as Storm Shadow and Snake Eyes, while piling on some spectacular action.
On the panel for the press conference itself was one Mr Dwayne Johnson himself, followed by director Jon M Chu, the strikingly beautiful Adrianne Palicki (who the cast affectionately referred to as 'Annie' throughout), DJ Cotrona (who sounds exactly like Flint from the cartoon series and will look identical in about ten years), Byung-hun Lee, Jonathan Pryce and the mighty Ray Stevenson (who was a great surprise addition). 
They were all on good form, with The Rock fielding the majority of questions as expected ("The hardest working man in Hollywood I've been called… by myself" he quipped), while Jonathan Pryce cracked jokes at most questions he was asked – since he plays both the captured US President and Zartan impersonating the President, he was asked how it was sharing scenes with himself, to which he replied dryly, "It's been my ambition to work with someone of my calibre and it came true in this film. Unfortunately, most of the time I was acting with a piece of wood, but again that wasn't unusual in my career."
Pryce was then asked if he'd played Angry Birds before (a comical scene in the movie sees him indulge in a game while nuclear war is threatened). "I'd never heard of it until the film – I used to play with little lead Second World War soldiers – we were too poor to have G.I. Joe in our house!" Both Pryce and Ray Stevenson were addressed with the question as to why Brits are always cast as deeply unpleasant, villainous characters and Pryce said simply, "Ah we're cheap!"
I had the chance to address the panel, so after a slight babble about how much I love G.I. Joe and that I appreciated the film's subtle comic book references and the way it ties events back to the stories I grew up on, I asked the cast what the highlight of playing the iconic characters was for them, and Chu what his directorial highlight was:
Ray Stevenson: It's so hard to pick, obviously, working with such a wonderful calibre of cast and crew and on such an ambitious project. I was given one of the greatest gifts by Jon Chu, of possibly one of the greatest entrances into a movie I've ever had and probably am ever likely to have – entrance and exit. As well as working with Dwayne who is such a phenomenal athlete, as it's such a physical role, but it was just great fun, and so it's almost impossible to pick out one particular moment, but I suppose putting together that sequence for the entrance, for me, was a rare gift and something that I will never forget.
Jonathan Pryce: Dancing the tango with Annie was my highlight! Or Lady Jaye, whoever she is… I really must read the rest of the script! [the room erupted with laughter]
Byung-hun Lee: My basic martial arts was taekwondo, so I need to learn how to use sai this time. It was quite interesting and also I had a lot of fun with Ray [Park].
DJ Cotrona: For myself it's hard to pinpoint, I'd have to say the entire experience. I mean to get to come to work and work on a film with someone like Dwayne, who I've looked up to for a very long time, and you know, Bruce Willis is on the set and Annie's there. It was very humbling for me, personally, because it's the first real, large movie I've actually got to be a part of, so I just tried to enjoy every moment, turn into a sponge and I learned a lot.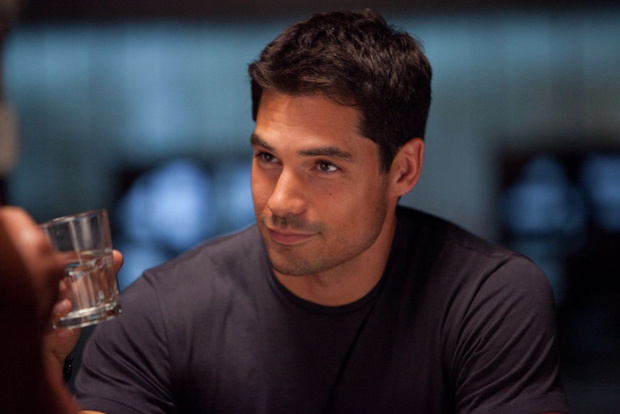 Adrianne Palicki: Yeah, there are so many moments. I mean, you get paid to run around with guns and pretend you're a kid for four months straight, which is so fun. I think my favourite experiences though were probably not even on set, were just the off moments hanging out with this cast and crew and director. We really bonded as a family and became friends.
Jon M Chu: For me, I feel like I've been making this movie since I was ten years old, playing with the toys in my backyard in the mud and the sand, and the fact that each one of the characters was a part of who I was as a person and identified with – I was sometimes Roadblock, sometimes another character, but to have a cast like this that can bring these characters to life in ways that I could never imagine as a kid and to see it come to life.
I get chills even now thinking about it and seeing everybody together. It's very rare that we all get to be together, so it makes me feel really happy, it makes me feel like that kid again, and I get that excitement and feel like I have to go to the bathroom or something, I get so excited about it! It was amazing… [He pauses and realises what he's just said] That was a weird comment, sorry! [The room bursts into laugher]
But I hope that the audience feels that same thing when they go, that's why I love movies, why I think movies are really important, that you go there and you see it with all your friends, and that you get that excitement to go home and play with your toys and create more. [I'm sure he wasn't talking about me directly, but he could've been!]
Obviously Dwayne and Bruce and the ninjas and for all these guys to be there, was just an honour really.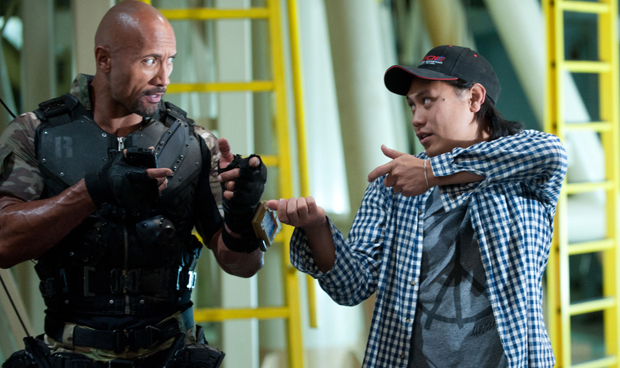 Dwayne Johnson: I would say for me, like Jon, there's a really nice cool, deep rooted connection with G.I. Joe and the mythology, and the love that's not only for the brand, but for the mythology, which was why it was important for us to really pay homage  and respect to that this time around. When I was a kid I was G.I. Joe in my mind, because I played with them – it was Star Wars and G.I. Joe – I was G.I. Joe and Snake Eyes and then I was Han Solo and Boba Fett, it was those two.
So for me, I had two cool moments; a scene with Bruce Willis where we're looking at the tank, but the audience doesn't see what we're looking at [and I have an exchange of one liners with him] which ends with me saying "I'm not gonna be in neutral" and the other cool moment, just in terms of, again, the mythology of G.I. Joe, was to be in a scene with Snake Eyes.
One of the really cool things about the movie and about this franchise is the duality between heightened reality – boots to the ground soldiering, which every culture can relate to, and then you also have the other side, which is the fantastical world of ninjas and Storm Shadow and Snake Eyes and these amazing sequences along the Himalayas, that Jon was able to shoot, so I would say… that.
Dwayne Johnson also made mention of physically prepping for Hercules 2 (The Thracian Wars), and that of all his characters, Elliot Wilhelm from Be Cool would win in a fight. Also, on being in a new Star Wars movie: "There's been a lot of chatter about Star Wars and myself and it kind of just blossomed [from] talking about my love of G.I. Joe and Star Wars when I was a kid, then a journalist said 'You should call JJ Abrams' and I said 'Yeah sure I'll call JJ'. And then, all of a sudden, everyone said, 'Oh you're going to do Star Wars with JJ!' But sure, I would love to, because like the G.I. Joe franchise, there's an emotional connection with Star Wars."
And finally, when The Rock was inevitably asked about The Expendables 3 (and not by me, shockingly) he said that he knew Stallone and Statham, that they were "buddies" of his, and that he'd finally seen EX2 the night before, and "I can honestly tell you that they're not ready for me! [Laughs]"
So that quashes that hope…