News
G.I. Joe 3 Would Have Involved Transformers
Can you imagine a G.I. Joe vs. Transformers movie? We can.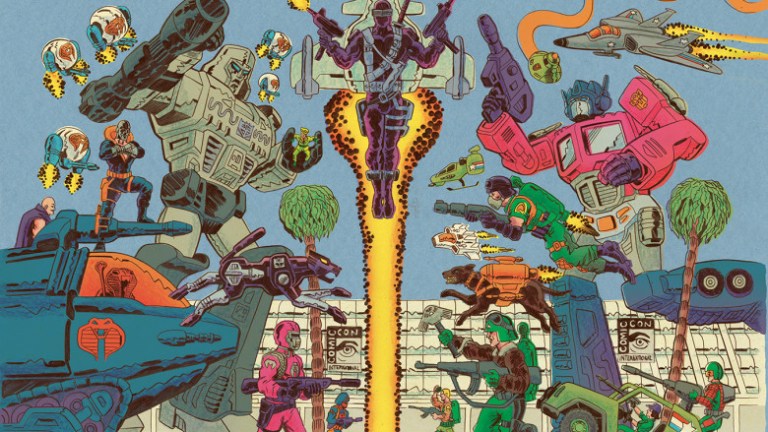 Let's get this out of the way right up top: G.I. Joe: Retaliation is a lot of fun. While the first movie in the long overdue live action version of the Reagan era's favorite animated series/toy line (and its terrific Marvel Comics counterpart) wasn't really all that faithful to the spirit of its source material, Retaliation felt much more like the Real American Hero that old school fans wanted in the first place. Plus, that second film brought in Dwayne "The Rock" Johnson as Roadblock, and where he goes, sequels often follow.
As a result, it didn't take much time for G.I. Joe 3 to get the greenlight from Paramount. And while Retaliation director Jon M. Chu couldn't make it back for a third installment, Disturbia director DJ Caruso stepped in while Aaron Berg got to work on a script (after earlier efforts from Evan Daugherty and Jonathan Lemkin didn't work out). That was about two years ago. Since then, it's been awfully quiet, while Dwayne Johnson goes about his business of making every other action movie in Hollywood.
But that script that Mr. Caruso was working on had something of a twist. "In the script that I was developing," he mentioned in a chat with Collider while promoting xXx: The Return of Xander Cage, "the two worlds sort of collided at the end and when [Paramount] read it they were like 'We're not ready to do this yet.'" 
Of course they're getting a little more ready now. Paramount is currently developing a shared universe of Hasbro properties that includes G.I. Joe, Transformers, ROM: Spaceknight, Micronauts, MASK, and a host of other '80s favorites, and they've assembled an impressive writers room that includes names like Brian K. Vaughan and Nicole Perlman among others. In the meantime, if you need your super soldiers and giant robots fix met, you absolutely need to read IDW's Transformers vs. G.I. Joe comics from Tom Scioli and John Barber. These things are bonkers in the best possible way.
As for when that big screen team up (or battle) will finally happen, Caruso speculates it won't be until "Mr. Bay decides he's done with Transformers." To be fair, Mr. Bay has announced "he's done" with the franchise after each of the last two movies, but that hasn't stopped him from directing this summer's Transformers: The Last Knight.