News
Ghostbusters Reboot: Everything We Know
See how the Ecto-1 was made, plus everything else we know about the new Ghostbuster reboot.
Editor's note: This Ghostbusters article contains light spoilers for the new film. It also may contain spoilers for the old films. If you haven't seen those yet, what the heck are ya waiting for? The latest Ghostbusters news will be placed at the top of the article. 
There are some franchises you just can't exterminate. 
Bringing the Ghostbusters back was a long and painstaking process. The project was in limbo as talks of reuniting the original cast flickered on and off for decades. Then Paul Feig, who will write and direct the reboot, got his hands on the franchise and now, 26 years gone from Ghostbusters 2, we're looking at the dawn of a new day in ghost removal. This is no sequel. Depending on your viewpoint, the legacy of the Bill Murray, Dan Aykroyd, Ernie Hudson, and the late Harold Ramis Ghostbusters will remain intact.
Ghostbusters Trailers
The Ecto-1 is ready to go. Sony released a behind-the-scenes vignette detailing the creation of the Ghostbusters' new whip: 
And here's the third international trailer…
A few days after we got the most promising Ghostbusters trailer yet, Sony dropped the second international trailer, which gave us more previously unseen footage. Watch it here: 
Does the Ghostbusters reboot have a new title? It's not clear if the title card at the end of this trailer is meant to just be a tagline or a new title for the movie. After all, Sony is trying to get a "shared Ghostbusters universe" off the ground, and there's been increasing confusion as to whether this is intended to be a reboot (as it was originally pitched) or a sequel or something else entirely.
Anyway, watch the trailer here…
So is the movie now called Ghostbusters: Answer The Call? Anyone have any ideas?
You can watch the first Ghostbusters trailer here: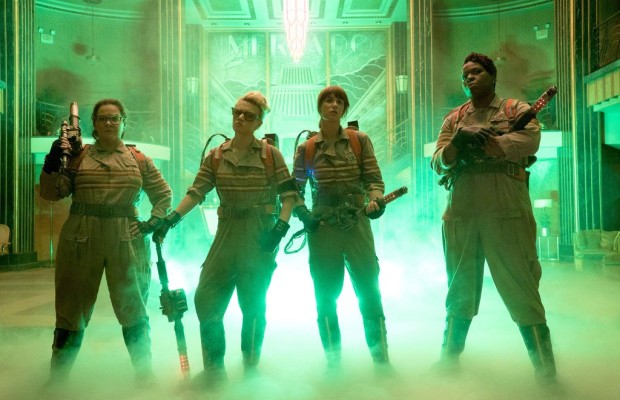 Ghostbusters Release Date
Ghostbusters hits theaters on July 15th. 
Wait… I thought we were getting Ghostbusters 3?
Ghostbusters 3 has been thrown around for twenty years or so. The plan was pretty much always to introduce a new team of 'busters to join up with the original cast. There were two problems: the script, and the fact that Bill Murray didn't seem all that interested in doing it. Dan Aykroyd even suggested that Ghostbusters 3: Hellbent (as this was the title of a script that was floating around for awhile) could be done as an animated film.
Despite all the starts and stops, the idea of seeing the dormant Ghostbusters franchise revived was still very appealing to Hollywood.
Dan Aykroyd was invested in making it happen. In speaking with THR last year, he said:
"It's beyond just another sequel, a prequel, another TV show. I'm thinking what does the whole brand mean to Sony? What does Pixar and Star Wars mean to Disney? What does Marvel mean to Fox?"
When Aykroyd gave those comments (pre- Feig's involvement), he was working with "the executives, the creatives" on making Ghostbusters "not just another movie or another TV show," but creating an entire mythology or Marvel-like universe behind it. One of those "creatives" was Ivan Reitman, who had always intended to direct another Ghostbusters film, but left the director's chair after Harold Ramis tragically passed away.   
It's unclear whether that's still the plan, but the prospects of a Ghostbusters movie set in the original timeline involving members of the original team reprising their roles may finally be finished, once and for all. We wrote more about the long, sad, untold story that is Ghostbusters 3 here. 
Regardless of whether Dan Aykroyd's vision for a "shared Ghostbusters universe" ever materializes, we're looking at the 2016 film — a complete departure from the '80s Ghostbusters, but it might just be the end of it. New story. New characters. All women.
As for the male side of the shared universe, it's not Ghostbusters 3 either. It's all a part of the larger plan: 
"We want to expand the Ghostbusters universe in ways that will include different films, TV shows, merchandise, all things that are part of modern filmed entertainment," Ivan Reitman told Deadline. "This is a branded entertainment, a scary supernatural premise mixed with comedy. Paul Feig's film will be the first version of that, shooting in June to come out in July 2016. He's got four of the funniest women in the world, and there will be other surprises to come. The second film has a wonderful idea that builds on that. Drew will start writing and the hope is to be ready for the Russo Brothers' next window next summer to shoot, with the movie coming out the following year. It's just the beginning of what I hope will be a lot of wonderful movies."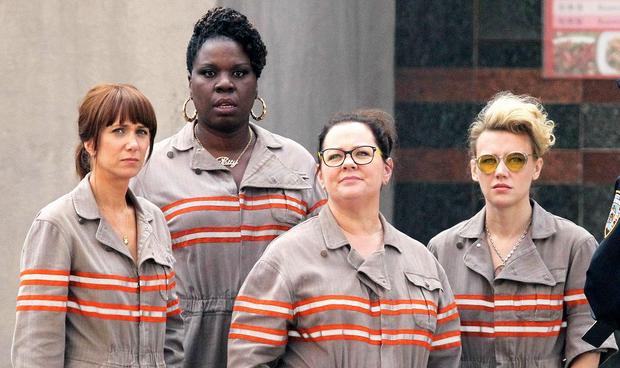 Ghostbusters Reboot Cast:
After all the speculation, Melissa McCarthy, Kristen Wiig, Leslie Jones, and Kate McKinnon are the new Ghostbusters. 
So who are they playing? The new 'busters are Erin Gilbert (Wiig), Abby Yates (McCarty), Jillian Holtzmann (McKinnon), and Patty Tolan (Jones). 
Bill Murray was on board with an all-female cast from when the idea was still just a rumor floating around. The original Ghostbuster suggested Kristen Wiig, Melissa McCarthy, Emma Stone, and Linda Cardellini would make a perfect team. It appears Feig partially took his advice. Feig didn't pick his Freaks and Geeks leading lady Cardellini or Stone, but he mined Saturday Night Live for tremendous up-and-coming talents in Kate McKinnon and Leslie Jones.
Wiig and McCarthy are familiar with Feig — both having starred in his well-received hit Bridesmaids. McKinnon, who was nominated for an Emmy and has become an SNL fan-favorite, will make her major film debut in Ghostbusters. Jones has been a breakout player during her first full season on SNL and recently had a role in Chris Rock's Top Five.
Cecily Strong, the former Weekend Update anchor and another standout among a solid core of female players, will take on a non-ghostbuster role. Rounding out the cast is Chris Hemsworth who plays Kevin, the Ghostbusters receptionist. Andy Garcia, Neil Casey, Michael K. Williams, Matt Walsh, and Cecily Tyson are also signed on for the film.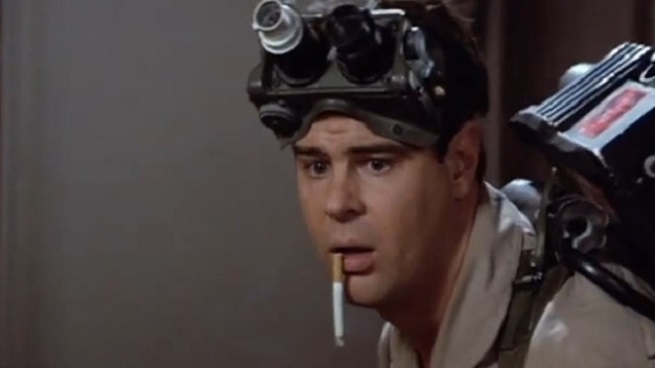 Will There Be Cameos from the Original Ghostbusters?
Dan Aykroyd and Bill Murray fought it off as long as they could, but the both iconic actors will make a cameo after all.
Ernie Hudson previously played Winston in both the 1984 original film as well as its 1989 sequel, Ghostbusters II. He's also confirmed to return.
Sigourney Weaver, who played played Dana Barrett in the original 1984 film and its 1989 sequel, Ghostbusters II, will stop by as well. 
Ghostbusters Reboot Plot
From interviews, we know Paul Feig and writer Katie Dippold want the film to spook us. "Katie Dippold and I are so focused on wanting to do scary comedy," Feig told Empire. "We don't want to hold back." That doesn't mean they'll shoot for an R-rating. The film will likely be PG-13 because as Feig said "you want the biggest number of people to watch it and not be put off by it."
If you read the tea leaves of Feig's interview, you can gauge the direction he wants to take the film:
"I have too much respect for the original one [to do a sequel]. There's also the feeling that once the world knows ghosts and has seen them busted on such a large scale, they run the risk of becoming pedestrian. There's something fun about introducing our world, which has never seen ghosts to the phenomenon of ghosts. I love origin stories and to introduce new characters."
Our friends across the pond at Den of Geek UK confirmed the studio's official logline for the new film:
"With paranormal activity on the rise, a Columbia University academic, her ghost-chasing friend, the friend's business partner, and an MTA employee join forces to bust ghosts and save New York."
Like the original film, Ghostbusters is set in New York. With the subways haunted by the film's new ghosts, the Ghostbusters have a few other modes of transportation. One looks somewhat familiar. Here's a look at the updated Ecto-1.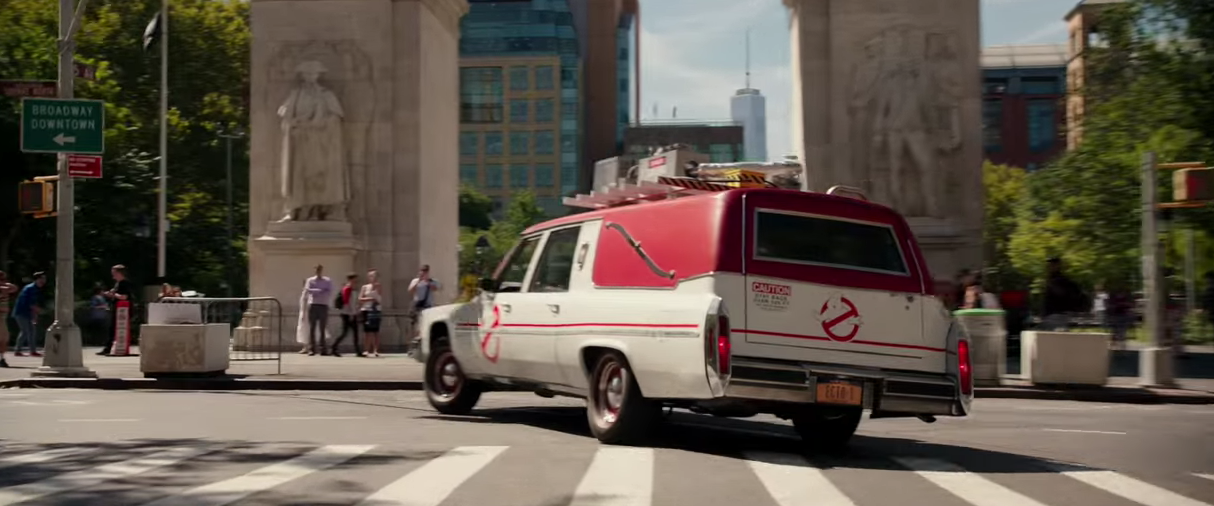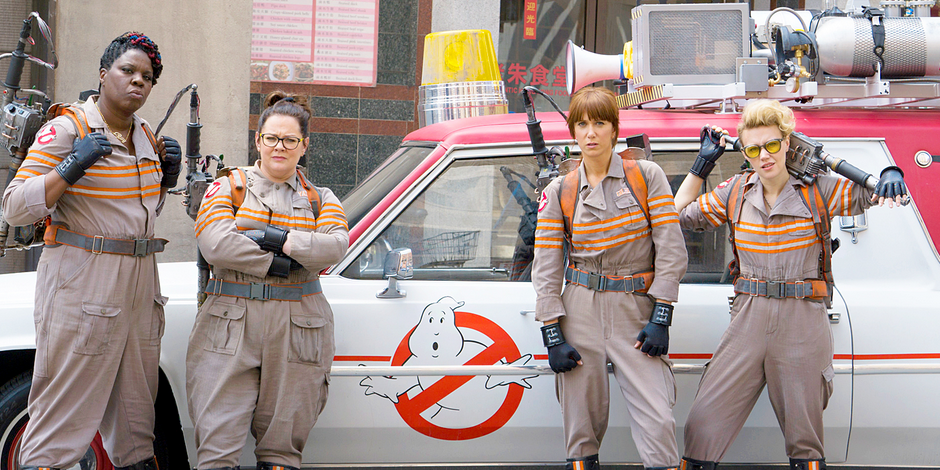 The all-new Ecto-2 is a little more down-to-earth, yet slightly less accommodating vehicle.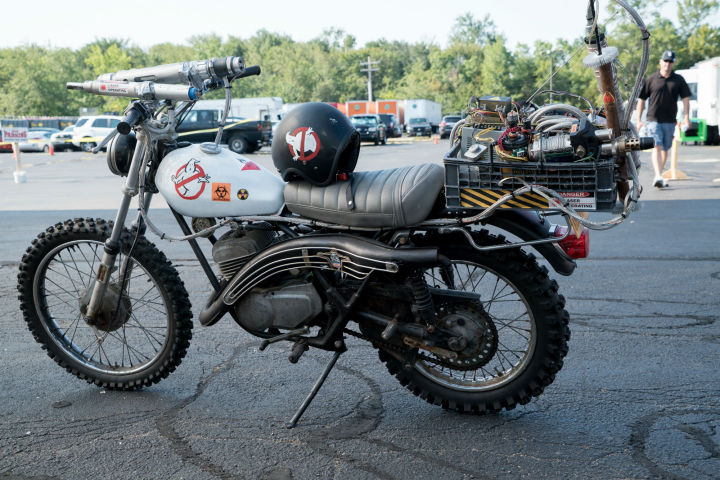 Ghostbusters Reboot Villains:
According to an exclusive from EW, the Ghostbusters will face a very different group of villians from the original franchise: 
Dead criminals from all eras of New York's under­belly past have returned to roost among the living in Paul Feig's Ghostbusters reboot. Pilgrims, old-­timey sailors, Revolutionary War spirits, and even a couple of zoot­-suited gangsters are ready to take on four formidable female busters looking to rid the city of its phantasmic filth.
Of all places for a major reveal of a movie villain, it appears the Ghostbusters new baddies were uncovered at the Toy Fair.
BirthDeathMovies found an image of a new Mattel figure from Instagram user PixelDan that confirms the new Ghostbusters villain, "Rowan." While there's yet to be official studio confirmation, Collider points out that Rowan could be a re-imagining of a Ghostbusters comic character. The character did not appear in the first trailer.