Reviews
Ghost Town DVD review
The 'Happening' of 2008 comedies turns out to be a delightful outing for Ricky Gervais fans. Or so Martin thinks...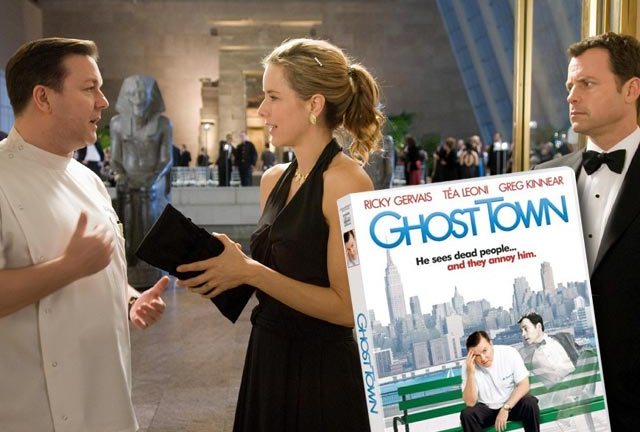 When misanthropic Manhattan dentist Ricky Gervais dies for seven minutes during a botched bit of routine surgery, he finds himself not only able to see the dead citizens of New York, but positively besieged by them. In David Koepp's afterlife comedy, ghosts are people being held to Earth not by their own preoccupations but because their loved ones will not let them go. A 1970s NYPD beat-cop, a nurse from the 1940s, a naked nerd (you walk the Earth in the clothes, or lack thereof, that you died in), three buddies from a construction crew…
For Gervais, it's a nightmare. He took up dentistry so that people wouldn't be able to talk to him, but now his bedroom is crowded out with beseeching spirits who have no other voice to resolve their dilemmas. The most persistent of these is tuxedo-clad Greg Kinnear, a Manhattan socialite who was cheating on his wife (Téa Leoni – don't forget this is a fantasy) when run over by a bus, and now wants Gervais to stop her re-marrying with a rich, vain jerk who isn't good enough for her.
When the lonely dentist sees Kinnear's widow, it's love at first sight. But his cringe-inducing lack of social skills combine with the realisation that his rival may not be the complete dickhead Kinnear claims to make this romantic manipulation a bit of a challenge…
I recall a number of headlines about what a bomb this film was on release; go figure. I'm a fair David Koepp fan and a moderate Ricky Gervais fan, and they both turn in fine work as screenwriter/director and comedic leading man, respectively.
Ghost Town is a funny and touching film, with a fair share of laugh-out-loud moments, many of which are adapted to Ricky Gervais's painful style of comedic masochism. Koepp is feeling his way as a first-time director of romantic comedy – he hasn't quite got the tone nailed, but there's no earthly reason not to have another go later on. Ricky Gervais just turns up and gives us Ricky Gervais. There's no real attempt at acting; that's not what he was hired for, it would have ruined the film and the likes of Leoni and Kinnear have got that totally covered anyway.
Ghost Town's journey, like earlier Kinnear-comedy As Good As It Gets and the likes of Groundhog Day, details the familiar and painful socialisation of a misanthrope. It's a solid chassis for good comedy writing and performing, and it does fine service here. My only complaint is that the film suffers from a Ghostbusters-style romantic mismatch. This frequently happens when a comedic actor, most of whom lack Jim Carrey's rugged looks, must pair off with an actress chosen as much for her attractiveness as her acting talent. Only in a fantasy film does Bill Murray get to kiss Sigourney Weaver. But then, maybe that's part of the charm, and part of the dream.
Ghost Town is an ambling story with no real villains beyond the life-hating foibles of its central character. The love story is strange, but then love is strange. Koepp makes minimal use of well-done FX to establish the supernatural set-up, and then wisely leaves well alone. Autumnal New York is entrancing and the cast is livened up with excellent comedy cameos, such as the incompetent surgeon who put Ricky Gervais in his awkward position in the first place.
If you hate the Gervais school of excruciating, off-the-cuff humour, you'll not be able to abide this. If you respond to that, you're in for a lot of laughs and maybe even the odd tear.
Extras There are five minutes of out-takes, mostly featuring Gervais cracking up (to varying levels of appreciation from the actors around him).
There's a fairly standard-issue 20-minute junket-fodder documentary. It's dismissible and inevitably crosses over with material discussed in the commentary, but enjoyable enough.
The commentary by Koepp and Gervais threatens to become standard issue 'All these guys were really great' fare until Gervais ruthlessly picks up on that possibility and undermines the recording session with typical mischievousness. It's not as good as the Clooney commentary on Goodnight And Good Luck ("I was Batman, you know. Did I mention that? That I was Batman…?") but it won't leave rabid Gervais fans disappointed, as diplomatic Koepp is a suitable straight man for the inevitable barbs. But watch out, listeners – you won't be escaping the line of fire either.
Film:
(If a comedy makes you laugh regularly, it can't be awarded less – that's the law)
Extras:
3 stars
Ghost Town is released on the 2nd of March.