Reviews
Getting Any? DVD review
Takeshi Kitano's 1995 return to comedy left many baffled on its original release. How does it fare now?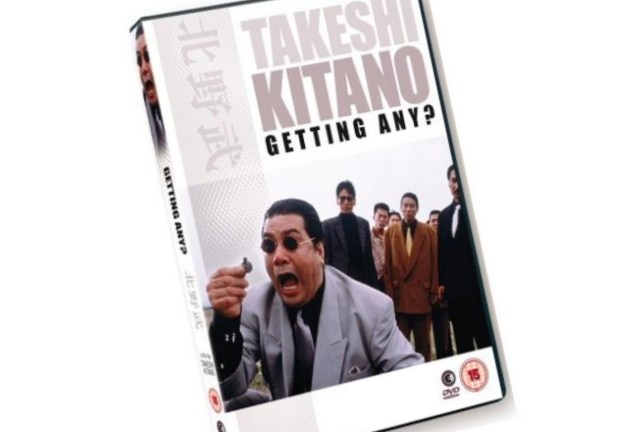 Getting Any?, the second Takeshi Kitano DVD release this month, is as far removed from the drama of Kids Return as it's possible to get. Released in 1995, and described by writer/director Kitano as a return to his comedy roots, as well as a lovingly crafted spoof of Japanese culture, the movie was almost completely ignored on its release. For those of us who like our Kitano moody, dramatic and just a tad violent, it's easy to see why.
Kicking off with the first of many sexual fantasies involving readily available women – hot car + hot woman = immediate car sex – we follow the hapless Asao, played with grotty realism by Dankan (Ju-on 2, Boiling Point) on his quest to get laid. A jobless 30-something, living with his grandfather in a squalid apartment covered in posters of naked women, it's clear Asao definitely isn't getting any, and frankly, with good reason.
Convinced that a lack of transportation is the only reason for his drought, Asao's quest for a car, and an altogether different sort of ride leads him into wacky adventure after wacky adventure – each preceded by a sexual fantasy which invariably includes a flurry of breasts and some of the most 1970s-inspired comedy this side of Confessions Of A Window Cleaner.
The bawdy sex comedy quickly becomes intermingled with a whistle stop spoof tour of Japanese culture, and the two elements sit uneasily. Hitting every recognizable cultural touchstone, Asao becomes, among other things, a failed bank robber, a Yakuza hitman, an actor playing Zatoichi, the invisible man, and The Fly. And then it gets really weird…
That's not to say there isn't the occasional highpoint – the child slapping car salesman and the dying guy giving away his possessions are a lot funnier than they sound, and seeing Kitano himself as a wig-sporting mad scientist is certainly… interesting. The spoof Zatoichi movie is quite amusing, particularly considering that Kitano would go on to remake the ancient tale, and the Yakuza segment has its moments. However, none of the characters are in any way likeable, and more often than not the jokes fall flat, despite the Airplane-level gag-ratio.
No matter how hard it tries, Getting Any? just can't escape the unmistakable whiff of Brut and a Party Seven. If you decide to see only one Takeshi Kitano move this month, go with Kids Return.
There are no extras on the disc.