News
Geeks of a certain age love … Adrienne Barbeau
Our latest love letter to one of our lifelong heroes is addressed very firmly to Adrienne Barbeau. Martin needed a flannel after this one...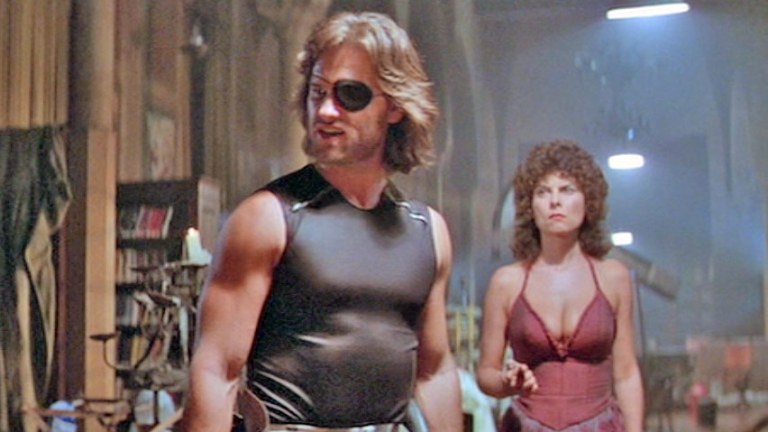 The late 70s and early 80s presented a less depressing climate for female sex symbols than the current era, in which 'hot' actresses get filed under MILF at 25, Logan's Run-style; Debbie Harry became a bedroom poster sensation well into her mid-thirties in 1978; Sybil Danning gained cult status as St. Exmin in Battle Beyond The Stars (1980) at age 33; all of the original Charlie's Angels were pushing (or beyond) 30 when that series started.
And Maude regular and one-time nude pin-up Adrienne Barbeau was 36 when then-hubbie John Carpenter shot her into sci-fi cult status by casting her as Maggie, Harry Dean Stanton's 'squeeze' in Escape From New York (1981). Carpenter had already made a scream-queen of the Californian actress, having had her play Lauren Hutton's doomed gay pal in the much-respected Someone's Watching Me (US TV, 1977) and throaty disc-jockey Stevie Wayne in the original The Fog (1980).
Barbeau was – and remains – an accomplished Broadway, TV and film actress as well as a successful singer. With an exquisitely angular, Italianate face, chestnut hair, deep brown eyes and a husky cadence that landed her the long-term audio role of Catwoman in the Batman animated US TV series, her appeal was complete.
And if that wasn't enough, she had a chest that arrived for appointments a minute earlier than the rest of her.
Many a teenage boy hogged the bathroom on account of Maggie, and Barbeau herself – in her autobiography There Are Worse Things I Could Do – admits to owing a large part of her career and popularity to her natural endowments…
…which ended up on full display in Wes Craven's Swamp Thing (1982). If DVDs could be as badly damaged by replay and pause actions as VHS tapes, then most existing copies of this otherwise dismissible comic-strip adaptation would show a grimy and scratched circle 17mm from the centre, about where Adrienne has a bath in the lake.
But we're not shoe-horning AB into this lecherous column on faint credentials – her geek accomplishments are as outstanding as the rest of her: a shrew in 1983 Stephen King-penned horror-anthology Creep Show, the earth-lover of visiting alien Keir Dullea in The Next One (a 1984 Starman knock-off), an explorer in Cannibal Women In The Avocado Jungle Of Death (1989 – you'll be awfully disappointed), a cuckolding wife in the Poe-inspired Two Evil Eyes (1990), an action heroine in horror-film The Convent (2000), and joining 80s stablemate Sybil Danning in Rob Zombie's 2007 remake of Halloween.
Pragmatic about the popularity of her disrobings, it's said that AB will sign any picture you put in front of her, but only the non-nude ones get the extra 'my best'. A natural for the sci-fi and horror fame waxworks, but we might have to additionally melt down one of Shatner's chins in order to do her earthly frame justice.
Find her own website at www.abarbeau.com
Previously in Geeks of a Certain Age…