News
Geeks Bake Things: the nerdy make-a-cake challenge!
Can you bake a nerdy cake for around a fiver? Enter our competition! These 4 writers' entries get the ball rolling...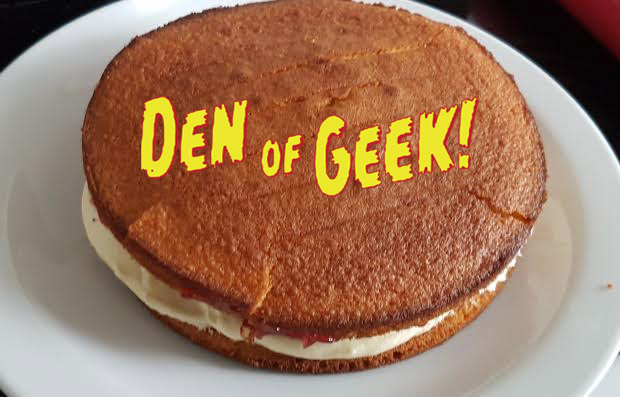 People have a right to cake. That's why Madeira sponge is at the top of Maslow's Hierarchy of Needs.
With the imminent demise of The Great British Bake-Off in its current form, Den Of Geek saw a gap in the cake-based competion market and duly filled it. Ladies and gentlemen, welcome to Geeks Bake Things!
The idea is simple: make a nerdily themed cake for something in the area of five pounds (we're not expecting receipts but don't go mad), send us in a picture to denofgeek@yahoo.com and you could win something brilliant out of our cupboard. The deadline for entries is one week from today, Tuesday the 27th of September.
Four writers below tried it, and here's how they got on…
Entry 1: Sarah "Scary Berry" Dobbs
I like to think I'm quite good at making cakes. More importantly for this challenge, I like to think I'm quite good at making novelty cakes. Once, for a friend's birthday, I made him a triple-layered cake in the shape of a well, with a fondant Sadako climbing out of it – and because I made it at his house, I made the whole thing without access to weighing scales, which surely qualifies me for anything.
So when Den of Geek asked me to make a geeky cake, I started thinking big. I thought about recreating some kind of horror movie tableau in sugar; maybe a Saw trap? Then I wondered about maybe baking something from Gotham, my current favourite TV show. Surely I could build that German Expressionist style police station out of gingerbread?
And then I remembered that I've watched The Great British Bake Off, and it's always the most ambitious plans that go most apocalyptically wrong. I didn't want to have to send in a photo of my bin at the end of all this, so I decided to keep things simple.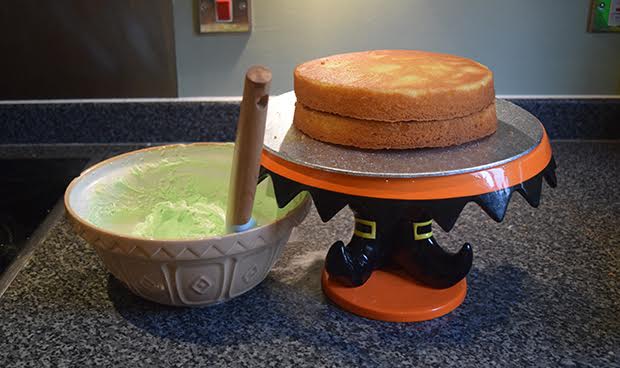 Here's where I started: with a two-layer sponge cake, sandwiched together with jam, and a bowl of the best buttercream in the world, dyed green. (Since no-one's bothered to invent Wonkavision yet, you're just gonna have to trust me about the buttercream.) After taking this photo, I slathered the buttercream onto the top and sides of the cake, and put it in the fridge out of the way while I did the fiddly bits.
A note on the shopping budget here: I used flour, sugar, eggs, milk, and red and green food colouring I already had in the cupboard. I did have to buy ready-to-roll icing (£2), two packs of butter (£1.74), and some black food colouring (£1) to make this cake, so my total is a slightly cheaty £4.74. I regret nothing.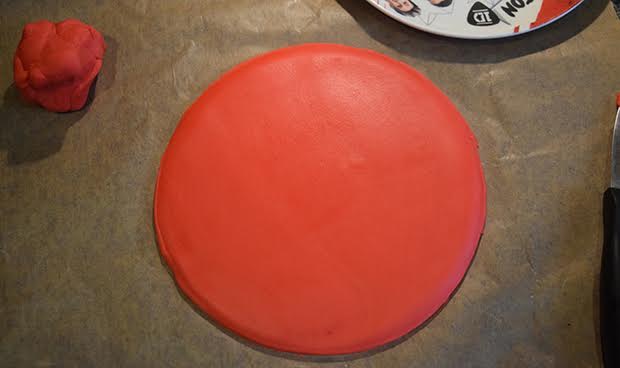 Anyway, next I kneaded red food colouring into the icing, inadvertently making myself look a bit murdery in the process, then rolled it out and cut out a circle, using my best One Direction breakfast plate as a guide. Can you tell what it is yet?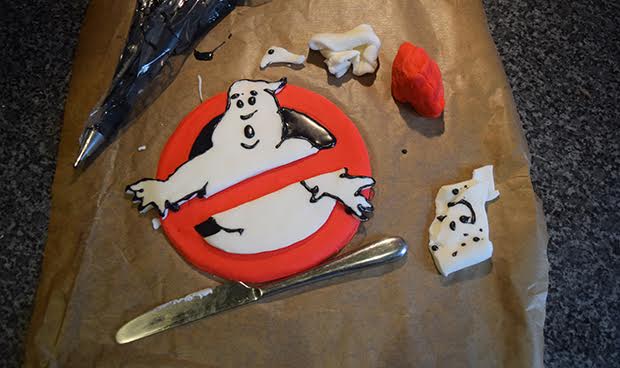 How about now? This was by far the scariest part of the project; I could feel the ghost of Paul Hollywood peering disdainfully over my shoulder the whole time. It wasn't a complicated process – I just rolled out the icing, cut out a ghost shape, and then piped an outline in black glacé icing – but I knew this was the bit where it could all go horribly wrong. It's fine, though, right? As long as you don't look too closely at the ghost's hands…
The last step was just to put the logo on top of the cake. Boom. Bring on the judges. I ain't afraid of no geek baking challenge.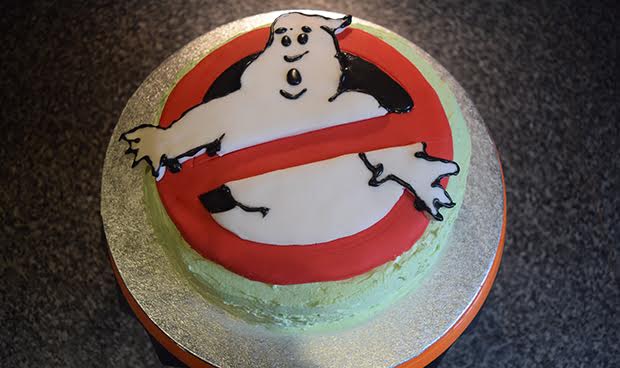 Entry 2: Carley "Boo Perkins" Tauchert-Hutchins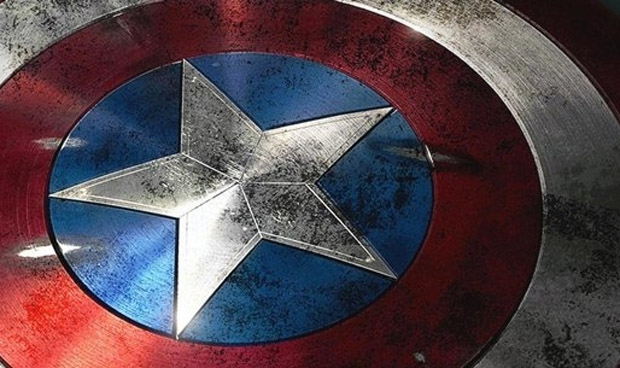 Once upon a time I took part in The Poundshop Dalek Challenge and even though I found a brand new use for a toy recorder I was unjustly robbed of the winner's title. I was downbeat, how would I restore glory back to the family name?
Then came though the challenge – in true Bake Off style we were going head to head again – this time with cake but not just any cake, a glorious geeky cake. After the joy of the challenge passed I had to get my thinking hat on. What could I make not only to win but that actually looked like it was supposed to (a lesson well learned from the previous challenge)?
I ended up torn between a cake version of Hoth and the Captain America Shield and unsure if there was enough Royal Icing within the M25 to truly create my vision of Hoth I decided to press ahead with the shield. We had a £5 budget to spend on our masterpieces – I promptly spent mine on pre-made icing and the rest of the ingredients came directly out of my kitchen cupboards.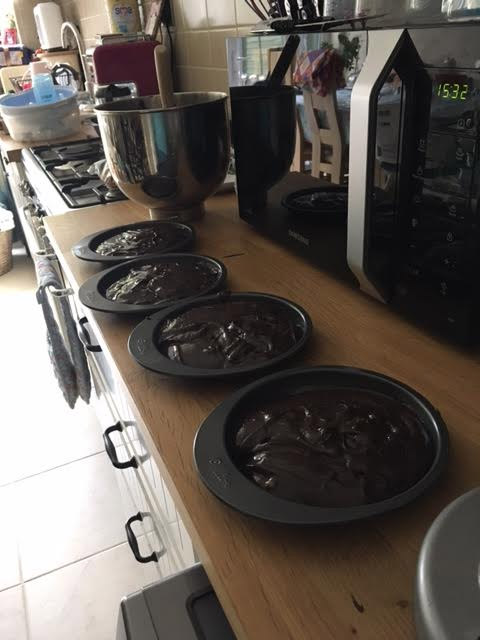 Firstly, was the cake and after some discussion with my husband (who would be eating the majority of the final creation) I decided on a Chocolate Orange Cake base because frankly why not. Base ingredients were thrown into the mixer and split into four small pans to make up the required layers and while they cooked away in the oven I got on with making a buttercream filling which was split into three equalish portions and dyed in the classic red, white and blue of the Captain.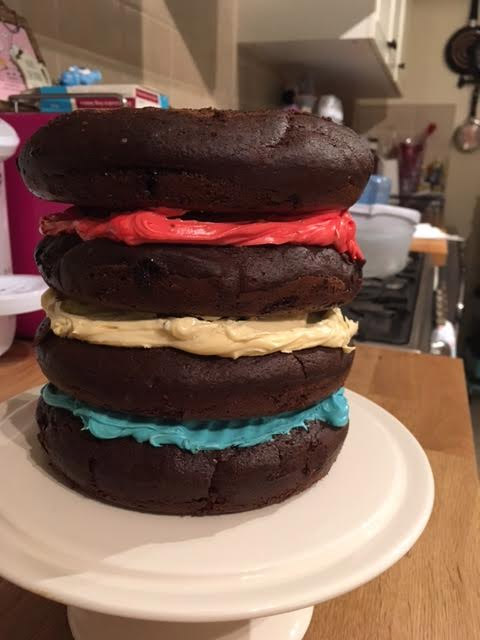 Once the cake was cooled I then began the process of building the layers. First, the cakes needed to be even so they would stack correctly then came the process of adding each layer of buttercream until it was stacked like a beautiful tower of patriotic deliciousness.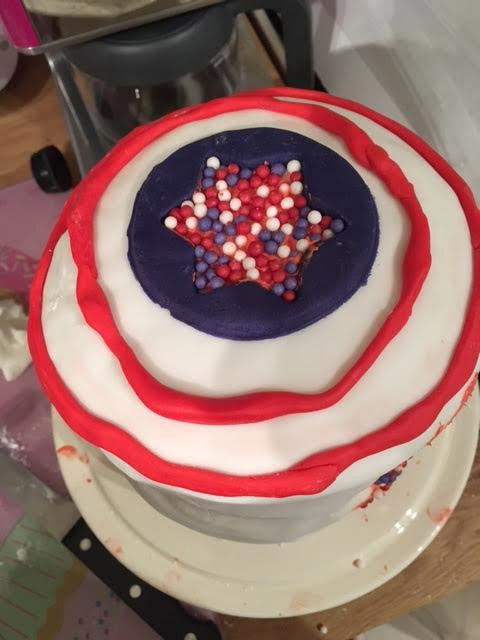 Finally came the decoration – I hate icing, I hate making it and I hate rolling it and I hate trying to get it on cakes but dear reader for you (and to win obvs) I faced my cakey fear and managed to cover the cake and decorate it with the Captain's shield.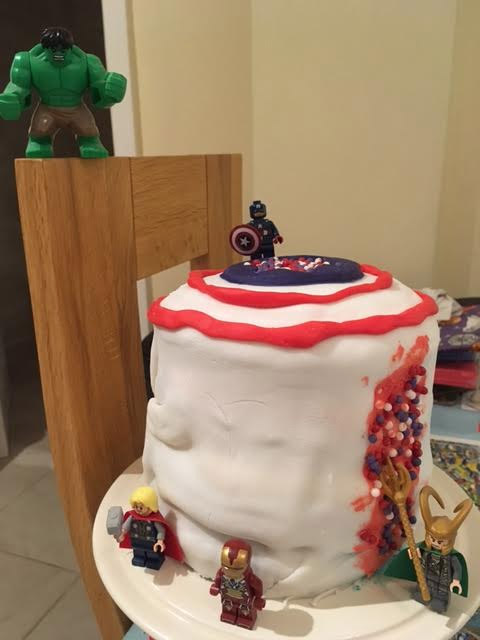 As you can see it is so powerful Loki is trying to destroy it but fear not, the Avengers (well the best ones anyway) are there to help! 
Also, as you can see if you do manage to get inside, the Red, White and Blue are running through it!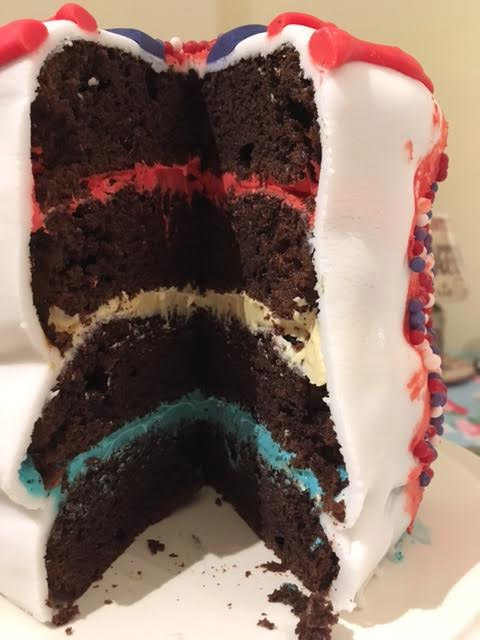 Entry 3: Louisa "Maul Hollywood" Mellor
Warning: some of the pics below are NSFW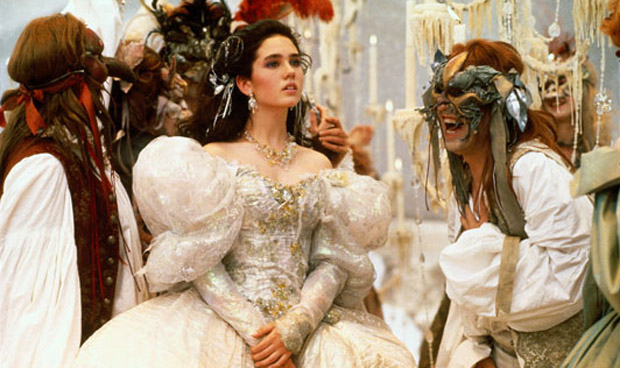 Like all little girls, I grew up dreaming that one day David Bowie would kidnap my brother, feed me a drugged peach and take me to a masked ball.
My cake is a tribute to that dream.
Observing the unnerving children's party trend for half-submerging a Barbie in sponge layers and and icing her up to the nipples, the plan was to recreate Sarah from Labyrinth's hallucination dress using a doll. My vision was simple: sponge light as a bubble and icing sweet as an eighties synth chord, all topped by a brunette beauty whose hair had been teased to the volume of a small car.
First, I needed my Sarah. A knock-off Poundland "fashion" doll served, once she'd been stripped of her nylon mini-dress and plucked of her trendy pink highlights. Then it was just a case of removing her original features and painstakingly hand-carving an exact 3D replica of Jennifer Connelly's face. It wasn't a fast process, but as you can see from the results below, it was worth every minute.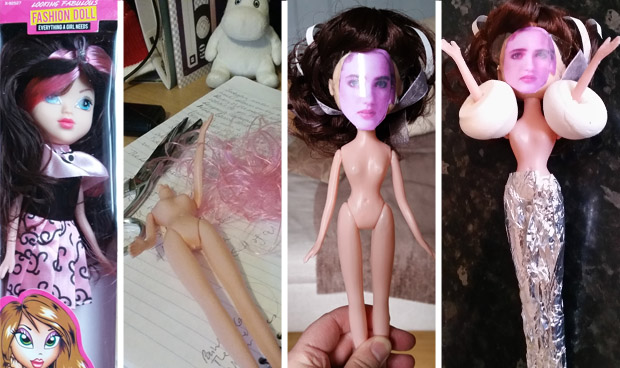 The next step – make five sponge cakes – was straightforward but took forever. It was originally supposed to be three sponge cakes but due to lubrication issues one broke coming out of the tin and none of them really rose in the oven.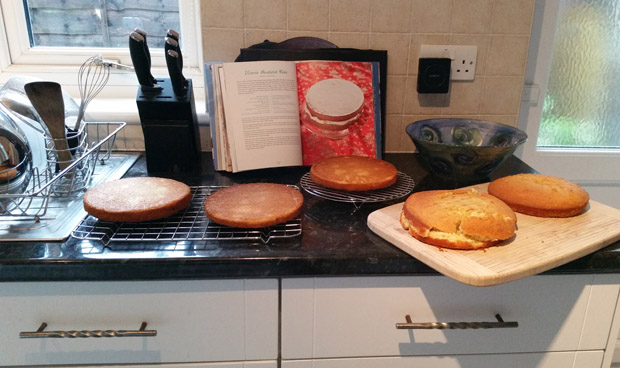 Then it was a case of piling them up, driving the doll into the middle of them and trimming around the sides to create a curved edge.
Next, I made a vat of buttercream and piped it around the edge of the cake, carefully running out of icing a layer too soon, just as planned. Enter: the rest of the mini meringues I'd bought to act as 80s ballgown sleeves to form a tasteful (and tasty) trim.
Next came butter icing, with which I piped some skirt frills and a bodice for Sarah's dress to protect her modesty before sprinkling on enough edible white glitter and gold spray (both from an out-of-date Christmas cupcake decorating set) to make even Thelma from Big Fat Gypsy Wedding wince. 
Here's the finished product. The meringue-sleeves make it impossible for Sarah to put her arms by her sides, which either gives the impression she's well up for a dance or asking to be rescued, both of which work in terms of narrative.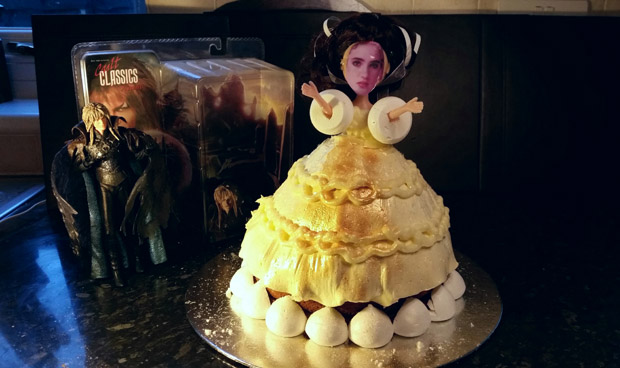 Sample feedback:
"My tongue has gone numb. Has your tongue gone numb?"
"I won't eat any more because I'm already going to be sick".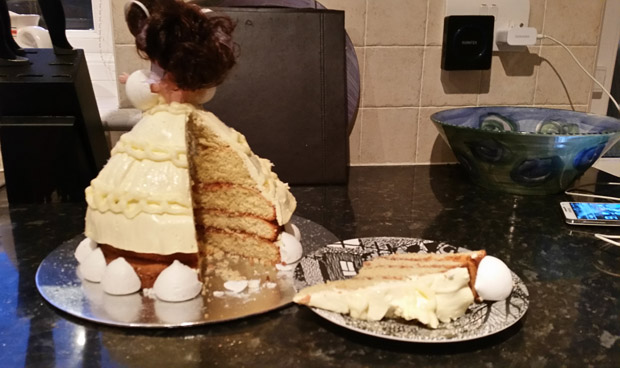 A word on budget: I'll level with the judging panel now: I spent £4 on butter alone. Add to that the £1 doll it required and you'll understand that had I not gone over budget you'd now be looking at Sarah from Labyrinth drowning in a kilogram of Anchor Unsalted. Instead, this magnificent object exists (or did, before we fed most of it to the now-diabetic birds in our garden). Disqualify me all you like, but before you do, ask yourself what's more important Mr Judge: rules or resplendent confectionary beauty?
Entry 4: Matt "Hell Giedroyc" Edwards 
When I took part in the Den of Geek Poundland challenge, where we built Daleks from junk, I didn't do incredibly well. I'm not very handy and I was unprepared for the extreme lengths my competitors were willing to go to. Louisa Mellor, for example, drafted in assistance from a welder, a team of Skaroian engineers and the BBC props department.
Still, I agreed to Geeks Bake Things because no matter how well I do, I end up with cake.
Again, though, we're working in an area where I'm completely rubbish. As I've previously covered, my only experiences with cakes are seeing Ninja Turtles on them and eating them. I'm not a good baker and my cake is likely to be very unpolished, but I am a good Teenage Mutant Ninja Turtles fan. Anyone who used to watch the old cartoon will know that the Turtles used to eat pizza with bizarre toppings, so I decided to make my cake inspired by one of them. I settled on the pizza from the season 3 episode 'Super Bebop and Mighty Rocksteady'; a Teenage Mutant Ninja Turtles marshmallow and asparagus pizza cake.
I complained at my wife until she agreed to help. We already had eggs and caster sugar, but had to go shopping for the rest. I took handfuls of butter packets and jam from a restaurant so they were free. The only good baking advice I can offer you is to go somewhere with a breakfast buffet first. We went to the supermarket for the rest.
The budget broke down as: 2 eggs – about 30p, 4 ounces caster sugar – about 30p, 4 ounces self raising flour – 90p (had to buy a whole bag), 4 ounces butter – free, Jam – free, 1 pack ready-made royal icing (mixed colours) – £1.80, Toppings – £1.70.
I've stretched the idea of the £5 budget. I tried to stay within the spirit of the challenge without having to buy a load of ingredients most of us already have at home. I feel like most of you could recreate this cake for £5 and that you're unlikely to want to.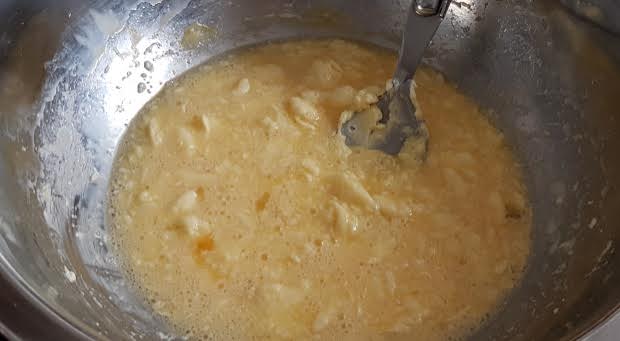 The recipe came from noted baker Google. We mixed the butter with the caster sugar, then mixed in the eggs. Don't worry, apparently it's meant to look disgusting at this point. Then we mixed the flour in a bit at a time and popped the mixture into baking trays. They went into the oven for 20 minutes where they burned, but only a bit.
Once they were cool I noted that they looked a bit a thin. Er, that was the plan though, because the cake is meant to be like a pizza base, right? The plan had also been to join them together with just jam. However, it looked a bit rubbish and so my wife made and added some out-of-competition butter cream, which we didn't budget for and is there to make it edible for us after the challenge but not visually part of contest that you should judge.
We used red icing for the tomato base and left an edge to be the pizza crust. For the cheese, we used the yellow icing. I started by grating it but it wasn't coming off the grater well and any attempt to knock it off glooped it together. We reasoned that cheese melts in the oven and utilised blobs to represent that.
We used Haribo sour apple spaghetti (£1 for the bag) for asparagus (you only need a couple from the pack, so you end up with basically a whole pack left to eat after, too), which I chopped up, and marshmallows for the marshmallows, which we singed to give that fresh from the oven look.
We then added a Ninja Turtle icing hand to reach for a piece-a pizza cake.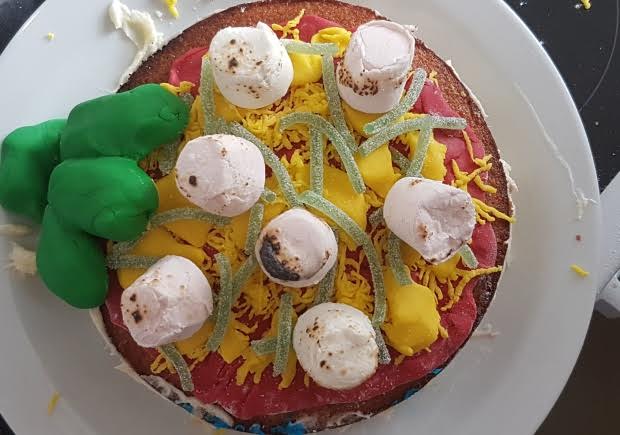 The Results
Judge Simon writes…
Oh dear.
It's only fair in these challenges that, no matter how impressive the end creation, if any writer invokes the 'Wonkavision' line in their explanation, then they're first out the door. With regret, therefore, we must lose Sarah Dobbs from this process first. Although if she'd kindly leave her excellent-looking cake behind, it'd be appreciated.
As for Mr Edwards, the manager of his local Harvester has been in touch, reporting a man dressed in a Ninja Turtles T-shirt, removing an abnormal number of mini-butter packets from the salad bar. Likewise, after a stock check and rigorous checking of CCTV, it turned out said man had lifted 462 individual packets of raspberry jam. I naturally assured the manager of said Harvester that Mr Edwards would be disqualified from our competition, and all charges were subsequently dropped.
Louisa Mellor's quite brilliant Labyrinth recreation showed imagination, verve, quality baking and a real commitment to the spirit of the competition. Not to the rules, though. Our financial committee has assessed that, once the copyright has been paid to Sony Pictures for use of Labyrinth properties, and Jennifer Connelly's likeness, the bill for her excellent cake came to £62,142.08. Not including the ingredients she already had in her cupboard. Sadly, by my calculation, that means that Louisa Mellor has overspent by £62,137.08. She too is excluded from the competition.
Which leaves us with Carley Tauchert-Hutchins? A similar problem. Marvel Studios is quite tolerant of fan tribute creations, and thus its legal department has left us alone. Furthermore, her adherence to the tight budget challenge we set down was admirable. Her expenditure of £5 was commended. And how can you resist a cake that's also colour-coded on the inside? The luxury holiday and huge cash prize is hers. Congratula…. oh, hang on. It says here that we have to make an allowance of 1p for ingredients already in your kitchen cupboard, and that agonisingly pushes Tauchert-Hutchins to £5.01, and a break of the rules. Heartbreaking. But, I ask you, what would she have done with a three week all-expenses paid luxury cruise around the Med anyway? She's had a lucky escape.
Which, sadly, leaves us with all four contestants sadly disqualified, their baking prowess cruelly undermined by a savage refusal to play fair. It's over to you, then readers: can you do better? The holiday and cash prize are sadly now gone. But, er, we might have some tat from our cupboards instead…