News
Geek survival guide to rom-coms
If you have to sit through a romantic comedy, here are 25 that won't make your eyes bleed…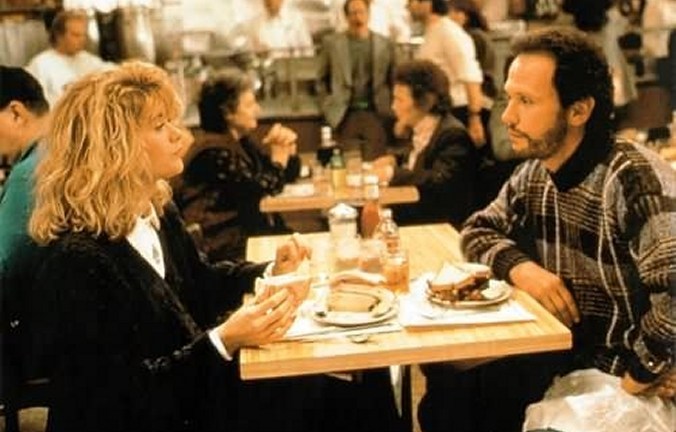 It's rare to find a DVD shelf that's got a copy of Star Wars or Robocop sat next to a Love Actually or Pretty Woman. And with good reason too. For the romantic comedy is a genre that instantly manages to form beads of sweat on the brow of many, this writer included.
However, given that my wife is a fan of arguably the most contrived movie genre on the planet, it's been my duty to sit through a number of such films. And thus, out of a sense of sheer duty to other human beings, here's a list of romcoms that if you do have to watch one, won't completely turn your brain to yoghurt…
MY BEST FRIEND'S WEDDINGLet's start with two Julia Roberts films (none of which feature Richard Gere – you're in the wrong list if you're looking for him). My Best Friend's Wedding has two big factors in its favour. Firstly, Cameron Diaz is great here, as the woman marrying Roberts' long-time sweetheart. But then there's Rupert Everett, giving his best performance on the big screen and stealing every scene he's allowed in the vicinity of. Directed by PJ Hogan, who also gave us the good-if-melancholy Muriel's Wedding, it's a fun movie, even if it does get traditionally sappy near the end.
NOTTING HILLRichard Curtis is about to unleash The Boat That Rocked, a promising looking flick about a pirate radio station sailing on the high seas. But arguably the finest screenplay he's turned out to date is the one that brought Hugh Grant and Julia Roberts together. It's well paced, at times very funny, and only occasionally strays a little too close to mawkish territory. Heck, you almost believe Grant has good reason for turning Roberts down before you get to the inevitable coming together of the pair. Blimey.
THE TRUTH ABOUT CATS AND DOGSJaneane Garofalo and Ben Chaplin aren't the most obvious leads for a romantic comedy, and neither is Heathers and Airheads helmer Michael Lehmann the most obvious director. But on the basis of The Truth About Cats and Dogs, they should get sent back to the genre as soon as possible. A really quirky tale, which also stars Uma Thurman, it naturally enough has an only-happens-in-the-movies contrivance at the heart of it (Garofalo's radio presenter gets Uma Thurman to pretend to be her in person), but you end up buying it, primarily because Garofalo is quite brilliant here. It's very funny too, and has a sex scene in the midst of it that's better than 99% of the tat thrown on the screen, and yet manages to have no sex in it, nor the two participants in the same room.
AS GOOD AS IT GETSNever loved this as much as some, but there's little doubting that Helen Hunt and Jack Nicholson make a terrific pairing. James L Brooks is on fine form behind the camera and at the word processor too. For Nicholson fans, some elements of Something's Gotta Give are really quite good, too…
JERRY MAGUIREThe last romcom Tom Cruise made, and one of the very finest of the 1990s. It's also the last good film that Cuba Gooding Jr made before he sailed off to make crap like Boat Trip, and the last film in which Renee Zellweger is entirely bearable and really quite likeable. But it's also a tour-de-force from writer-director Cameron Crowe, who does a quite brilliant job here. His film has – yes! – real heart to it, and while the core guts of the story are entirely familiar, his coating of those bones with the tale of a bastard sports agent who turns his life around is quite brilliant.
HOW TO LOSE A GUY IN 10 DAYSThis is not a great film, but it is a decent interpretation of a really good idea. It's a film where Matthew McConaughey and Kate Hudson both try and – for reasons that would only exist in a romcom – get the other to dump them. It gets in the list for the really short scene where Hudson takes McConaughey to a Celine Dion concert. We feel his pain.
WHEN HARRY MET SALLYPerhaps the very best romcom of the 1980s, and one that crosses all demographics as the romantic comedy we can pretty much all agree on. The fake orgasm scene is the most remembered, but don't undersell the pairing of the brilliant Billy Crystal with the usually-irritiating-but-here-completely buyable Meg Ryan. Very, very funny, very believable, and one of the downright best romantic comedys of the past 30 years.
WHILE YOU WERE SLEEPINGA film that solely works because of Sandra Bullock. Made off the back of her Speed fame, and before she got involved with the sequel, it's got another irritating idea that'd only happen in this genre at the heart of it. The plot is that she saves a man's life, and ends up leading his family to believe that the two are engaged. When said fella comes round, the assumption then is that a bit of amnesia has kicked in. With a tip of the hat to Bill Pullman too, it's nonetheless Bullock who charms the socks off you here, lifting the film a good deal higher than you'd ordinarily expect. Miss Congeniality (the first one) nearly squeezed onto the list for the same reason.
THE WEDDING SINGEROne of the very finest romantic comedies of the 1990s, with its heart firmly in the 1980s. This was the movie that finally broke Adam Sandler through into the big league, and his bitter wedding singer is one of his very best comedy creations. His song, devoted to the woman who jilted him, is gut-bustingly funny. It's also Drew Barrymore's best romcom too, and played out to an 80s soundtrack, it also boasts killer cameos from Jon Lovitz and particularly Steve Buscemi.
GROUNDHOG DAYThe problem with Groundhog Day is that, if anything, the romance is the fly in the ointment. It's a film that soars off the back of Bill Murray, and splutters whenever Andie MacDowell has to do anything close to acting (she alone keeps the otherwise quite tolerable Four Weddings and a Funeral off the list). Murray, however, is outstanding, and his constant meetings with Ned Rierson are just about her favourites.
THE AMERICAN PRESIDENTAaron Sorkin's pedigree needs little introduction – but do check out Sports Night if you haven't already – and yet this Michael Douglas-Annette Bening-starrer is rarely mentioned. A pity, because you can sense him sharpening his skills in advance of the shortly-to-follow West Wing. And the trick here, as it was there, is the supporting cast getting genuinely meaty roles too. Michael J Fox and – yes! – Martin Sheen excel.
TIN CUPLet's do two Costner movies next, as he's a regular exponent of the romantic comedy. And Tin Cup, bluntly, is arguably the finest in the genre of the 1990s. Hugely underrated, and giving Rene Russo the kind of meaty role she deserves more of, it's on the surface a tale of a fallen golf hero taking on the US open. But it's the crackling romance between Costner and Russo – with some brilliant dialogue to match – that makes the film soar. A brilliant, brilliant movie.
BULL DURHAMGiven that Tin Cup was made by Ron Shelton, it makes sense to move on to his other Kevin Costner-starring sporting romantic comedy, Bull Durham. There's talk of a sequel on the way, but marrying up Costner, Tim Robbins, Susan Sarandon, baseball and genuinely believable characters may be hard to do twice. Great screenplay, too.
MUSIC & LYRICSGranted, this may edge a little towards guilty pleasure, and it's a film with a fair share of problems. Plus the less said about Hugh Grant singing, the better. But the fact remains that Grant and co-star Drew Barrymore are veterans of the genre, and spark well here. It helps that the story is grounded around that of a washed up 80s singer (cough-Andrew Ridgley-cough), and the script has a lot of fun with that. A few rom-com contrivances pull it back, but it's surprisingly good fun.DEFINITELY, MAYBENot a universally loved film, but one with some substance to it. The genre leap of faith here is that Ryan Reynolds' character would recant in some detail the ins and outs of his previous relationships to his young daughter, but if you can make the leap of faith there, this is a well structured, intriguing and enjoyable picture. Reynolds is set for some future in this genre too, but it's the strong supporting cast of Kevin Kline, Isla Fisher, Rachel Weisz and Elizabeth Banks that give Definitely, Maybe that bit extra.
ABOUT A BOYYou can't get through a list like this without mentioning Hugh Grant, and here's appearance three. This is his best film, though. A decidedly unconventional romantic comedy, based on the Nick Hornby book of the same name. Toni Collette is brilliant (as always), and young Nicholas Hoult practically steals the film. A proper, grown up and interesting movie about relationships, and not always an easy one. It's all the better for it.
10 THINGS I HATE ABOUT YOUThe mid-to-late 90s saw an explosion in teen rom-coms, including some based on classic tales (She's All That, for instance, was based on Pygmalion, and made – shudder – a star of Freddie Prinze Jr). But this was the best of them. Starring Heath Ledger and the perennially underrated Julia Stiles, it's a modern day reworking of The Taming Of The Shrew, and a very, very good one. The two leads gel exceptionally well, too.
GREEN CARDGerard Depardieu wasn't well served by his jaunt into Hollywood movies, but his pairing with writer/director Peter Weir has wrongly been forgotten in many quarters. Casting Andie MacDowell opposite him didn't help, for reasons we've already discussed, but the great French actor is outstanding here, in a film that comes up with a good and genuine reason for throwing two mismatched people together, and then introduces changes in their relationship that you actually buy.
BENNY AND JOONEver since The Avengers pretty much ended his high profile movie making career, it seems you're not allowed to talk about director Jeremiah Chechik with glowing terms any more. But Benny & Joon, with its excellent pairing of Johnny Depp and Mary Stuart Masterson, is a really good and really quirky little flick, missed by many, that deserves rediscovering. Particularly if Pretty Woman is on the telly…ED BURNS x 3Ed Burns followed up The Brothers McMullen, his breakthrough indie picture, with a retread of sorts in the shape of She's The One. Either film deserves more attention, though, and Burns could also get on this list for Sidewalks Of New York. Hence, we've bracketed all three together here, accepting that he's a take-it-or-leave-it director. Our pick would be the latter, although Burns was the first to get a good big screen performance out of Jennifer Aniston in the aforementioned She's The One, too.
A LIFE LESS ORDINARYIf you like your romantic comedies a bit different, then Danny Boyle's Trainspotting follow-up certainly fits the bill. It's flawed, has an army of detractors, but it's also a bit of a hoot, and Ewan McGregor and Cameron Diaz are both clearly having a ball. Worth giving a spin…
WORKING GIRLHarrison Ford is really quite a gifted comedy actor. Sigourney Weaver can play the bitch with some style. And Melanie Griffith can do Melanie Griffith better than any other actress on the planet. Put the three together, and you have a terrific, very 80s, romcom, made under the watchful eye of director Mike Nichols. Ford, incidentally, is heading back to comedy for his next project that he's due to film. On the evidence of Working Girl, that's a very good thing.
KEEPING THE FAITHThe only film to date that Ed Norton has directed, and it's a terrific romantic comedy, that stars Ben Stiller and Anne Bancroft too. Norton should get behind the camera more often. Unless it makes him angry… (sorry…)
If you're looking for a list of romcoms to avoid, here's our quick list of suggestions:
* Anything that stars both Tom Hanks and Meg Ryan, with no volcano in it
* Actually, anything with Meg Ryan is generally a good start, unless Billy Crystal is in there too
* Anything that co-stars Julia Roberts and Richard Gere
* Anything with Jennifer Lopez in it. Be particularly wary when she pretends to be a hotel maid
* The Bodyguard. And its soundtrack.
* Around 30% of Love Actually. The bit with Alan Rickman and Emma Thompson is, however, quite brilliant.
* The Holiday. Yikes.
* 27 Dresses. Note to Katherine Heigl: Knocked Up was good, and had a really good script at the heart of it. This was crap of the first order.
* Anything with the words "Freddie", "Prinze" and "Jr" somewhere in the credits
* Reese Witherspoon. Loads of her 90s films: great. The likes of Sweet Home Alabama? Not great. Not great at all.