News
Geek shows and movies on UK TV in the coming week
Gaye cleaves the best geek TV & movies out of the coming week with the Mighty Sword Of Dobber©...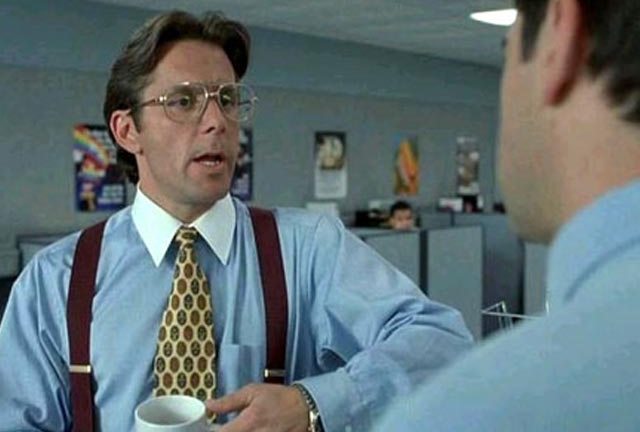 The pickings are slim this week for TV start-ups of new shows and series, which might put unfair pressure on the only new show in our radar range: Psychoville.
Billed as a comedy thriller written by and starring The League Of Gentlemen gents Reece Shearsmith and Steve Pemberton, its first episode airs on BBC2, Thursday 18 June at 10:00pm. Here's hoping it can stand the bullseye focus it's bound to get in an otherwise lean week. We'll have a review of the début shortly after it airs, so check back and see what we think of it and let us know your verdict.
This may be a good time for a short reminder that you can force our alphabetical movie highlights listing to do your bidding with your browser's built-in Find function. You can target and zero in on all films showing on a particular day by searching by date. The numerical date is in every entry, so barring our occasional flubs and chubby thumb blunders, you should be able to whizz through the list by calendar date pretty quickly.
Now, on to that list, which, as always, is subject to last second changes, so check your local listings as clocks tick closer to airtimes.
---
28 Weeks LaterOn: Sky Screen 2Date: Saturday 13th JuneTime: 01:05am (and 2:25am 18 June)
Alien 3On: Sky Movies Sci-Fi/HorrorDate: Saturday 13th JuneTime: 4:50pm (and 00:40am 14 June)
Almost FamousOn: Sky Movies IndieDate: Saturday 13th JuneTime: 1:05pm (and 10:10pm)
An American Werewolf In LondonOn: Sky2Date: Monday 15th JuneTime: midnight
Arlington RoadOn: Sky Movies Action/ThrillerDate: Monday 15th JuneTime: 09:50am (and 6:05am 18 June)
Barton FinkOn: Sky MoviesDate: Friday 12th JuneTime: 11:00am (and 3:30pm 17 June)
BatmanOn: TCMDate: Sunday 14th JuneTime: 9:00pm (11:00/midnight 15 June E4/+1)
Batman ReturnsOn: TCMDate: Sunday 14th JuneTime: 11:25pm
Beverly Hills CopOn: Sky1Date: Monday 15th JuneTime: 11:00pm (and 10:00pm 16 June)
BigOn: Sky Screen 1Date: Monday 15th JuneTime: 08:10am (and 6:05pm)
Blade RunnerOn: Sky Movies Modern GreatsDate: Sunday 14th JuneTime: 12:05pm (and 10:10pm, 4:00pm 18 June)
Bottle RocketOn: Sky Movies IndieDate: Saturday 13th JuneTime: 11:30am
CaddyshackOn: Comedy CentralDate: Saturday 13th JuneTime: 10:45pm (and 11:45pm CC+1)
Chain ReactionOn: Channel 4Date: Sunday 14th JuneTime: 11:25pm (and 00:25am 15 June 4+1)
CherishOn: ITV1Date: Saturday 13th JuneTime: 01:45am
Close Encounters Of The Third KindOn: Sky Screen 2Date: Sunday 14th JuneTime: 09:40am (and 5:00pm)
CloverfieldOn: Sky Screen 2Date: Saturday 13th JuneTime: 10:25am (and 9:00pm)
ComaOn: TCMDate: Wednesday 17th JuneTime: 9:00pm (and 1:15am 18 June)
Conan The DestroyerOn: Sky Movies Action/ThrillerDate: Saturday 13th JuneTime: 7:05pm
Drop Dead FredOn: LIVINGDate: Sunday 14th JuneTime: 2:00pm (and :00/4:00pm Living+1/+2)
DuelOn: ITV4Date: Monday 15th JuneTime: 7:30am
Edward ScissorhandsOn: Sky Screen 1Date: Sunday 14th JuneTime: 2:35pm (and 9:45pm)
End Of DaysOn: Sky Movies Action/ThrillerDate: Saturday 13th JuneTime: 01:35am (and 10:35pm 15 June, 00:40am 19 June)
Evil Dead IIOn: Sky Screen 2Date: Monday 15th JuneTime: 01:05am
Escape From L.A.On: ITV4Date: Tuesday 16th JuneTime: 10:20pm
F/XOn: Sky Movies Action/ThrillerDate: Tuesday 16th JuneTime: 9:00pm
FallenOn: five USADate: Saturday 13th JuneTime: 9:00pm
FargoOn: Sky Screen 2Date: Wednesday 17th JuneTime: 10:40pm
Flight Of The Phoenix (1966)On: Film4Date: Monday 15th JuneTime: 2:10pm (and 3:10pm Film4+1)
Galaxy QuestOn: Sky Movies Sci-Fi/HorrorDate: Tuesday 16th JuneTime: 1:50pm (and 9:00pm)
Hard CandyOn: Sky Movies IndieDate: Saturday 13th JuneTime: 03:45am (and 1:05am 17 June)
HellraiserOn: Zone HorrorDate: Saturday 13th JuneTime: 02:30am
High AnxietyOn: Film4Date: Friday 12th JuneTime: 6:55pm (and 7:55pm Film4+1, 6:55/7:55pm 16 June Film4/+1)
Hot Shots!On: Sky Movies Modern GreatsDate: Monday 15th JuneTime: 11:15am (and 10:20pm)
Jacob's LadderOn: Sky Screen 2Date: Saturday 13th JuneTime: 02:50am
K-19: The WidowmakerOn: WatchDate: Thursday 18th JuneTime: 9:00pm (and 10:00pm Watch+1)
Kill Bill: Vol. 2On: WatchDate: Friday 12th JuneTime: 10:20pm (and 11:20pm Watch+1, 10:00/11:00pm 13 June Watch/+1)
The LadykillersOn: ITV3Date: Sunday 14th JuneTime: 10:00am
MarnieOn: Sky Movies ClassicsDate: Friday 12th JuneTime: 9:00pm
Masters Of The UniverseOn: Sky Movies Sci-Fi/HorrorDate: Monday 15th JuneTime: 00:45am
Memoirs Of An Invisible ManOn: Film4Date: Saturday 13th JuneTime: 7:05pm (and 8:05pm Film4+1, 5:10/6:10pm 18 June Film4/+1)
Midnight CowboyOn: Sky Movies Modern GreatsDate: Sunday 14th JuneTime: 02:05am (and 10:00pm 18 June)
Minority ReportOn: SCI FIDate: Saturday 13th JuneTime: 9:00pm
Natural Born KillersOn: Film4Date: Wednesday 17th JuneTime: 01:10am (and 2:10am Film4+1)
O Brother, Where Art Thou?On: ITV4Date: Monday 15th JuneTime: 10:35pm (and 00:10am 18 June)
Office SpaceOn: Film4Date: Monday 15th JuneTime: 9:00pm (and 10:00pm Film4+1)
Predator 2On: Sky Movies Sci-Fi/HorrorDate: Sunday 14th JuneTime: 1:20pm (and 9:00pm, 00:25am 18 June Sky Screen 2)
QuadropheniaOn: Sky Movies Modern GreatsDate: Saturday 13th JuneTime: 01:15am
Raising ArizonaOn: Film4Date: Thursday 18th JuneTime: 9:00pm (and 10:00pm Film4+1)
RecOn: Sky Movies Sci-Fi/HorrorDate: Wednesday 17th JuneTime: 02:25am
Reign Of FireOn: BBC 1Date: Saturday 13th JuneTime: 10:35pm
Repo ManOn: Sky Movies Modern GreatsDate: Friday 19th JuneTime: midnight
Robinson Crusoe On MarsOn: Sky Movies ClassicsDate: Tuesday 16th JuneTime: 9:55am (and 7:05pm)
Saturday Night FeverOn: Sky Screen 1Date: Thursday 18th JuneTime: 10:00pm
Shoot 'Em UpOn: Sky Screen 2Date: Sunday 14th JuneTime: 01:00am
SidewaysOn: more4Date: Friday 12th JuneTime: 9:00pm (and 0:30 am 13 May)
Soylent GreenOn: TCMDate: Tuesday 16th JuneTime: 5:10pm
Star Trek: First ContactOn: Sky Movies Sci-Fi/HorrorDate: Wednesday 17th JuneTime: 12:40pm (and 9:00pm)
Star Trek: InsurrectionOn: Sky Movies Sci-Fi/HorrorDate: Thursday 18th JuneTime: 11:55am (and 7:05pm)
Star Trek: NemesisOn: Film4Date: Wednesday 17th JuneTime: 6:50pm (and 7:50pm Film4+1)
Strange DaysOn: Sky Movies Sci-Fi/HorrorDate: Tuesday 16th JuneTime: 01:00am
Terminator, The On: Sky Movies Modern GreatsDate: Monday 15th JuneTime: 2:35pm (and 11:50pm, 11:00am & 5:05pm 18 June Sky Action)
Terminator 2: Judgment DayOn: ITV2Date: Monday 15th JuneTime: 9:00pm
THX 1138On: Sky Movies Sci-Fi/HorrorDate: Friday 12th JuneTime: 11:10am (and 1:50pm 18 June)
The Big LebowskiOn: Sky Movies Modern GreatsDate: Sunday 14th JuneTime: 00:05am
The Boston StranglerOn: Sky Movies ClassicsDate: Wednesday 17th JuneTime: 00:20am
The Breakfast ClubOn: Sky Screen 1Date: Wednesday 17th JuneTime: midnight
The Castle Of CagliostroOn: Film4Date: Saturday 13th JuneTime: 11:00am (and noon Film4+1, 3:05/4:05pm 18 June Film4/+1)
The China SyndromeOn: more4Date: Saturday 13th JuneTime: 2:15pm
The Dark CrystalOn: TCMDate: Sunday 14th JuneTime: 3:00pm
The ExorcistOn: BravoDate: Sunday 14th JuneTime: 9:00pm (and 10:00pm Bravo+1)
The Godfather Part IIOn: Sky Movies Modern GreatsDate: Monday 15th JuneTime: 07:50am (and 4:35pm)
The Last Of The MohicansOn: Sky Movies DramaDate: Tuesday 16th JuneTime: 9:45pm
The Lost WorldOn: ITV2Date: Saturday 13th JuneTime: 7:30pm (and 9:00pm 16 June)
The Man With Two BrainsOn: Comedy CentralDate: Sunday 14th JuneTime: 9:00pm (and 10:00pm CC+1)
The Monster SquadOn: Sky Movies Sci-Fi/HorrorDate: Monday 15th JuneTime: 3:40pm
The Night Of The HunterOn: Sky Movies Action/ThrillerDate: Friday 19th JuneTime: 06:30am
The OmenOn: Sky Screen 2Date: Friday 19th JuneTime: 01:05am
The Rocky Horror Picture ShowOn: Sky Movies IndieDate: Sunday 14th JuneTime: 09:00am (and 10:15pm, 1:10/8:00pm 18 June Sky Screen 1)
The Running ManOn: Sky Movies Modern GreatsDate: Tuesday 16th JuneTime: 9:00pm (and 2:30am 17 June)
The SenderOn: Sky Movies Sci-Fi/HorrorDate: Wednesday 17th JuneTime: 09:30am (and 2:55am 18 June)
The Stepford Wives (1975)On: ITV3Date: Sunday 14th JuneTime: 9:00pm
The Truman ShowOn: Sky Screen 1Date: Saturday 13th JuneTime: 2:30pm (and 9:45pm)
There Will Be BloodOn: Sky Movies IndieDate: Saturday 13th JuneTime: 5:25pm
There's Something About MaryOn: Film4Date: Saturday 13th JuneTime: 9:00pm (and 10:00pm Film4+1)
Three Days Of The CondorOn: Sky Movies Modern GreatsDate: Thursday 18th JuneTime: 8:00 pm
Three KingsOn: Sky Screen 2Date: Sunday 14th JuneTime: 11:00pm
Titan A.E.On: Sky Movies Sci-Fi/HorrorDate: Saturday 13th JuneTime: 08:00am (and 2:50am 14 June)
TitusOn: Sky Movies DramaDate: Monday 15th JuneTime: midnight
Top GunOn: ITV1Date: Saturday 13th JuneTime: 10:15pm
Tremors 2: AftershocksOn: Sky Movies Action/ThrillerDate: Saturday 13th JuneTime: 07:40am
True LiesOn: ITV2Date: Wednesday 17th JuneTime: 9:00pm
Whatever Happened To Harold Smith?On: Sky Movies ComedyDate: Thursday 18th JuneTime: 06:45am
Wayne's WorldOn: Sky Movies ComedyDate: Saturday 13th JuneTime: 1:00am (and 9:30pm)
Wayne's World 2On: Sky Movies ComedyDate: Sunday 14th JuneTime: 1:00pm (and 10:00pm)
X-MenOn: Sky Movies FamilyDate: Tuesday 16th JuneTime: 10:00pm (and 1:30am 17 June)
ZodiacOn: Sky Movies Action/ThrillerDate: Saturday 13th JuneTime: 4:15pm