News
Geek shows and movies on UK TV in the coming week
Season two of Reaper starts in the UK this week, and there are plenty of movies to watch out for, too...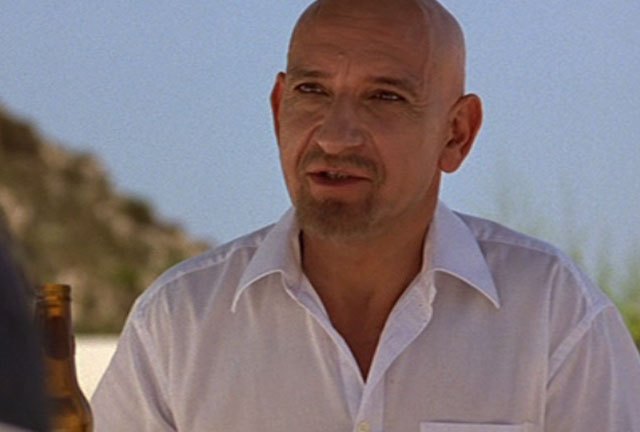 We have only one show to highlight this week, which gives you ample opportunity to check out Reaper. The first episode of the second season of Sam's struggle with the Devil airs at 9:00m on E4 Thursday, 2 July with …A New Hope. The show is a comedic look at a likeable slacker and his fellow slackees as they do Beelzebub's bidding by rounding up Hell's evil escapees. We quite like it and there's no news of a life after this season, so catch it while you can.
Now on to the films showing over the next 7 days. The dates and times were accurate when we compiled them, but do check your local listings before you make a date with your sofa. Sofas hate last minute changes and bum substitutions. No, really. They've told us. They write in. Honestly.
---
Alien 3
On: Sky Movies Sci-Fi/HorrorDate: Tuesday 30th JuneTime: 10:55am (and 7:00pm)
American BeautyOn: Sky Movies Modern GreatsDate: Sunday 28th JuneTime: 00:45am (and 9:00pm 2 July)
BarbarellaOn: Sky Movies Sci-Fi/HorrorDate: Wednesday 1st JulyTime: 10:15am (and 5:30pm)
BladeOn: five USADate: Saturday 27th JuneTime: 9:00pm
Blade RunnerOn: Sky Movies Modern GreatsDate: Sunday 28th JuneTime: 1:45pm
BullittOn: TCMDate: Tuesday 30th JuneTime: 6:55pm
Cape Fear (1962)On: Sky Movies ClassicsDate: Tuesday 30th JuneTime: 02:30am
Cape Fear (1991)On: SCI FIDate: Sunday 28th JuneTime: 01:00am
Carlito's WayOn: ITV4Date: Friday 26th JuneTime: midnight
CloverfieldOn: Sky Screen 2Date: Friday 26th JuneTime: 5:10pm (and 11:10pm, 1:45pm & 9:00pm 1 July Sky Sci-Fi)
CollateralOn: Film4Date: Sunday 28th JuneTime: 9:00pm (and 10:00pm Film4+1, 9:00/10:00pm 2 July Film4/+1)
Crocodile DundeeOn: E4Date: Saturday 27th JuneTime: 9:00pm (and 10:00pm E4+1)
Dark CityOn: TCMDate: Sunday 28th JuneTime: 01:15am (and 1:15am 28 June)
DaylightOn: Sky Movies Action/ThrillerDate: Friday 26th JuneTime: 4:40pm
Deep Blue SeaOn: Sky Movies Sci-Fi/HorrorDate: Tuesday 30th JuneTime: 9:00pm
DesperadoOn: Sky Movies Modern GreatsDate: Wednesday 1st JulyTime: 01:15am
Detroit Rock CityOn: Sky Movies IndieDate: Saturday 27th JuneTime: 1:45pm (and 11:45pm)
Dirty HarryOn: ITV1Date: Friday 26th JuneTime: 10:35pm
Dr. Seuss' Horton Hears A WhoOn: Sky Movies PremiereDate: Saturday 27th JuneTime: 6:10pm (and 7:10pm Premiere+1, 10:00/11:00am & 6:30/7:30pm 28 June and similar times daily through 10 July)
DuneOn: fiveDate: Saturday 27th JuneTime: 3:40pm
Eastern PromisesOn: Sky Movies IndieDate: Tuesday 30th JuneTime: 10:00pm
Edward ScissorhandsOn: Sky Movies Modern GreatsDate: Wednesday 1st JulyTime: 10:05am (and 6:00pm)
Empire Of The SunOn: Sky Movies Modern GreatsDate: Saturday 27th JuneTime: 08:00am (and 4:45am 28 June, 12:10pm 2 July)
Enemy Of The StateOn: BBC 1Date: Saturday 27th JuneTime: 10:35pm
Eternal Sunshine Of The Spotless MindOn: more4Date: Friday 26th JuneTime: 10:00pm (and 1:10am 27 June)
FargoOn: Sky Movies IndieDate: Friday 26th JuneTime: 10:00pm
Fear And Loathing In Las VegasOn: Sky Movies ComedyDate: Thursday 2nd JulyTime: 11:40pm
Ferris Bueller's Day OffOn: Sky Movies ComedyDate: Monday 29th JuneTime: 11:25am (and 6:15pm)
First BloodOn: ITV4Date: Thursday 2nd JulyTime: 10:00pm
Forrest GumpOn: Film4Date: Friday 26th JuneTime: 9:00pm (and 10:00pm Film4+1)
Fright NightOn: Sky Movies Sci-Fi/HorrorDate: Monday 29th JuneTime: 00:40am (and 3:25am 1 July Sky Screen 1)
Galaxy QuestOn: Sky Movies Sci-Fi/HorrorDate: Saturday 27th JuneTime: 5:05pm (and 10:35pm)
Ghosts Of MarsOn: Film4Date: Saturday 27th JuneTime: 11:15pm (and 00:15am 28 June Film4+1)
Good Morning, VietnamOn: Sky Movies Modern GreatsDate: Sunday 28th JuneTime: 5:55pm (and 2:10pm & 10:15pm 1 July)
GoodfellasOn: TCMDate: Sunday 28th JuneTime: 9:00pm
Hard CandyOn: Sky Movies IndieDate: Sunday 28th JuneTime: 10:00pm
I Am LegendOn: Sky Movies Sci-Fi/HorrorDate: Sunday 28th JuneTime: 11:50am (and 7:15pm)
IdentityOn: fiveDate: Monday 29th JuneTime: 10:00pm
Jacob's LadderOn: Sky Movies Modern GreatsDate: Friday 26th JuneTime: 11:45am (and 6:00am 30 June)
John Carpenter's VampiresOn: SCI FIDate: Tuesday 30th JuneTime: 10:00pm
King Kong (2005)On: ITV2Date: Saturday 27th JuneTime: 7:30pm
Men In BlackOn: G.O.L.D.Date: Saturday 27th JuneTime: 8:00pm (and 9:00pm Gold+1, 6:10/7:10pm 28 June Gold/+1)
Men In Black IIOn: G.O.L.D.Date: Saturday 27th JuneTime: 9:50pm (and 10:50pm Gold+1, 8:00/9:00pm 28 June Gold/+1)
Miller's CrossingOn: Film4Date: Sunday 28th JuneTime: 11:15pm (and 00:15am 29 June Film4+1)
Mission: ImpossibleOn: ITV2Date: Saturday 27th JuneTime: 11:10pm (and 10:00pm 28 June)
Mission: Impossible IIOn: ITV2Date: Monday 29th JuneTime: 9:00pm
Monty Python's The Meaning Of LifeOn: Sky Movies Modern GreatsDate: Sunday 28th JuneTime: 3:45pm
Netherbeast IncorporatedOn: Zone HorrorDate: Friday 26th JuneTime: 4:00pm (and noon 27 June)
No Country For Old MenOn: Sky Movies Action/ThrillerDate: Saturday 27th JuneTime: 2:00pm (and 10:55pm)
O Lucky Man!On: TCMDate: Monday 29th JuneTime: 11:20pm
Play Misty For MeOn: Sky Movies Action/ThrillerDate: Friday 26th JuneTime: 12:50pm
PredatorOn: Sky Movies Action/ThrillerDate: Friday 26th JuneTime: 11:10pm
Psycho (1960)On: Sky Movies ClassicsDate: Monday 29th JuneTime: 01:35am
Red Rock WestOn: ITV1Date: Thursday 2nd JulyTime: 11:35pm
Saving Private RyanOn: Sky Movies Action/ThrillerDate: Wednesday 1st JulyTime: 2:40pm (and 9:00pm)
Scream And Scream AgainOn: Sky Movies ClassicsDate: Friday 3rd JulyTime: 00:10am
Sexy BeastOn: Film4Date: Wednesday 1st JulyTime: 11:05pm (and 00:05am 2 July Film4+1)
Shoot 'Em UpOn: Sky Movies Action/ThrillerDate: Sunday 28th JuneTime: 11:15pm
Sky Captain And The World Of TomorrowOn: Film4Date: Saturday 27th JuneTime: 1:00 pm (and 2:00pm Film4+1, 7:00/8:00pm 1 July Film4/+1)
SphereOn: fiveDate: Saturday 27th JuneTime: 6:15pm
StardustOn: Sky Movies FamilyDate: Sunday 28th JuneTime: 11:40am (and 8:00pm)
Superman ReturnsOn: BBC 3Date: Wednesday 1st JulyTime: 9:00pm
Sweeney Todd: The Demon Barber Of Fleet StreetOn: Sky Movies Sci-Fi/HorrorDate: Sunday 28th JuneTime: 10:40pm
THX 1138On: Sky Movies Sci-Fi/HorrorDate: Friday 26th JuneTime: 10:10am (and 8:00am 30 June)
TestamentOn: Sky Screen 2Date: Tuesday 30th JuneTime: 08:45am (and 4:20am 1 July)
The Addams Family ValuesOn: Sky Movies FamilyDate: Friday 26th JuneTime: 12:45pm (and 6:15pm)
The Big LebowskiOn: Sky Movies Modern GreatsDate: Thursday 25th JuneTime: 11:50pm (and 00:05am 30 June)
The Boston StranglerOn: Sky Movies ClassicsDate: Sunday 28th JuneTime: 03:00am (and 2:30am 2 July)
The Breakfast ClubOn: Sky Movies Modern GreatsDate: Friday 26th JuneTime: 6:20pm (and 4:15pm 1 July)
The DuellistsOn: Sky Movies Modern GreatsDate: Thursday 2nd JulyTime: 05:00am
The Fast And The FuriousOn: SCI FIDate: Friday 26th JuneTime: 11:00pm (and 9:00pm 27 June, 9:00pm 20 June five USA)
The FrightenersOn: Sky Movies Sci-Fi/HorrorDate: Monday 29th JuneTime: 11:20am (and 5:00pm)
The Golden ChildOn: Sky Movies ComedyDate: Thursday 2nd JulyTime: 2:50pm (and 10:00pm)
The Good, The Bad And The UglyOn: fiveDate: Wednesday 1st JulyTime: 9:00pm
The Hitcher (1986)On: ITV4Date: Sunday 28th JuneTime: 10:00pm
The Incredible HulkOn: Sky Screen 2Date: Monday 29th JuneTime: 1:20pm (and 9:00pm)
The In-LawsOn: TCMDate: Monday 29th JuneTime: 1:00pm (and 5:00am 30 June)
The JerkOn: ITV4Date: Tuesday 30th JuneTime: 10:20pm
The Last DetailOn: five USADate: Saturday 27th JuneTime: 11:10pm
The Last Of The MohicansOn: Sky Movies DramaDate: Saturday 27th JuneTime: 2:00pm
The MaskOn: Comedy CentralDate: Saturday 27th JuneTime: 7:00pm (and 9:00pm 28 June)
The MistOn: Sky Screen 2Date: Wednesday 1st JulyTime: 12:20pm (and 11:15pm)
The Night Of The HunterOn: Sky Movies Action/ThrillerDate: Saturday 27th JuneTime: 06:55am
The OmenOn: Sky Movies Sci-Fi/HorrorDate: Monday 29th JuneTime: 1:20pm (and 7:00pm)
The Rocky Horror Picture ShowOn: Sky Movies IndieDate: Saturday 27th JuneTime: 11:50am (and 10:00pm, 11:50pm 1 July)
The Royal TenenbaumsOn: BBC 1Date: Tuesday 30th JuneTime: 11:30pm
The ShiningOn: Sky Movies Modern GreatsDate: Monday 29th JuneTime: 10:00pm
The Sixth SenseOn: Sky Movies Modern GreatsDate: Friday 26th JuneTime: 4:30pm(and 11:55pm, 2:10am 30 June)
The StingOn: ITV4Date: Wednesday 1st JulyTime: 00:20am
The Water Horse: Legend Of The DeepOn: Sky Screen 1Date: Friday 26th JuneTime: 6:00pm
Tin CupOn: TCMDate: Friday 26th JuneTime: 9:00pm
Titan A.E.On: Sky Screen 2Date: Saturday 27th JuneTime: 07:00am (and 4:20am 28 June)
TitusOn: Sky Movies DramaDate: Saturday 27th JuneTime: 01:50am
TombstoneOn: Sky Movies Modern GreatsDate: Wednesday 1st JulyTime: 11:55am (and 8:00pm)
Trading PlacesOn: Sky Movies ComedyDate: Monday 29th JuneTime: 1:10pm (and 8:00pm)
UnbreakableOn: ITV2Date: Tuesday 30th JuneTime: 11:00pm (and 9:00pm 1 July)
WantedOn: Sky Screen 2Date: Saturday 27th JuneTime: 10:40pm (and 10:00pm 30 June Sky Action)
ZodiacOn: Sky Movies Action/ThrillerDate: Sunday 28th JuneTime: 12:25pm (and 6:20pm 1 July Sky Screen 2)