News
Geek shows and movies on UK TV in the coming week
Gaye's been ripping all the non-interesting parts out of the TV guide as usual....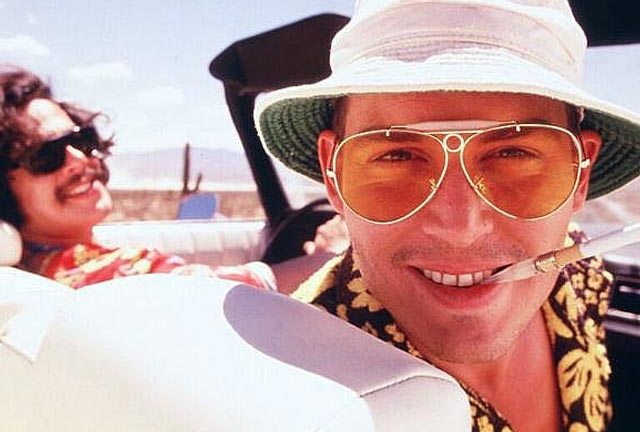 We suspect you've had your Friday nights whipped into shape by True Blood, but if you've been in a dark cellar somewhere the past couple weeks (and we wouldn't want to know why) you can catch up with reviews of the first two episodes before the third, entitled Mine, airs tonight at 10:00pm. Miss that, and there's still a chance for all late-night breathers with a bonus showing at 10 past midnight. 
Another series we can't praise often enough is Jericho, which is enjoying a repeat performance on the SciFi channel. The final episode of the first season, Why We Fight, is shown at 5:00am and noon on Wednesday, the 5th of August, followed at 1:00pm by the second season opener, Reconstruction, repeated at 5:00am Thursday. Very early and very late risers should be happy, at least.
Here's something to mind munch on: If Jericho fans resurrected a cancelled series by sending tons of nuts to the powers that were, and Veronica Mars followers tried and failed with Mars candy bars, what might the new breed of True Blood admirers start collecting up for that inevitable day when the axe is poised? While you ponder – and shudder – over that, we'll bring you the week's movies…
Films this week include some refreshingly new entries and single showings among the old reliables, plus some family fare for TV fans with geeks-to-be. So look carefully and check local schedules on the day for comfortable parent/child couch cosying. We wouldn't want the little ones to settle in for James And The Giant Peach and find Harold and Kumar instead.
---
28 Weeks Later
On: Sky Screen 2Date: Tuesday 4th AugustTime: 10:45pm
Bad BoysOn: Sky Movies Modern GreatsDate: Friday 31st JulyTime: 2:20pm (and 10:00pm)
BarbarellaOn: Sky Movies Sci-Fi/HorrorDate: Friday 31st JulyTime: 5:15pmBlade RunnerOn: Sky Screen 2   Date: Monday 3rd AugustTime: 01:15am
Blazing SaddlesOn: TCMDate: Tuesday 4th AugustTime: 9:00pm (and 1:00am 5 Aug)
Blind FuryOn: five USADate: Saturday 1st AugustTime: 11:10pm
BreakdownOn: ITV4 Date: Thursday 6th AugustTime: 10:00pm
Buffalo '66On: Sky Movies Indie  Date: Friday 31st JulyTime: 10:45am (and 10:00pm 11:20am & 10:05pm 4 Aug)
BullittOn: TCM Date: Tuesday 4th AugustTime: 10:50pm
Catch-22On: Sky Movies ComedyDate: Monday 3rd AugustTime: 08:55am (and 1:15am 4 Aug)
CliffhangerOn: ITV2 Date: Saturday 1st AugustTime: 9:40pm (and 11:00pm 4 Aug)Close Encounters Of The Third KindOn: Sky Movies Sci-Fi/HorrorDate: Sunday 2nd AugustTime: 08:00am (and 4:30pm)
CompulsionOn: Sky Movies Classics Date: Monday 3rd AugustTime: 02:00am
Conan The BarbarianOn: ITV4Date: Friday 31st JulyTime: 9:00pm
Conan The DestroyerOn: Sky Movies Action/ThrillerDate: Saturday 1st AugustTime: 07:30am (and 5:10pm)CongoOn: E4Date: Wednesday 5th AugustTime: 9:00pm (and 10:00pm E4+1)
Deep Blue SeaOn: Sky Movies Sci-Fi/Horror  Date: Monday 3rd AugustTime: 7:00pm
DesperadoOn: Sky Movies IndieDate: Wednesday 5th AugustTime: 01:50am
Die HardOn: Sky Screen 2Date: Sunday 2nd AugustTime: 2:55pm (and 9:00pm)
Die Hard 2On: Sky Movies Action/ThrillerDate: Sunday 2nd AugustTime: 5:10pm (and 11:00pm, 2:40pm & 10:40pm 5 Aug Sky Screen 2)
DogmaOn: Film4Date: Thursday 6th AugustTime: 9:00pm (and 10:00pm Film4+1)
Dolores ClaiborneOn: TCM   Date: Thursday 6th AugustTime: 9:00pm
Edward ScissorhandsOn: Sky Movies FamilyDate: Saturday 1st AugustTime:  10:10pm (and 3:30am 2 Aug)
EraserOn: E4   Date: Sunday 2nd AugustTime: 10:00pm (and 11:pm E4+1, 11:05pm/00:05am 3/4 Aug E4/+1)Escape From New YorkOn: ITV4Date: Thursday 6th AugustTime: 11:55pmEvil Dead IIOn: Sky Movies Sci-Fi/HorrorDate: Sunday 2nd AugustTime: 00:20am (and 3:20am)
FargoOn: Sky Movies Indie Date: Saturday 1st AugustTime: midnight (and 00:55am 6 Aug Sky Screen 2)
Fear And Loathing In Las VegasOn: Sky Screen 1Date: Sunday 2nd AugustTime: 01:50am (and 10:00pm 4 Aug)
Field Of DreamsOn: ITV1Date: Saturday 1st AugustTime: 3:10pm
F/XOn: Sky Movies Action/ThrillerDate: Tuesday 4th AugustTime: 5:00pm
Galaxy QuestOn: Sky Movies Sci-Fi/HorrorDate: Tuesday 4th AugustTime: 1:20pm (and 9:00pm)Harold And Kumar Get The MunchiesOn: BravoDate: Sunday 2nd AugustTime: 9:00pm (and 10:00pm Bravo+1)
HighlanderOn: ITV4Date: Thursday 30th JulyTime: 9:00pm (and 00:15am 6 Aug)
[Indiana Jones] Raiders Of The Lost ArkOn: Sky Movies FamilyDate: Saturday 1st AugustTime: 1:50pm (and 1:50pm 2 Aug)
Indiana Jones And The Temple Of DoomOn: Sky Movies FamilyDate: Saturday 1st AugustTime: 3:50pm (and 3:50pm 2 Aug)Indiana Jones And The Last CrusadeOn: Sky Movies FamilyDate: Saturday 1st AugustTime: 5:50pm (and 5:50pm 2 Aug)Indiana Jones And The Kingdom Of The Crystal SkullOn: Sky Movies PremiereDate: Saturday 1st AugustTime: 11:00am (and noon Premiere+1, 8:00/9:00pm and similar times daily through 7 Aug)
Jacob's LadderOn: Sky Screen 2Date: Thursday 6th AugustTime: 2:45pm
James And The Giant PeachOn: Film4   Date: Sunday 2nd AugustTime: 1:00pm (and 2:00pm Film4+1)
Jurassic Park IIIOn: Sky Screen 1 Date: Tuesday 4th AugustTime: 6:20pm
Kung Fu PandaOn: Sky Movies PremiereDate: Friday 31st JulyTime: 8:00pm (9:00pm Premiere+1, 2:50/3:50pm 1 Aug Premiere/+1 and similar times daily through 7 Aug)Manhattan Murder MysteryOn: Sky Movies ComedyDate: Monday 3rd AugustTime: 03:10am
Men In Black IIOn: WatchDate: Saturday 1st AugustTime: 9:00pm (and 10:00pm Watch+1, 8:00/9:00pm 2 Aug Watch/+1)
Minority ReportOn: SCI FIDate: Friday 31st JulyTime: 8:00pmMission: Impossible IIOn: Sky Movies PremiereDate: Friday 31st JulyTime: 9:45pm (and 10:45pm Premiere+1)National Lampoon's European VacationOn: five   Date: Saturday 1st AugustTime: 5:40pmPredatorOn: Sky Movies Action/ThrillerDate: Saturday 1st AugustTime: 10:55pmRamboOn: Sky Movies Action/ThrillerDate: Friday 31st JulyTime: 10:00pmRecOn: Sky Movies Sci-Fi/Horror  Date: Sunday 2nd AugustTime: 01:50am (and 2:20am 5 Aug)Richard Pryor Live On The Sunset StripOn: ITV4  Date: Saturday 1st AugustTime: 01:35am (and 10:00pm)
RockyOn: Sky Screen 1  Date: Monday 3rd AugustTime: 2:15pm (and 3:50am 4 Aug, 12:25pm 6 Aug)
RoxanneOn: G.O.L.D.Date: Sunday 2nd AugustTime: 00:20am (and 1:20am Gold+1 & 1:00/2:00pm Gold/+1)
ScreamersOn: ITV4Date: Wednesday 5th AugustTime: 00:10am (and 10:00pm)
Shoot 'Em UpOn: Sky Screen 2Date: Sunday 2nd AugustTime: 00:45amShrekOn: Sky Screen 1  Date: Saturday 1st AugustTime: 09:00am (and 6:25pm)
Small SoldiersOn: ITV2Date: Saturday 1st AugustTime: 1:45pm
Spider-ManOn: G.O.L.D.Date: Friday 31st JulyTime: 9:00pm (and 10:00pm Gold+1, 3:00/4:00pm 1 Aug Gold/+1)
Star Trek: The Motion PictureOn: Sky Movies Sci-Fi/HorrorDate: Saturday 1st AugustTime: 11:20am (and 6:45pm)Star Trek II: The Wrath Of KhanOn: Sky Movies Sci-Fi/HorrorDate: Sunday 2nd AugustTime: 10:30am (and 7:00pm)Star Wars: The Clone WarsOn: Sky Movies Premiere  Date: Thursday 30th JulyTime: 6:15pm (and 7:15pm Premiere+1, 4:205:20 13 July)
Strange DaysOn: Sky Movies Modern GreatsDate: Sunday 2nd AugustTime: 02:45amSwordfishOn: five USA   Date: Tuesday 4th AugustTime: 9:00pmTaxi DriverOn: Sky Movies IndieDate: Saturday 1st AugustTime: 10:00pm (and 3:30am 2 Aug)
Terminator, The On: Sky Movies Action/ThrillerDate: Monday 3rd AugustTime: 2:45pm (and 11:10am 5 Aug, 00:40am 6 Aug Sky Sci-Fi)Terminator 2: Judgment DayOn: ITV2  Date: Wednesday 5th AugustTime: 9:00pm
The Bank JobOn: Sky Screen 2  Date: Saturday 1st AugustTime: 2:05pm (and 10:45pm, 1:25pm & 9:00pm 5 Aug Sky Action)
The Big LebowskiOn: Sky Movies Modern GreatsDate: Friday 31st JulyTime: 01:40am (and 10:15pm 3 Aug)The Blair Witch ProjectOn: Film4Date: Saturday 1st AugustTime: 11:20pm (and 00:20am 2 Aug Film4+1)
The Blob (1958)On: Sky Movies Sci-Fi/HorrorDate: Thursday 6th AugustTime: 08:00am (and 3:25pm)The Breakfast ClubOn: Sky Movies Modern GreatsDate: Tuesday 4th AugustTime: 6:15pmThe Chronicles Of RiddickOn: ITV2 Date: Saturday 1st AugustTime: 11:45pm (and 9:00pm 3 Aug)The CottageOn: Sky Movies Premiere  Date: Saturday 1st AugustTime: 10:15pm (and 11:15pm Premiere+1 and daily at those times through 6 Aug)
The Dark CrystalOn: TCMDate: Friday 31st JulyTime: 3:00pm (and 7:20am 1 Aug)
The Day After TomorrowOn: Film4Date: Monday 3rd AugustTime: 9:00pm (and 10:00pm Film4+1)
The GameOn: ITV4Date: Saturday 1st AugustTime: 11:45pm
The Incredible HulkOn: Sky Movies Sci-Fi/HorrorDate: Sunday 2nd AugustTime: 12:40pm (and 9:00pm)
The MatrixOn: ITV1  Date: Monday 3rd AugustTime: 10:35pmThe MistOn: Sky Screen 2    Date: Thursday 6th AugustTime: 08:10am (and 9:00pm)
The NegotiatorOn: BBC 1 Date: Friday 31st JulyTime: 11:20pm
The Omega ManOn: TCMDate: Monday 3rd AugustTime: 7:05pm (and 11:05am)The OmenOn: Sky Movies Sci-Fi/Horror  Date: Saturday 1st AugustTime: 3:20pm (and 9:35am & 5:00pm 6 Aug)
The OneOn: WatchDate: Wednesday 5th AugustTime: midnight (and 1:00am Watch+1 & 9:00/10:00pm Watch/+1)The RecruitOn: FXDate: Saturday 1st AugustTime: midnight (and 1:00am 6 Aug)
The Rocky Horror Picture ShowOn: Sky Movies Indie   Date: Friday 31st JulyTime: 09:00am (and 11:55pm, 4:15pm 3 Aug, 3:40am 4 Aug)
The Running ManOn: Sky Movies Modern Greats  Date: Sunday 2nd AugustTime: 9:00pm
The Serpent And The RainbowOn: Sky Movies Modern Greats Date: Monday 3rd AugustTime: 03:10am (and 2:15am 6 Aug)
The Thing, John Carpenter'sOn: ITV4Date: Tuesday 4th AugustTime: 00:25amThe Usual SuspectsOn: Sky1  Date: Friday 31st JulyTime: 10:30pm (and 10:00pm 2 Aug Sky2)There Will Be BloodOn: Sky Screen 2 Date: Tuesday 4th AugustTime: 6:20pmThere's Something About MaryOn: Film4    Date: Saturday 1st AugustTime: 9:00pm (and 10:00pm Film4+1)
Three Days Of The CondorOn: Sky Movies Modern GreatsDate: Thursday 6th AugustTime: 08:15am (and 8:00pm)
Twilight Zone: The MovieOn: Sky Movies Sci-Fi/HorrorDate: Saturday 1st AugustTime: 08:00am
V For VendettaOn: BBC 3 Date: Saturday 1st AugustTime: 9:00pmVan HelsingOn: ITV2Date: Sunday 2nd AugustTime: 9:00pm
What Lies BeneathOn: Sky Screen 2Date: Saturday 1st AugustTime: 6:45pm
Young FrankensteinOn: Sky Movies Modern GreatsDate: Sunday 2nd AugustTime: 3:20pm