News
Geek shows and movies on UK TV in the coming week
Gaye once again brings us seven days of geek-filled goggle-boxing...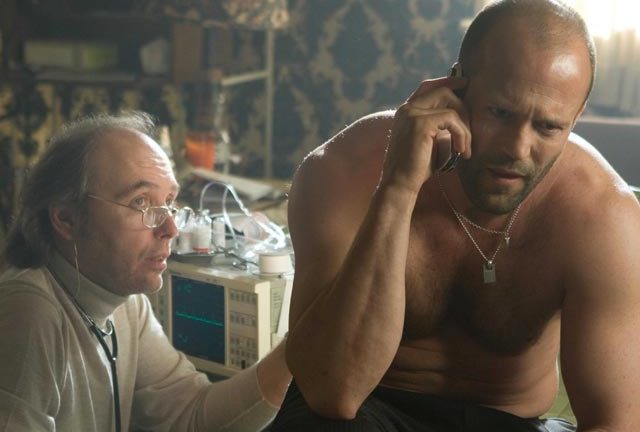 You may have cottoned onto the fact that at Den Of Geek we're of the opinion you can never have too many True Blood mentions or reminders. So, we're happy to serve as your personal neuron nudger and say the show airs in the UK on FX on Friday nights at 10:00pm. Tonight's episode, the fourth in the series' initial season, is Escape From Dragon House and finds the Stackhouse siblings have more than a handful of trouble apiece. Catch it if you can at 10, or the repeat showing at five past midnight.
On Sunday, 9 August, Metallica is profiled in an hour-long look at the heavy metal music masters at 9:00pm and again on Monday the 10th at 8:00am and 2:00pm. Tune up those air or Hero guitars and tune in to the Bio channel if you're likely to want to rock along.
And now the films airing over the next 168 hours or thereabouts for your audio-visual feasting. There's some crackers in the coming week. And some cheese. And even some treats for ickle geeks. Enjoy!
---
Alien 3
On: Sky Movies Sci-Fi/HorrorDate: Wednesday 12th AugustTime: 10:30am (and 6:50pm)
American SplendorOn: Film4Date: Sunday 9th AugustTime: 01:05am (and 2:05am Film4+1)
An American Werewolf In LondonOn: SCI FIDate: Sunday 9th AugustTime: 10:00pm
Arlington RoadOn: Sky Movies DramaDate: Saturday 8th AugustTime: 1:45pm
Bad BoysOn: Sky1   Date: Wednesday 12th AugustTime: 10:00pm (and 10:00pm 13 Aug Sky2)Bad Day At Black RockOn: TCMDate: Saturday 8th AugustTime: 5:05pm (and 9:05am 9 Aug)
BatmanOn: BravoDate: Friday 7th AugustTime: 9:00pm (and 10:00pm Bravo+1, 9:00/10:00pm 9 Aug Bravo/+1)
Blade RunnerOn: Sky Movies Modern GreatsDate: Friday 7th AugustTime: 5:55pm (and 3:00am 12 Aug)
BreakdownOn: ITV4Date: Sunday 9th AugustTime: 11:00pmCast AwayOn: BBC 3   Date: Saturday 8th AugustTime: 8:30pmClose Encounters Of The Third KindOn: Sky Screen 2 Date: Saturday 8th AugustTime: 4:40pm (and 4:05am 9 Aug)
CloverfieldOn: Sky Screen 2Date: Friday 7th AugustTime: 3:10pm (and 11:00pm)
Coming To AmericaOn: Sky Movies Modern GreatsDate: Saturday 8th AugustTime: 11:15am (and 8:00pm)
Continental DivideOn: Sky Movies ComedyDate: Sunday 9th AugustTime: 05:15am
CrankOn: ITV4Date: Wednesday 12th AugustTime: 10:10pm
DaylightOn: Sky Movies Action/ThrillerDate: Saturday 8th AugustTime: 3:50pm (and 8:30am & 6:00pm 11 Aug)Detroit Rock CityOn: Sky Movies IndieDate: Friday 7th AugustTime: 12:35pm (and 3:15am 8 Aug)
Dr. Seuss' Horton Hears A WhoOn: Sky Movies Family    Date: Sunday 9th August 2009Time: noon (and 4:45pm)
Edward ScissorhandsOn: Sky Movies Family  Date: Sunday 9th AugustTime: 10:10pm (and 8:00pm 12 Aug, 1:15am 13 Aug)
Escape From New YorkOn: ITV4Date: Thursday 6th AugustTime:  9:00pm 7 Aug
Evil Dead IIOn: Sky Movies Sci-Fi/HorrorDate: Thursday 13th AugustTime: 01:05am
FargoOn: Sky Movies Indie   Date: Thursday 13th AugustTime: 11:40pm
Ferris Bueller's Day OffOn: Sky Screen 1Date: Wednesday 12th AugustTime: 6:10pm
FootlooseOn: Sky Screen 1Date: Saturday 8th AugustTime: 11:15am
Hot Shots!On: Sky Movies Modern Greats   Date: Wednesday 12th AugustTime: 10:15pm
In BrugesOn: Sky Movies Indie Date: Friday 7th AugustTime: 10:00pm (and 11:55pm 11 Aug)Indiana Jones And The Kingdom Of The Crystal SkullOn: Sky Movies PremiereDate: Thursday 6th AugusTime: 8:00pm (and 9:00pm Premiere+1, 8:00/9:00pm 7 Aug Premiere/+1)James And The Giant PeachOn: Film4Date: Friday 7th AugustTime: 5:00pm (and 6:00pm Film4+1)Jurassic ParkOn: ITV2   Date: Saturday 8th AugustTime: 9:20pm (and 6:40pm 9 Aug, 8:10pm 12 Aug & 5:30pm 13 Aug SciFi)
Jurassic Park IIIOn: Sky Movies Family Date: Saturday 8th AugustTime: 10:45am (and 8:00pm)
KennyOn: Sky Screen 1  Date: Wednesday 12th AugustTime: 03:05am
Kung Fu PandaOn: Sky Movies PremiereDate: Thursday 6th AugustTime: 2:50pm (and 3:50pm Premiere+1)
Lara Croft: Tomb RaiderOn: BBC 1 Date: Saturday 8th AugustTime: 10:15pm
MarnieOn: Sky Movies Classics  Date: Thursday 13th AugustTime: 9:00pm
Masters Of The UniverseOn: Sky Screen 2Date: Monday 10th AugustTime: 2:55pm (and 5:10am 11 Aug)
Mission: Impossible IIOn: Sky Screen 2 Date: Tuesday 11th AugustTime: 11:00am (and 9:00pm)
No Way OutOn: Sky Screen 2 Date: Tuesday 11th AugustTime: 03:00am
OverboardOn: ITV3Date: Saturday 8th AugustTime: 9:00pm
Pee-Wee's Big AdventureOn: Sky Movies ComedyDate: Thursday 13th AugustTime: 4:35pm
PredatorOn: Sky Movies Action/ThrillerDate: Tuesday 11th AugustTime: 11:55pm
Predator 2On: Sky Movies Action/ThrillerDate: Wednesday 12th AugustTime: 12:30pm (and 8:00pm)
Rear WindowOn: Sky Movies ClassicsDate: Thursday 13th AugustTime: 12:50pmRecOn: Sky Movies Sci-Fi/HorrorDate: Saturday 8th AugustTime: 00:20am
Red HeatOn: ITV4  Date: Monday 10th AugustTime: 10:00pm
Rosemary's BabyOn: Film4Date: Tuesday 11th AugustTime: 11:20pm (and 00:20 12 Aug Film4+1)
Rumble FishOn: Sky Movies DramaDate: Friday 7th AugustTime: 01:50am (and 2:15am 12 Aug)
Saturday Night FeverOn: Sky Screen 1  Date: Saturday 8th AugustTime: 10:00pm
Shoot 'Em UpOn: Sky Screen 2Date: Saturday 8th AugustTime: 00:40am
Short CutsOn: TCMDate: Thursday 13th AugustTime: 9:00pm
ShrekOn: Sky Movies FamilyDate: Sunday 9th AugustTime: 1:30pm (and 6:15pm)
Sky Captain And The World Of TomorrowOn: Film4Date: Tuesday 11th AugustTime: 7:00pm (and 8:00pm Film4+1)
Soylent GreenOn: TCM    Date: Sunday 9th AugustTime: 7:10pm (and 11:10am)
SpawnOn: TCMDate: Friday 7th AugustTime: 9:00pm (and 1:30am 8 Aug)
Star Trek II: The Wrath Of KhanOn: Sky Screen 2  Date: Tuesday 11th AugustTime: 5:00pm
Star Trek III: The Search For SpockOn: Sky Movies Sci-Fi/HorrorDate: Saturday 8th AugustTime: 08:00am (and 5:20pm, 4:25pm 12 Aug Sky Screen 2)
Star Trek IV: The Voyage HomeOn: Sky Movies Sci-Fi/HorrorDate: Sunday 9th AugustTime: 08:15am (and 4:30pm)
SunshineOn: Sky Movies IndieDate: Friday 7th AugustTime: 10:45am (and 11:50pm)
SwordfishOn: five USADate: Saturday 8th AugustTime: 9:00pm
Taxi DriverOn: Sky Screen 1    Date: Saturday 8th AugustTime: 00:10am
Terminator 2: Judgment DayOn: ITV2Date: Tuesday 11th AugustTime: 11:10pm
The Accidental TouristOn: ITV1Date: Saturday 8th AugustTime: 3:05pm
The Addams FamilyOn: Sky Movies FamilyDate: Thursday 13th AugustTime: 2:00pm (and 11:30pm)The Breakfast ClubOn: Sky Movies Modern Greats Date: Thursday 13th AugustTime: 08:40am (and 6:15pm)The Chronicles Of Narnia: Prince CaspianOn: Sky Movies Premiere Date: Saturday 8th AugustTime: 11:00am (and noon Premiere+1, 8:00/9:00pm Premiere/+1 and daily at similar times through 14 Aug)
The ClientOn: Film4  Date: Tuesday 11th AugustTime: 9:00pm (and 10:00pm Film4+1)
The Day After TomorrowOn: Film4 Date: Saturday 8th AugustTime: 9:00pm (and 10:00pm Film4+1)The FirmOn: Sky Movies PremiereDate: Friday 7th AugustTime: 10:05pm (and 11:05pm Premiere+1)
The French ConnectionOn: five USADate: Tuesday 11th AugustTime: 9:00pmThe GodfatherOn: Sky Movies Modern GreatsDate: Saturday 8th August 2009Time: 1:15pm (and 10:00pm)The Godfather Part IIOn: Sky Movies Modern GreatsDate: Sunday 9th AugustTime: 09:00am (and 10:15pm)
The Godfather Part IIIOn: Sky Movies Modern GreatsDate: Monday 10th AugustTime: 11:25am (and 10:00pm)
The Incredible HulkOn: Sky Screen 2   Date: Friday 7th AugustTime: 1:00pm (and 9:00pm, 12:40pm & 9:00pm 12 Aug Sky Sci-Fi)
The InvasionOn: Sky Movies Sci-Fi/HorrorDate: Saturday 8th AugustTime: 3:35pm (and 7:10pm 13 Aug)
The Iron GiantOn: Sky Screen 1  Date: Sunday 9th AugustTime: 06:00am (and 7:45am and 11:40pm 12 Aug Sky Family)
The Karate KidOn: FIVERDate: Saturday 8th AugustTime: 7:30pm (and 4:55pm 9 Aug)The Last Of The MohicansOn: Sky Movies DramaDate: Friday 7th AugustTime: 12:40pm (and 7:00pm 10 Aug Sky Screen 2, 1:50pm 13 Aug Sky Drama)The League Of Extraordinary GentlemenOn: Film4  Date: Wednesday 12th AugustTime: 9:00pm (and 10:00pm Film4+1)
The Legend Of 1900On: Sky Movies Drama   Date: Wednesday 12th AugustTime: 3:20pm
The Matrix ReloadedOn: ITV1 Date: Monday 10th AugustTime: 10:35pm
The MistOn: Sky Movies Sci-Fi/HorrorDate: Sunday 9th AugustTime: 10:25am (and 6:40pm)
The OmenOn: Sky Movies Sci-Fi/HorrorDate: Wednesday 12th AugustTime: 4:45pm
The River WildOn: Sky Movies Action/Thriller Date: Friday 7th AugustTime: 06:50am (and 10:30am & 6:00pm 12 Aug)The SenderOn: Sky Movies Sci-Fi/HorrorDate: Friday 7th AugustTime: 11:45am (and 5:20pm)The Sixth SenseOn: Sky Movies DramaDate: Friday 7th AugustTime: 10:45am (and 3:25pm 9 Aug Sky Screen 2, 8:00am 11Aug, Sky Drama)The TerminatorOn: Sky Movies Action/ThrillerDate: Saturday 8th AugustTime: 08:00am (and 1:50pm, 10:00am & 9:35pm 11 Aug Sky Screen 1, 5:15pm 13 Aug Sky Sci-Fi)The Thomas Crown Affair (1968)On: Film4   Date: Friday 7th AugustTime: 11:20 pm (and 00:20am 8 Aug Film4+1, 7:00/8:00pm 8 Aug Film4/+1)There Will Be BloodOn: Sky Movies IndieDate: Sunday 9th AugustTime: 2:20pm (and 10:00pm)
There's Something About MaryOn: Film4Date: Friday 7th AugustTime: 9:00pm (and 10:00pm Film4+1)
THX 1138On: Sky Movies Sci-Fi/HorrorDate: Monday 10th AugustTime: 08:00am (and 2:20am 11 Aug, 9:50am 13 Aug)
Treasure PlanetOn: five  Date: Sunday 9th AugustTime: 5:20pm
Tremors 2: AftershocksOn: Sky Movies ComedyDate: Friday 7th AugustTime: 10:00am (and 3:20am 8 Aug)Tuck EverlastingOn: BBC 2   Date: Thursday 13th AugustTime: 11:50am
Twelve MonkeysOn: BBC 4Date: Wednesday 12th AugustTime: 11:00pm
Twilight Zone: The MovieOn: Sky Movies Sci-Fi/HorrorDate: Friday 7th AugustTime: 08:00am (and 3:25pm, 3:20pm 13 Aug)
WantedOn: Sky Movies Action/Thriller Date: Tuesday 11th AugustTime: 10:00pm (and 3:35am 12 Aug)
X-MenOn: Sky Screen 2 Date: Tuesday 11th AugustTime: 3:10pm (and 7:00pm)Young FrankensteinOn: Sky Movies Modern Greats  Date: Monday 10th AugustTime: 6:00pm