News
Geek shows and movies on UK TV in the coming week
Lots of films, repeats of Being Human and Doctor Who's greatest moments lead the charge for this week's TV highlights...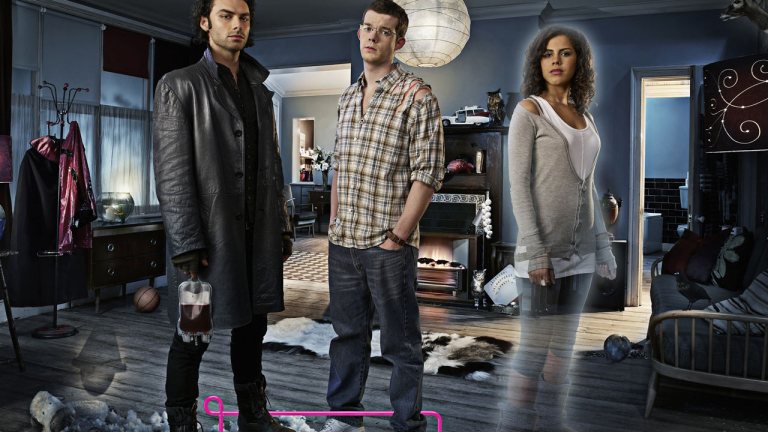 Tonight's episode of True Blood is Sparks Fly Out, airing at 10:00pm on FX and again at 2:20am. This is do-not-miss stuff as terror escalates too close to home in the Stackhouse household and Bill's bitey origins are revealed.
We've been remiss this past week, missing out on the repeat broadcast of a very good homegrown show from some months back. Being Human, about a trio of supernatural flatmates, moves house to BBC1 and is being reshown on Thursday nights at 10:35pm. Not much help for last night's episode, although we hope to have reviews to you soon. So, if iPlayer fails you like we have, come here for a first ep catch-up and then watch the next on the 20th and stop back and let us know what you think of it.
Update: Den Of Geek Hero Reviewer, Mark Oakley, has used his super telly viewing powers to put an episode one review together for us under very short notice. You can read that here and be sorted in time for next Thursday's show. Thank you, Mark! May your cape never wrinkle.
A little earlier on Thursday the 20th of August, BBC3 is showing the first of a new series Doctor Who Greatest Moments. At 8:00pm the first kicks off with focus on The Doctor(s), followed by Companions, the week after. 'Key' actors will offer up insider info and reminiscences about some of the most memorable scenes and set pieces of the series.
Now, here's a week's worth of what looks good for geeks of all ages and interests. Be sure to check your schedules, though. Due to our occassional clumsy thumbs, this list may not be gospel. And telly scheduling gods often assert their powers at the worst possible times. We want no disappointed TV worshippers in the Den pews. Enjoy!
---
American Beauty
On: Sky Movies Modern GreatsDate: Monday 17th AugustTime: 10:45pm
An American Werewolf In LondonOn: SCI FIDate: Saturday 15th AugustTime: 10:10pm
Anchorman: The Legend Of Ron BurgundyOn: BBC 3   Date: Saturday 15th AugustTime: 9:10pm (and 10:35pm 19 Aug)
Apollo 13On: Sky Movies Sci-Fi/HorrorDate: Saturday 15th AugustTime: 12:05pm (and 6:30pm)
Arlington RoadOn: Sky Movies DramaDate: Friday 14th AugustTime: 09:50am
Austin Powers: The Spy Who Shagged MeOn: Sky Screen 1Date: Saturday 15th AugustTime: 12:15pm (and 00:05 16 Aug)
Bad BoysOn: Sky1Date: Friday 14th AugustTime: 10:00pm (and 10:00pm 16 Aug Sky2)
BarbarellaOn: Sky Movies Sci-Fi/Horror  Date: Monday 17th AugustTime: 2:25pm (and 2:50am 18 Aug)
Barton FinkOn: Sky Movies IndieDate: Monday 17th AugustTime: 1:45pm (and 11:50pm)Batman ForeverOn: Film4   Date: Wednesday 19th AugustTime: 6:40pm (and 7:40pm Film4+1)Batman ReturnsOn: BravoDate: Friday 14th AugustTime: 9:00pm (and 10:00pm Bravo+1, 9:00/10:00pm 16 Aug Bravo/+1, 10:00/11:00pm 17 Aug Bravo/+1)
BigOn: Sky Screen 1Date: Saturday 15th AugustTime: 4:40pm
Blade RunnerOn: Sky Screen 2  Date: Saturday 15th AugustTime: 2:50pm (and 2:00pm 19 Aug Sky Modern)Blazing SaddlesOn: TCMDate: Sunday 16th AugustTime: 10:45pm
Bram Stoker's DraculaOn: WatchDate: Saturday 15th AugustTime: 11:25pm (and 00:25am 16 Aug  Watch+1 & 10:25/11:25pm Watch/+1)Bubba Ho-TepOn: SCI FI Date: Sunday 16th AugustTime: 00:10am
Buffalo '66On: Sky Movies Indie Date: Thursday 20th AugustTime: 12:40pm (and 8:00pm)Bugsy MaloneOn: Film4 Date: Friday 14th AugustTime: 7:10pm (and 8:10pm Film4+1, 1:00/2:00pm 16 Aug Film4/+1)Clash Of The TitansOn: fiveDate: Sunday 16th AugustTime: 5:45pmClose Encounters Of The Third KindOn: Sky Movies Sci-Fi/HorrorDate: Wednesday 19th AugustTime: 4:50pm (and 1:10am 20 Aug)
CrankOn: ITV4 Date: Friday 14th AugustTime: 10:55pmDesperadoOn: Sky1Date: Wednesday 19th AugustTime: 10:00pm (and 10:00pm 20 Aug Sky2)
Die Hard 2On: Sky Movies Action/ThrillerDate: Friday 14th AugustTime: 12:55pm (and 12:55pm, 11:10pm 17 Aug Sky Screen 2)
Dr. Seuss' Horton Hears A WhoOn: Sky Screen 1Date: Saturday 15th AugustTime: 08:45am (and 6:30pm)Enemy At The GatesOn: more4Date: Friday 14th AugustTime: 9:00pm (and 11:05pm 19 Aug)
E.T. The Extra-TerrestrialOn: ITV2Date: Saturday 15th AugustTime: 2:30pm (and 12:30pm 16 Aug)Fatal AttractionOn: Sky Movies Modern GreatsDate: Wednesday 19th AugustTime: 9:00pm
French Connection IIOn: five USADate: Tuesday 18th AugustTime: 9:00pmGalaxy QuestOn: Sky Movies Sci-Fi/Horror  Date: Sunday 16th AugustTime: noon (and 7:15pm, 6:10pm 20 Aug Sky Screen 1)
Gone In 60 SecondsOn: Sky Movies Premiere Date: Friday 14th AugustTime: 8:00pm (and 9:00pm Premiere+1)HackersOn: Virgin 1 Date: Saturday 15th AugustTime: 9:00pm (and 10:00pm Virgin+1)Harry Potter And The Order Of The PhoenixOn: Sky Screen 1 Date: Saturday 15th AugustTime: 8:00pm
HellboyOn: WatchDate: Saturday 15th AugustTime: 9:00pm (and 10:00pm Watch+1, 8:00/9:00pm 16 Aug Watch/+1)Hellboy II: The Golden ArmyOn: Sky Movies Sci-Fi/HorrorDate: Tuesday 18th AugustTime: 12:30pm (and 8:00pm)
IgorOn: Sky Movies PremiereDate: Saturday 15th AugustTime: 6:20pm (and 7:20pm Premiere+1/ 6:20/7:20pm 16 Aug Premiere/+1 and similar times daily through 28 Aug)
In BrugesOn: Sky Movies Indie Date: Wednesday 19th AugustTime: 10:00pm
In the Line Of FireOn: Sky Movies Action/ThrillerDate: Saturday 15th AugustTime: 2:15pm
Indiana Jones And The Temple of DoomOn: Sky Movies FamilyDate: Saturday 15th AugustTime: 11:20am (and 8:00pm)
Indiana Jones And The Last CrusadeOn: Sky Movies FamilyDate: Sunday 16th AugustTime: 10:50am (and 5:50pm)
Iron ManOn: Sky Movies PremiereDate: Saturday 15th AugustTime: 11:00am (and noon Premiere+1 & 8:00/9:00pm Premiere/+1 and daily at similar times through 21 Aug)Jacob's LadderOn: Sky Movies Modern GreatsDate: Friday 14th AugustTime: 06:10am (and 4:20pm, 11:35am 20 Aug Sky Screen 2)
JCVDOn: fiveDate: Wednesday 19th AugustTime: 10:55pm
Jurassic Park IIIOn: Sky Movies Family Date: Tuesday 18th AugustTime: 8:00pm (and 11:40pm)
King Kong (2005)On: ITV1 Date: Saturday 15th AugustTime: 6:50pm (and 2:30pm & 9:00pm 16 Aug)Michael ClaytonOn: Sky Screen 2Date: Saturday 15th AugustTime: 6:50pm
Mission: Impossible IIOn: Sky Movies Modern Greats   Date: Friday 14th AugustTime: 2:10pm (and 8:00pm)
No Country For Old MenOn: Sky Movies Action/ThrillerDate: Tuesday 18th AugustTime: 08:40am (and 5:55pm)Patriot GamesOn: Sky Screen 2 Date: Thursday 20th AugustTime: 5:20pmPee-Wee's Big AdventureOn: Sky Movies ComedyDate: Friday 14th AugustTime: 02:45am (and 7:40am 18 Aug)
PlatoonOn: ITV4Date: Wednesday 19th AugustTime: 10:00pm
PredatorOn: Sky Movies Action/ThrillerDate: Tuesday 18th AugustTime: 02:15am
Pretty In PinkOn: TCM  Date: Tuesday 18th AugustTime: 9:00pm (and 1:15am 19 Aug)Raiders Of The Lost ArkOn: Sky Movies FamilyDate: Saturday 15th AugustTime: 09:20am (and 6:00pm)RecOn: Sky Movies Sci-Fi/HorrorDate: Sunday 16th AugustTime: 02:35am (and 1:45am 19 Aug)
Red HeatOn: ITV4 Date: Saturday 15th AugustTime: 10:30pm
Rocky IVOn: Sky Movies Modern GreatsDate: Friday 14th AugustTime: 10:00am (and 6:20pm, 7:25pm 18 Aug, 8:25am 20 Aug Sky Screen 1)
Rosemary's BabyOn: Film4 Date: Sunday 16th AugustTime: 01:15am (and 2:15am Film4+1)Schindler's ListOn: Sky Movies Modern Greats   Date: Monday 17th AugustTime: 3:40pm
ShrekOn: Sky Movies FamilyDate: Friday 14th AugustTime: 1:15pm (and 6:15pm)
Silent HillOn: Film4Date: Wednesday 19th AugustTime: 10:40pm (and 11:40pm Film4+1)Sky Captain And The World Of TomorrowOn: Film4Date: Saturday 15th AugustTime: 7:00pm (and 8:00pm Film4+1Star 80On: TCMDate: Saturday 15th August 2Time: 11:50pm
Star Trek V: The Final FrontierOn: Sky Screen 2    Date: Friday 14th AugustTime: 4:55pm (and 8:00 & 4:45pm 17 Aug Sky Sci-Fi)
Star Trek VI: The Undiscovered CountryOn: Sky Screen 2 Date: Saturday 15th AugustTime: 4:50pm (and 8:30am and 4:15pm 18 Aug)Star Trek: First ContactOn: Sky Screen 2 Date: Monday 17th AugustTime: 5:20pm
Star Trek: GenerationsOn: Sky Screen 2  Date: Sunday 16th AugustTime: 4:55pm (and 8:00am & 7:00pm 20 Aug Sky Sci-Fi)
Star Trek: InsurrectionOn: Sky Screen 2Date: Tuesday 18th AugustTime: 5:00pmStuart LittleOn: G.O.L.D.Date: Saturday 15th AugustTime: 4:55pm (and 5:55pm, 2:00/3:00pm 16 Aug Gold/+1)
Teen WolfOn: Sky Movies ComedyDate: Saturday 15th AugustTime: 2:50pm (and 11:25pm)
The Addams Family ValuesOn: Sky Movies FamilyDate: Friday 14th AugustTime: 10:00am (and 3:00pm)
The Bone CollectorOn: Sky Movies Drama Date: Monday 17th AugustTime: 6:00pmThe Bourne UltimatumOn: Sky Movies Modern GreatsDate: Saturday 15th AugustTime: 6:00pm (and 12:15pm & 9:40pm 16 Aug, 1:35pm & 9:00pm 20 Aug Sky Screen 2)
The ClientOn: Film4Date: Saturday 15th AugustTime: 9:00pm (and 10:00pm Film4+1)
The CraftOn: FIVERDate: Friday 14th AugustTime: 9:00pm
The Day The Earth Stood Still (1951)On: Sky Movies Classics  Date: Saturday 15th AugustTime: 9:00pm
The FirmOn: Sky Movies Modern GreatsDate: Saturday 15th AugustTime: 1:20pm (and 8:00pm)
The ForgottenOn: five   Date: Monday 17th AugustTime: 10:00pm
The French ConnectionOn: five USA  Date: Saturday 15th AugustTime: 9:00pm
The Great EscapeOn: LIVING  Date: Sunday 16th AugustTime: 2:00pm (and 3:00/4:00pm Living+1/+2)The HowlingOn: ITV1Date: Friday 14th AugustTime: 11:35pm
The Iron GiantOn: Sky Movies FamilyDate: Monday 17th AugustTime: 07:40am (and 4:30pm)
The Karate Kid, Part IIOn: FIVER  Date: Saturday 15th AugustTime: 7:45pm (and 5:15pm 16 Aug)
The Life Of David GaleOn: ITV3   Date: Sunday 16th AugustTime: 9:00pm (and 11:00pm 19 Aug)
The Matrix RevolutionsOn: ITV1    Date: Monday 17th AugustTime: 10:35pm
The MistOn: Sky Movies Sci-Fi/HorrorDate: Monday 17th AugustTime: 10:00am (and 6:45pm)
The Naked Gun 2 1/2: The Smell Of FearOn: E4Date: Saturday 15th AugustTime: 9:00pm (and 10:00pm E4+1, 9:00/10:00pm 19 Aug E4/+1)
The Naked Gun 33 1/3: The Final InsultOn: Film4  Date: Friday 14th AugustTime: 11:45pm (and 00:45 am 16 Aug Film4+1)
The PawnbrokerOn: Sky Movies Classics Date: Monday 17th AugustTime: 02:35am (and 2:55am 18 Aug)
The Pelican BriefOn: ITV2   Date: Sunday 16th AugustTime: 9:00pm
The PunisherOn: WatchDate: Wednesday 19th AugustTime: midnight (and 1:00am 20 Aug Watch+1 & 9:00/10:00pm Watch/+1)
The Running ManOn: Sky Movies Modern GreatsDate: Friday 14th AugustTime: 10:10pmThe Shawshank RedemptionOn: Film4Date: Friday 14th AugustTime: 9:00pm (and 10:00pm Film4+1, 9:00/10:00 20 Aug Film4/+1)
The ShiningOn: Sky Movies Modern GreatsDate: Friday 14th AugustTime: 11:40am (and 11:55pm, 12:40pm 18 Aug, 00:35am 19 Aug)The Simpsons MovieOn: Sky Movies FamilyDate: Friday 14th AugustTime: 11:45am (and 4:45pm)
The Taking of Pelham One Two Three (1974)On: fiveDate: Saturday 15th AugustTime: 1:05pm
The TerminatorOn: Sky Movies Action/ThrillerDate: Saturday 15th AugustTime: 08:45am (and midnight 17 Aug Sky Screen 1, 2:35am 20 Aug Sky Action)
Titan A.E.On: Sky Screen 2 Date: Thursday 20th AugustTime: 3:35pmTitusOn: Sky Movies DramaDate: Sunday 16th AugustTime: 01:45am
VideodromeOn: Sky Screen 1 Date: Sunday 16th AugustTime: 03:35amWarGamesOn: Channel 4   Date: Sunday 16th AugustTime: 4:30pm (and 5:30pm 4+1)Wolf CreekOn: Film4Date: Monday 17th AugustTime: 11:00pm (and midnight)
Young FrankensteinOn: Sky Movies Modern GreatsDate: Sunday 16th August 2009Time: 2:15pm (and 11:40pm)