News
Geek shows and movies on UK TV in the coming week
Plan your viewing for the days ahead, with our round-up of geeky movies and TV shows on the radar...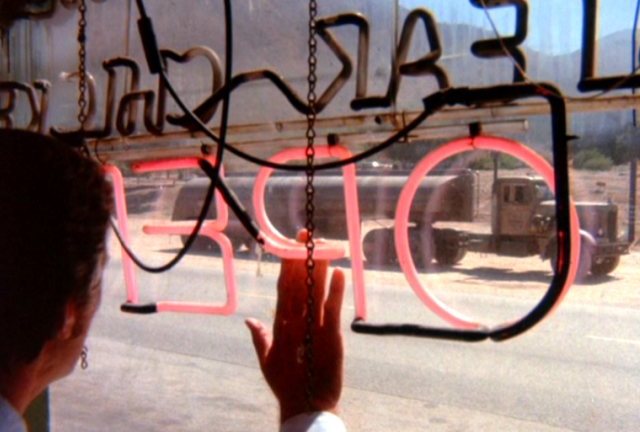 This week we hear the faint lone voice of only one new show that makes a lovely onomatopoeic 'blip' on our geek radar. That's Misfits, airing at 10:00pm on Thursday November 12th on E4 (and 11:00pm on E4+1).
The comedy will feature five youths doing community service when a freak storm zaps the orange clad group, bestowing super powers that are triggered by emotion and interaction. This could be great, like how Being Human surprised us, surpassing expectations. Or it could be a major disappointment, crust for consumption by few but the Hollyoaks and 2 Pints Of Lager crowd. We'll give it a go if only for one reason beyond the intriguing premise: Robert Sheenhan.
The young actor will play Nathan, the sarcastic know-it-all of the motley street cleaning crew. We saw him just this week in a three part mystery drama, Red Riding (currently airing on Virgin Media's TV Choice On Demand), in an extremely demanding and riveting performance that warrants we watch anything he does in future.
For those who like to stick to more proven and well trodden televisual paths, and who like to get the jump on the water cooler quippage, the next episode of the new (eighth) season of Spooks airs tonight, the 6th, at 9:00pm on BBC3, before it shows at its regular spot on Wednesday, the 11th on BBC1.
Now, on to the movies showing over the weekend and a bit beyond. There are a few horror stragglers clinging to the sheet tails of the ghost of Halloween past, among a crop of other fine, less frightening film fare.
Remember, if we missed anything you feel deserves a mention, add your recommendations to the comment section below, with our thanks…
---
Please also note: the ordinal numbers for dates will help you scan through this simple list with your browser's search function. Enter '7th' in your browser's Find box or window to highlight and/or tab through all movies shown on Saturday. Enjoy!
---
Angel Heart
On: ITV4Date: Saturday 7th NovemberTime: 11:00pm
Back To The FutureOn: Sky Movies Sci-Fi/HorrorDate: Sunday 8th NovemberTime: 1:30pm (and 9:00pm)
Back To The Future Part IIOn: ITV2Date: Saturday 7th NovemberTime: 5:50pm (and 1:10pm 8th Nov)
Back To The Future Part IIIOn: ITV2Date: Sunday 8th NovemberTime: 5:45pm
BadlandsOn: Sky Movies Modern GreatsDate: Friday 6th NovemberTime: 6:20pm (and 2:40am 7th Nov, 3:55pm 9th Nov, 2:10am 10th Nov)
BatmanOn: Sky Movies PremiereDate: Friday 6th NovemberTime: 8:00pm (and 9:00pm Premiere+1)
Burn After ReadingOn: Sky Screen 2Date: Sunday 8th NovemberTime: 7:00pm
CreepshowOn: Sky Movies Sci-Fi/HorrorDate: Friday 6th NovemberTime: 08:00am (and 3:15pm)
Dawn Of The Dead (2004)On: Film4Date: Saturday 7th NovemberTime: 10:45pm (and 11:45pm Film4+1)
Death Becomes HerOn: Sky Movies ComedyDate: Friday 6th NovemberTime: 06:15am (and 3:35am 7th Nov)
Death RaceOn: Sky Screen 2Date: Friday 6th NovemberTime: 10:15am (and 11:15pm, 1:05pm & 9:00pm 10th Nov Sky Action)
Die Hard 4.0On: Channel 4Date: Sunday 8th NovemberTime: 9:00pm (and 10:00pm 4+1)
Dirty Rotten ScoundrelsOn: Sky Movies Modern GreatsDate: Friday 6th NovemberTime: 8:00pm
DragonslayerOn: BBC 2Date: Saturday 7th NovemberTime: 2:00pm
DuelOn: ITV4Date: Sunday 8th NovemberTime: 3:00pm
HancockOn: Sky Screen 2Date: Sunday 8th NovemberTime: 1:00pm (and 9:00pm)
HannibalOn: Sky Screen 2Date: Saturday 7th NovemberTime: 03:10am (and 00:10am 9th Nov, 2:40am 11th Nov Sky Horror)
Harry Potter And The Order Of The PhoenixOn: Sky Screen 1Date: Friday 6th NovemberTime: 8:00pm (and 8:00pm 11th Nov)
Haunted HoneymoonOn: LIVINGDate: Sunday 8th NovemberTime: 10:00am (and 11:00am/noon Living+1/+2)
Hellboy II: The Golden ArmyOn: Sky Movies Sci-Fi/HorrorDate: Saturday 7th NovemberTime: 1:25pm (and 9:00pm)
High FidelityOn: Sky Movies IndieDate: Friday 6th NovemberTime: 12:30pm (and midnight)
In BrugesOn: Sky Movies IndieDate: Saturday 7th NovemberTime: 10:00pm (and 1:45pm 10th Nov Sky Screen 2)
Indiana Jones And The Last CrusadeOn: Sky Screen 1Date: Sunday 8th NovemberTime: 10:10am (and 5:50pm)
Invasion Of The Body Snatchers (1956)On: Channel 4Date: Friday 6th NovemberTime: 12:50pm (and 1:50pm 4+1)
JunoOn: Sky Movies IndieDate: Sunday 8th NovemberTime: 09:00am (and 8:20pm, 12:20pm & 10:00pm 11th Nov)
Men In BlackOn: G.O.L.D.Date: Saturday 7th NovemberTime: 1:50pm (and 2:50pm Gold+1 & 9:00/10:00pm Gold/+1)
Men In Black IIOn: G.O.L.D.Date: Sunday 8th NovemberTime: 1:45pm (and 2:45pm Gold+1 & 9:00/10:00pm Gold/+1)
Mulholland DriveOn: Sky Screen 2Date: Saturday 7th NovemberTime: 07:1am (and 12:20pm Sky Indie)
OctopussyOn: ITV1Date: Sunday 8th NovemberTime: 3:50pm
OutpostOn: Sky Screen 2Date: Sunday 8th NovemberTime: 00:30am (and 10:00pm 11th Nov Sky Horror)
Pale RiderOn: Sky Screen 1Date: Sunday 8th NovemberTime: 2:20pm
Planes, Trains And AutomobilesOn: E4Date: Friday 6th NovemberTime: 11:10pm (and 00:10am 7th Nov E4+1)
Raiders Of The Lost ArkOn: Sky Movies FamilyDate: Sunday 8th NovemberTime: 2:10pm (and 10:00pm)
Rising SunOn: Sky Movies Action/ThrillerDate: Sunday 8th NovemberTime: 9:00pm
Shoot 'Em UpOn: Sky Movies Action/ThrillerDate: Sunday 8th NovemberTime: 11:15PM
SilveradoOn: FiveDate: Saturday 7th NovemberTime: 3:00pm
SleuthOn: Sky Movies Modern GreatsDate: Saturday 7th NovemberTime: 10:35pm
Star Wars: Episode III – Revenge Of The SithOn: ITV1Date: Saturday 7th NovemberTime: 4:05pm
Teen WolfOn: Sky Movies FamilyDate: Saturday 7th NovemberTime: 06:00am (and 10:00pm)
The BirdsOn: Sky Movies Sci-Fi/HorrorDate: Friday 6th NovemberTime: 5:15pm (and 1:55am 7th Nov)
The Breakfast ClubOn: Sky Screen 1Date: Monday 9th NovemberTime: 00:05am
The Dark KnightOn: Sky Movies Modern GreatsDate: Saturday 7th NovemberTime: 8:00pm
The Day The Earth Stood Still (1951)On: Sky Movies ClassicsDate: Friday 6th NovemberTime: 07:10am (and 7:25pm)
The DescentOn: more4Date: Friday 6th NovemberTime: 10:00pm (and 00:55am 7th Nov)
The DuellistsOn: Sky MoviesDate: Sunday 8th NovemberTime: 10:40am (and 4:45pm)
The Fly (1958)On: Film4Date: Friday 6th NovemberTime: 3:05pm (and 4:05pm Film4+1)
The Great EscapeOn: Sky Movies ClassicsDate: Saturday 7th NovemberTime: 12:35pm (and 9:00pm)
The GriftersOn: Sky Movies DramaDate: Saturday 7th NovemberTime: midnight
The IslandOn: ITV2Date: Friday 6th NovemberTime: 9:00pm (and 10:00pm 12th Nov)
The InvasionOn: Sky Movies Action/ThrillerDate: Friday 6th NovemberTime: 10:10am (and 2:55pm 11 Nov)
The Iron GiantOn: Sky Movies FamilyDate: Friday 6th NovemberTime: 1:15pm (and 11:30pm)
The Italian Job (1969)On: Sky Movies Modern GreatsDate: Sunday 8th NovemberTime: 10:20pm
The Last Of The MohicansOn: Sky Movies DramaDate: Friday 6th November 2009Time: 09:10am (and 11:55am 9th Nov)
The Lost BoysOn: TCMDate: Friday 6th NovemberTime: 11:15pm
The MistOn: Sky Screen 2Date: Friday 6th NovemberTime: 9:00pm (and 4:00pm & 11:35pm 11th Nov Sky Horror)
The Naked Gun: From The Files Of Police Squad!On: E4Date: Sunday 8th NovemberTime: 10:00pm (and 11:00pm E4+1)
The Road To El DoradoOn: Sky Movies FamilyDate: Sunday 8th NovemberTime: 12:30pm (and 6:20pm)
The Silence Of The LambsOn: Sky Screen 1Date: Sunday 8th NovemberTime: 10:00pm
The Witches Of EastwickOn: ITV1Date: Friday 6th NovemberTime: 10:35pm
The Wizard Of OzOn: FiveDate: Sunday 8th NovemberTime: 3:00pm
The World According To GarpOn: TCMDate: Sunday 8th NovemberTime: 9:00pm
UnderworldOn: Film4Date: Friday 6th NovemberTime: 9:00pm (and 10:00pm Film4+1)
Underworld: EvolutionOn: Film4Date: Friday 6th NovemberTime: 11:15pm (and 00:15am Film4+1)
WantedOn: Sky Screen 2Date: Saturday 7th NovemberTime: 10:35pm
Young FrankensteinOn: Sky Movies Modern GreatsDate: Sunday 8th NovemberTime: 11:25am
ZoolanderOn: Film4Date: Saturday 7th NovemberTime: 9:00pm (and 10:00pm Film4+1)