News
Geek shows and movies on UK TV in the coming week
Charlie Brooker's Newswipe, the return of Mock The Week and a whole lot of movies! It's our TV week round-up...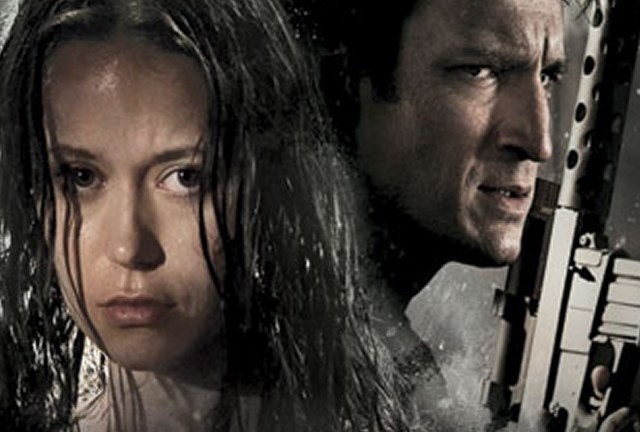 As with last week, we rely almost exlusively on the BBC for new programming to brighten our weekly schedules. Those re-revved series will continue to warm our cathode rays, plasma flows and LCD pixel points (or whatever they're properly called) for five or so weeks to come.
This week is less jam-packed with newness, but the BBC has come shining through again with two shows designed to stretch those lip corners in opposite directions.
Tuesday, the 19th January, at 10:30pm sees the start of Charlie Brooker's second season with Newswipe on BBC4, taking a look at the media's coverage of some of the scariest stories to be spouted out by newscasters from behind telly screens. This first of six episodes is repeated Thursday 21st January at 10pm and Friday 22nd January at 2am, again on BBC4.
Then on Thursday, 21st January, new Mock The Week episodes begin at 9pm on BBC2. The Dara Ó Briain-hosted, standup comic strewn panel show welcomes returning humour stylists Hugh Dennis, Russell Howard and Andy Parsons, with guests Milton Jones, Patrick Kielty and Mark Watson filling available chairs this week. Notable in his absence is Frankie Boyle, who has left the show. The laughs are guaranteed, even with a man down, but we're curious to see how this always entertaining show's climate changes without a Boyle wind blowing.
Now, on to the films showing through the weekend and beyond. As always, if we missed anything interesting, have a shout in the comments, with our thanks.
---
Please also note: the ordinal numbers for dates will help you scan through this simple list with your browser's search function. Enter '16th' in your browser's Find box or window to highlight and/or tab through all movies shown on Saturday. Enjoy!
---
28 Days Later
On: Film4  Date: Monday 18thTime: 11:00pm (and midnight Film4+1)
Being John MalkovichOn: Sky Movies Indie   Date: Friday 15thTime: 10:45am (and 6:00pm)
Blow OutOn: TCM  Date: Monday 18thTime: 11:15pm
Bram Stoker's DraculaOn: Five  Date: Monday 18thTime: 10:00pm
Children Of MenOn: ITV1  Date: Sunday 17thTime: 10:15pmDemolition ManOn: Sky Screen 2    Date: Friday 15thTime: 7:00pm (and 8:50am & 5:15pm 18th Jan Sky Action)
Disco PigsOn: Film4  Date: Wednesday 20thTime: 01:20am (and 2:20am Film4+1)
Easy RiderOn: Five USA  Date: Wednesday 20thTime: 11:10pm
Fahrenheit 451On: ITV1  Date: Saturday 16thTime: 02:05am
GhostbustersOn: Watch  Date: Saturday 16thTime: 4:00pm (and 5:00pm Watch+1, 3:00/4:00pm 17th Jan Watch/+1)
Gorky ParkOn: TCM   Date: Tuesday 19th JanuaryTime: 9:00pm
HackersOn: Virgin 1    Date: Saturday 16thTime: 9:00pm (and 10:00pm Virgin+1)Hot Shots!On: Film4  Date: Friday 15thTime: 7:20pm (and 8:20pm Film4+1)
Judge DreddOn: Channel 4   Date: Saturday 16thTime: 00:05am (and 1:05am 4+1)ManhunterOn: TCM   Date: Friday 15thTime: 11:20pm
MatildaOn: FIVER  Date: Saturday 16thTime: 7:00pm (and 5:00pm 17th Jan)
Meet The FockersOn: BBC 3  Date: Sunday 17thTime: 7:10pm (and 8:00pm 20th Jan)Mr. & Mrs. SmithOn: E4   Date: Saturday 16thTime: 9:00pm (and 10:00pm E4+1)Nanny McPheeOn: ITV1    Date: Saturday 16thTime: 5:10pm
NetworkOn: TCM    Date: Friday 15th JanuaryTime: 9:00pm
Pulp FictionOn: BBC 3   Date: Wednesday 20thTime: 9:50pm
RockyOn: Bravo   Date: Friday 15thTime: 9:00pm (and 10:00pm Bravo+1)SerenityOn: ITV4    Date: Saturday 16th JanuaryTime: 10:10pm
Silent RunningOn: Sky Movies Modern GreatsDate: Saturday 16th JanuaryTime: 04:25am (and 5:10am 20th Jan)
Sky Captain And The World of TomorrowOn: Film4   Date: Saturday 16thTime: 1:00pm (and 2:00pm Film4+1)Small SoldiersOn: ITV2Date: Sunday 17th JanuaryTime: 5:50pm
SunshineOn: Film4  Date: Wednesday 20thTime: 9:00pm (and 10:00pm Film4+1)
Teen WolfOn: Comedy Central   Date: Sunday 17thTime: 7:00pm (and 8:00pm CC+1)
Thank You For SmokingOn: Film4   Date: Sunday 17thTime: 11:15pm (and 00:15am 18th Jan Film4+1)
The BeachOn: Film4    Date: Sunday 17thTime: 9:00pm (and 10:00pm Film4+1, 11:00/midnight 21st Jan Film4/+1)The CellOn: Film4Date: Saturday 16th JanuaryTime: 11:05pm (and 00:05am Film4+1)The China SyndromeOn: Five USA    Date: Saturday 16thTime: 6:35pm (and 1:30p, 17th Jan)
The Green MileOn: Five USA   Date: Saturday 16thTime: 9:00pm
The HowlingOn: ITV4   Date: Monday 18thTime: midnight
The IncrediblesOn: BBC 3Date: Saturday 16th JanuaryTime: 11:10pm
The Little Girl Who Lives Down The LaneOn: TCM   Date: Saturday 16th JanuaryTime: 11:50pmThe MummyOn: Sky1Date: Saturday 16thTime: 9:00pm (and 8:00pm 17th & 10:00pm 22nd Jan Sky2)The Pelican BriefOn: ITV1    Date: Wednesday 20thTime: 10:35pm
The World Is Not EnoughOn: ITV2Date: Saturday 16th JanuaryTime: 11:10pm (and 8:00pm 17th Jan)
TrainspottingOn: Film4   Date: Friday 15thTime: 11:00pm (and midnight Film4+1)
TremorsOn: SCI FIDate: Tuesday 19thTime: 10:00pm (and 8:00pm 20th Jan)
Waking LifeOn: Film4Date: Sunday 17th JanuaryTime: 01:10am (and 2:10am Film4+1, 1:25/2:25am 22nd Jan Film4/+1)Young Sherlock HolmesOn: Film4   Date: Sunday 17thTime: 6:45pm (and 7:45pm Film4+1)ZoolanderOn: G.O.L.D.    Date: Saturday 16thTime: 8:00pm (and 9:00pm Gold+1, 7:15/8:15pm 17th Jan Gold/+1)