News
Geek shows and movies on UK TV in the coming week
FlashForward is back, TV Burp comes to an end, and there are plenty of movies to keep you busy too in our guide to upcoming UK TV...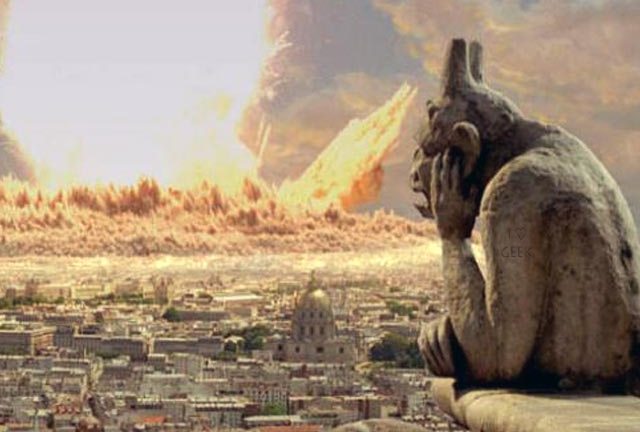 Harry Hill's unique take on telly in his TV Burp comes to an end of the current series on Saturday March 20th at 7:00pm on ITV1. Between Harry's Burp and Charlie Brooker's Newswipe it's how we prefer to catch up with all things relevant in tellyland. We'll miss them both and hurry back, boys.
It's a hardy and dedicated bunch that is sticking with FlashForward. If you are, you're of sturdier and more patient stock than we're made of, so we'll remain in awe and help out with a reminder that the show picks up after its long, long, long break on Monday March 22nd at 9:00pm on Five with Revelation Zero Part 1. Part 2 airs immediately after at 10:00pm. Now, that's more like it!
Evidently, the telly scheduling torturers, I mean, deciders, acknowledge it's been a bit of a stretch between eps and that we mere mortals can only retain so much information for so long, and are showing special FlashForward: What Did You See? summaries of the first ten epiodes on Five and Fiver at various times before Monday, starting Saturday, March 20th at 12:30pm on Five.
And that's the miserly lot this week. But, no worries, as we always aim to help lessen resentment over your TV License and wring the most of your money's worth out of those subscription movie channels. And this week is no different in that respect.
Now, on to the films showing through the weekend and a bit beyond. As always, if we missed anything interesting, have a shout in the comments, with our thanks.
---
Please also note: the ordinal numbers for dates will help you scan through this simple list with your browser's search function. Enter '20th' in your browser's Find box or window to highlight and/or tab through all movies shown on Saturday. Enjoy!
---
A History of ViolenceOn: Film4Date: Saturday 20th MarchTime: 11:05pm (and 00:05am 21st Mar Film4+1)
Along Came A SpiderOn: Film4Date: Saturday 20th MarchTime: 9:00pm (and 10:00pm Film4+1)
An American Werewolf In LondonOn: SCI FIDate: Monday 22nd MarchTime: 00:30am
ArmageddonOn: BBC 3Date: Wednesday 24th MarchTime: 9:00pm
Army Of DarknessOn: TCMDate: Saturday 20th MarchTime: 11:05pm
AuditionOn: Zone HorrorDate: Monday 22nd MarchTime: 00:30am
Casino RoyaleOn: ITV1Date: Saturday 20th MarchTime: 9:30pm
CloverfieldOn: Sky Movies Sci-Fi/HorrorDate: Friday 19th MarchTime: 1:55pm (and 9:00pm)
Con AirOn: Sky Movies Action/ThrillerDate: Saturday 20th MarchTime: 11:35pm
Das Boot: Director's CutOn: Sky Movies IndieDate: Saturday 20th MarchTime: 2:45pm
Day WatchOn: Film4Date: Friday 19th MarchTime: 10:45pm (and 11:45pm Film4+1)
Dirty Rotten ScoundrelsOn: Virgin 1Date: Saturday 20th MarchTime: 9:00pm (and 10:00pm Virgin+1, 3/4:00pm 21st Mar Virgin/+1)
Don't Look NowOn: ITV1Date: Monday 22nd MarchTime: 00:55am
GoodfellasOn: ITV4Date: Monday 22nd MarchTime: 11:00pm (and 10:00pm 24th Mar)
Harry Potter And The Philosopher's StoneOn: ITV1Date: Saturday 20th MarchTime: 3:30pm
In The Name Of The FatherOn: ITV1Date: Sunday 21st MarchTime: 00:30am
Kill Bill: Vol. 1On: BBC 3Date: Friday 19th MarchTime: 10:00pm (ans 10:00pm 20th Mar)
Kindergarten CopOn: HallmarkDate: Saturday 20th MarchTime: 8:00pm (and 9:00pm Hallmark+1, 1:40/2:40pm 21st Mar Hallmark/+1)
Nicholas NicklebyOn: BBC 2Date: Saturday 20th MarchTime: 5:25pm
On The WaterfrontOn: Five USADate: Saturday 20th MarchTime: 2:35pm (and noon 21st Mar)
Salem's LotOn: Zone HorrorDate: Friday 198th MarchTime: noon (Part 2 at 4:00pm)
Rear WindowOn: Sky Screen 1Date: Sunday 21st MarchTime: 04:00am (and 10:30am 23rd Mar Sky Movie Classics)
SnatchOn: FiveDate: Sunday 21st MarchTime: 10:00pm
Terminator 3: Rise Of The MachinesOn: WatchDate: Saturday 20th MarchTime: 10:00pm (and 11:00pm Watch+1, 9/10:00pm 21st Mar Watch/+1)
The Day After TomorrowOn: E4Date: Saturday 20th MarchTime: 9:00pm (and 10:00pm E4+1, 9/10:00pm 24th Mar E4/+1)
The Deer HunterOn: ITV4Date: Sunday 21st MarchTime: 10:00pm
The DepartedOn: Channel 4Date: Saturday 20th MarchTime: 10:35pm (and 11:35pm 4+1)
The Iron GiantOn: Sky Movies FamilyDate: Friday 19th MarchTime: 07:45am (and 3:00pm, 1:30pm 24th Mar)
The Lost BoysOn: Sky Movies Sci-Fi/HorrorDate: Saturday 20th MarchTime: 11:30am (and 7:20pm)
The Man Who Wasn't ThereOn: Film4Date: Saturday 20th MarchTime: 01:15am (and 2:15am Film4+1)
The Matrix ReloadedOn: ITV2Date: Friday 19th MarchTime: 9:00pm
The Matrix RevolutionsOn: ITV2Date: Saturday 20th MarchTime: 9:00pm
The MistOn: Sky Movies Sci-Fi/HorrorDate: Friday 19th MarchTime: 10:00am (and 5:10pm, 10:55am 23rd Mar)
The Simpsons MovieOn: Film4Date: Friday 19th MarchTime: 9:00pm (and 10:00pm Film4+1)
Transporter 3On: Sky Movies Action/ThrillerDate: Friday 19th MarchTime: 11:40am (and 11:10pm)
What Lies BeneathOn: Sky1Date: Saturday 20th MarchTime: 9:00pm (and 10:00pm 21st Mar Sky2, 00:30am 22nd Mar Sky2)
Who Framed Roger Rabbit?On: Sky Movies FamilyDate: Sunday 21st MarchTime: 09:20am (and 2:40pm)
Zathura: A Space AdventureOn: FiveDate: Sunday 21st MarchTime: 5:55pm