News
Geek shows and movies on UK TV in the coming week
Mongrels, Jason Manford, The Pandorica Opens and some corking movies star in this week's guide to the next seven days of UK TV...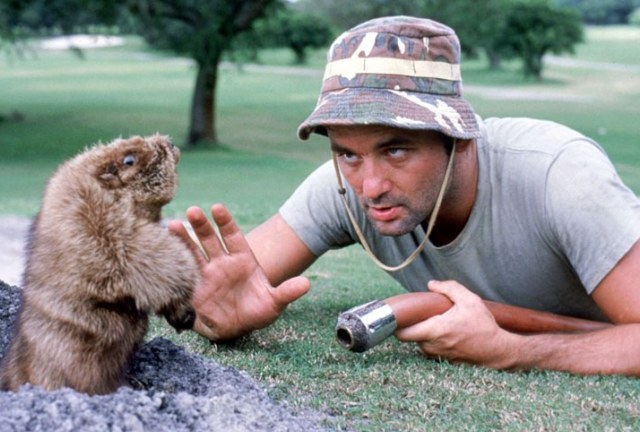 Another short list week and, again, it seems only comedy is brave enough to take on the World Cup with series kickoffs.
Jason Manford: Live helps us see the funny side of life and urinals on Saturday, 19th June at 10:00pm on Channel 4 with a hometown performance in Manchester filmed in 2009.
Then on Tuesday, 22nd June, the first of an eight-part "urban multi-species adult puppet comedy" series, Mongrels, starts up at 10:00pm on BBC3. BBC2's animal-based animated series of 2004, I Am Not An Animal, had celebrity voices like Steve Coogan and Simon Pegg behind the inky animals, where Mongrels looks to focus on TV personalities playing in the mix among the puppets, voiced by Paul Kaye, Katy Brand and other comedic actors. Whether it will have us howling or clawing at the couch is yet to be determined. Still, we have a lot of respect for any show launch in these Cup weeks.
The penultimate episode of Doctor Who, The Pandorica Opens, the first of a two-part finale, will be shown at 6:40pm on BBC1. We'll have our review as soon as possible after, and we'll be very interested to hear what you think, and what you expect in the season 5 finish…
Now, on to the films showing through the weekend and a bit beyond. As always, if we missed anything interesting, have a shout in the comments, with our thanks.
---
Please also note: the ordinal numbers for dates will help you scan through this simple list with your browser's search function. Enter '19th' in your browser's Find box or window to highlight and/or tab through all movies shown on Saturday. Enjoy!
---
Back To The Future
On: SyFyDate: Saturday 19th JuneTime: 8:00pm (and 9:00pm Syfy+1, 4:50/5:50 20th June)
Caddyshack
On: ITV3   Date: Sunday 20th JuneTime: 9:50pm (and 10:50pm ITV3+1)
Cadillac ManOn: ITV1Date: Saturday 19th JuneTime: 11:30pm
ChocolatOn: BBC 2     Date: Sunday 20th JuneTime: 6:05pm
Conquest Of The Planet Of The ApesOn: Film4Date: Saturday 19th JuneTime: 00:40am (and 1:40am Film4+1)
ConstantineOn: ITV2  Date: Saturday 19th JuneTime: 11:40pm (and 00:40am 20th June ITV2+1, 11:40pm/00:40am 23rd/24th June)
D.O.A. (1950)On: Film4Date: Sunday 20th JuneTime: 2:50pm (and 3:50pm Film4+1)
DuneOn: FiveDate: Saturday 19th JuneTime: 2:35pm
El MariachiOn: Sky Movies Indie   Date: Friday 18th JuneTime: 10:05am (and 10:00pm)
E.T. The Extra-TerrestrialOn: ITV2    Date: Saturday 19th JuneTime: noon (and 1:00pm ITV2+1, 2:30/3:30pm 6th June)
Falling DownOn: ITV4Date: Wednesday 23rd JuneTime: 10:30pm (and 11:30pm ITV+1)Ferris Bueller's Day OffOn: Film4Date: Friday 18th JuneTime: 9:00pm (and 10:00pm Film4+1, 9/10:00pm 24th June)
FirewallOn: BBC 1Date: Saturday 19th JuneTime: 10:00pm
Garden StateOn: FilmDate: Sunday 20th JuneTime: 11:05pm (and 00:05am 21st June Film4+1)
Gone in 60 SecondsOn: Sky1Date: Saturday 19th JuneTime: 9:00pm (and 10:00pm Sky2, 9:00/10:00pm 23rd June Sky1/Sky2)
Great Balls of Fire!On: TCMDate: Sunday 20th JuneTime: 11:05pm
HulkOn: ITV2Date: Saturday 19th JuneTime: 8:55pm (and 9:55pm ITV2+1, 5:50/6:20pm 20th June)
IdiocracyOn: Film4Date: Friday 18th JuneTime: 11:00pm (and midnight Film4+1)
Land of the DeadOn: ITV1Date: Sunday 20th JuneTime: 11:45pm
Laputa: Castle In The SkyOn: Film4Date: Sunday 20th JuneTime: 00:50am (and 1:50am Film4+1)
Lock, Stock And Two Smoking BarrelsOn: ITV2Date: Friday 18th JuneTime: 10:00pm (and 11:00pm ITV2+1, 10/11:00pm 22nd June)
Moby Dick (1998)On: Five USADate: Saturday 19th JuneTime: 2:30pm
Napoleon DynamiteOn: Film4Date: Sunday 20th JuneTime: 1:00pm (and 2:00pm Film4+1)
One Hour PhotoOn: Film4Date: Monday 21st JuneTime: 01:00am (and 2:00am Film4+1)
PaycheckOn: SyFyDate: Saturday 19th JuneTime: 10:10pm (and 11:10pm Syfy+1, 11:10pm/00:10am 19th/20th June, 11:00pm/midnight 23rd June)
Pirates Of The Caribbean: At World's EndOn: BBC 3Date: Saturday 19th JuneTime: 8:15pmRescue DawnOn: BBC 2  Date: Saturday 19th JuneTime: 10:50pm
Reservoir DogsOn: FiveDate: Monday 21st JuneTime: 11:00pm
SawOn: Film4Date: Saturday 19th JuneTime: 10:50pm (and 11:50pm Film4+1, 11:00pm/midnight 24th June)
Say Anything…On: Film4Date: Saturdayday 19th JuneTime: 5:00pm (and 6:00pm Film4+1)Star Trek: The Motion PictureOn: Channel 4Date: Saturday 19th JuneTime: 11:10pm (and 00:10am 20th June 4+1)Stir Of EchoesOn: SyFyDate: Friday 18th JuneTime: midnight (and 1:00am 19th June Syfy+1, 10:40/11:40pm 20th June)The 3 Worlds Of GulliverOn: Five USADate: Saturday 19th JuneTime: 12:30pm
The Blues BrothersOn: ITV4Date: Sunday 20th JuneTime: 00:30am (and 1:30am ITV4+1, 10:30/11:30pm 21st June)
The Darjeeling LimitedOn: Film4Date: Saturday 19th JuneTime: 9:00pm (and 10:00pm Film4+1)
The Death of the Incredible HulkOn: Sky Movies Sci-Fi/Horror   Date: Friday 18th JuneTime: 12:40pm
The Matrix ReloadedOn: WatchDate: Saturday 19th JuneTime: 10:00pm (and 1:35am Watch+1, 9/10:00pm 20th June)
The ShadowOn: ITV1Date: Friday 18th JuneTime: 11:50pm
The TommyknockersOn: horror channelDate: Friday 18th JuneTime: 4:00pm (and noon 19th June)
The Wizard Of OzOn: Sky Movies ClassicsDate: Saturday 19th JuneTime: 12:10pm (and 7:00pm)
The WrestlerOn: Sky Movies Indie  Date: Saturday 19th JuneTime: 10:05am (and 10:00pm)Time BanditsOn: Film4Date: Tuesday 22nd JuneTime: 6:45pm (and 7:45pm Film4+1)